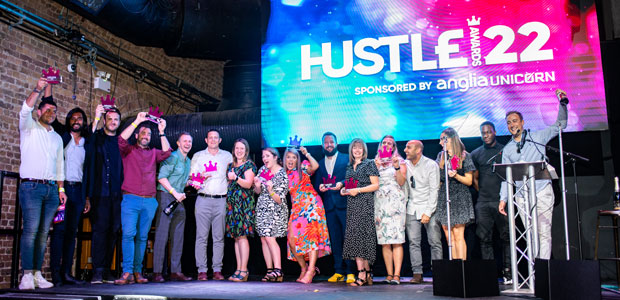 WHAT. A. NIGHT.
The Hustle Awards 2022, a night of celebration, innovation, and excellence. And what a night it was! 
The calibre of entries this year was beyond what we could have expected. Our expert panel of judges had their hard work cut out for them, and the amount of talent we saw was unprecedented, so thank you to all our entrants, shortlisted and everyone who was involved.
Without much further ado time to meet the Hustle Awards 2022 winners...
Early Stage Innovation Award - ZipCharge.
Founder of the Year - Tamas Kadar and Bence Jendruszak, SEON.
Green Award - measurable.energy.
Inspirational Womxn of the Industry - Dr Pauldy Otermans.
Mentor of the Moment - Kaitlin Fritz. 
Most Innovative Tech - aisle 3.
Most Successful Scaleup - Doctify.
Outstanding Startups Supporter - Raising Partners.
Social Impact Hero - Care Matched.
Top Performing Team - Altnets.
Workspace of the Year - Allia Future Business Centre.
You can download the Winners e-guide to find out more from the judges and winners here. And you can view the image gallery of the Hustle Awards here.