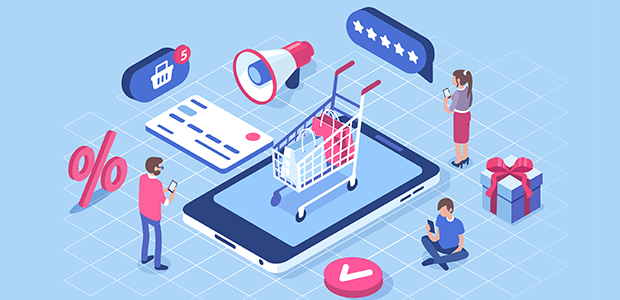 What could slow the growth of the eCommerce market?
There can be little doubt that the last few years have been among the liveliest in online retail on record. While the sector has seen years of relentless incremental growth, several factors converged in 2020 to instigate a boom in eCommerce, and a quickening of its growth in share of all sales.
In fact, in 2020, eCommerce in the UK grew by a 46.5%, followed by a strong 2021 with 20% growth.
There are numerous factors underpinning this propulsive growth.
The COVID-19 pandemic inevitably caused an upheaval in the way consumers shop – and the eCommerce sector proved a major beneficiary. While high street retail was shuttered under national lockdowns for large swathes of the past two years, online retail was able to fill the gap. Consumers, in turn, would now have to turn to eCommerce for goods they would previously have preferred to buy in person, or otherwise try online shopping for the very first time.
As the ebbing of the pandemic saw the reopening of shops, we saw retail settle into an interesting new equilibrium. In January 2021, a convergence of holiday peak retail season, broader consumer familiarity with eCommerce, and ongoing social restrictions saw the sector peak at a 37.7% share of all retail sales – close to double its portion held in February 2020.
By December 2021, this market share had settled to 27.7% - relatively modest in comparison, on the face of things. However, this reflects a substantial acceleration of online retail's annual growth rate that had been observed over decades. Evidently, the pandemic imposed broader familiarity and trust in online shopping, which had altered consumer preferences and won over high street shoppers in numerous areas.
It took an unprecedented social and economic circumstance to fuel this boom period in online retail; an upheaval on a scale unlikely to be repeated. As such, its return to modest growth raises the question of sustainability – where is eCommerce's ceiling, and which factors will hasten its arrival?
Data privacy
One of the main ongoing concerns for online retailers is security measures around customer data.
A McKinsey consumer study in 2020 found that most customers (87%) would not grace their custom to any business with security concerns hanging over them. Seven in 10 said they would cease purchasing from a company that gave away its sensitive data without their permission.
These anxieties from consumers are grounded in experience. Recent figures highlight a 179% growth in online fraud in the UK over the last decade, with more than half of Brits reportedly having suffered some financial loss as a result of fraud.
There has been some action at state policy level to address these concerns. In the UK, GDPR was introduced, which introduced robust minimal standards for data handling and protection and forced companies to be transparent around their use of sensitive information. However, this legislation ultimately does not prevent businesses from using data in ways their customers would distrust.
As digital crime becomes more widespread and ever-more sophisticated, even high profile companies are suffering damaging data leaks. The question then progresses beyond how vendors and platforms can demonstrate their willingness to be transparent around data, into whether they are committed to substantive investment in evolving their security measures on an ongoing basis.
Monopoly formation
As the issue of data rises to the forefront of consumer's minds when making purchasing decisions, trust will become more important than ever – which may lead to a flood of demand to the established enterprises with the most resources to invest in security, and the largest marketing budget to communicate the safety of their practices.
This points towards a threat to one of the crucial advantages eCommerce has over traditional in-person retail: a culture of competition and innovation. For example, online retailers do not have to pay for commercial retail property on an appealing high street plot to thrive – reducing overheads significantly.
With this advantage applying to all digital retailers, cost savings are likelier to be passed on to the consumer. In turn, storefronts on digital platforms are not limited by retail layouts or space limitations, meaning a wider stock of products can be offered.
In theory, this represents an opportunity for lean small businesses to carve out niches in the market and scale up. In today's online retail space, this works in practice, though the risk of security concerns and the preference of search engines towards established large retail platforms risks undermining the competitive nature of online retail, which would dampen innovation and fuel price increases.
There has been increasing debate around regulating online retail more diligently to avoid monopolies, though it must be noted that as these are global operations, a collective approach should be taken within and across entire trading blocs to ensure any regulation has the desired impact.
Supply chain
While online retail businesses have scaled rapidly through the last decades, there are natural infrastructural limitations to the supply chains they depend on which has caused significant pressures.
The supply chain crisis of late 2021 underlined this, with many businesses bemoaning capacity issues which would hamstring their ability to fulfil orders at the scale required for peak season.
The consequences of slower deliveries and uncertain fulfilment are obvious – online retail must always be more convenient for consumers than a trip to the high street to retain its competitive edge. Modern logistics technology has gone some way to negotiating between high demand and limited capacity by allowing companies to take an agile approach to managing and shipping their orders with cost and time pressure sensitivity, as well as providing transparency to customers on the progression of their order.
While online retail has enjoyed healthy growth over decades, its recent boom period exposed shortfalls which will threaten the ability of small to medium businesses to compete with the big players – which will naturally prove an issue for the consumers lumbered with less certainty, higher prices, and fewer products to choose from.
Even the smallest businesses can insulate themselves from these risks with a well-considered market and consumer-focused operational strategy, including investment in security practices and logistical insights.