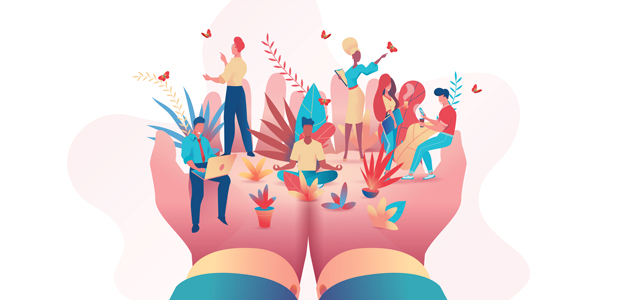 Wellbeing: The foundation of Business Performance
With 1 in 4 of us actively looking to move roles right now, how can businesses minimise the risk of losing the best of their team to the 'Great Resignation'? It starts with wellbeing.
Over the past eighteen months, our needs have evolved and with that employee priorities have shifted. As we move to a hybrid model of working, or begin to return to the office, here's what is worth noting about what employees expect of their workplace now:
We are seeing a shift in the balance of power. E

mployees are prepared to quit if their needs aren't met

.

The pandemic has pushed people to take stock, and to define themselves outside of their work. This facilitates a greater sense of freedom to move between roles and organisations, and to challenge assumptions about what a good worker looks like.

Flexible working has become a priority across employee demographics, with the

majority of Gen Z and Millennials wanting a mixture of home and office settings

.

For many people, coping with continuing change, isolation, and health concerns has been eased by the flexibility remote working allows. Whilst many would welcome a partial return to the office, they don't want this to be at the expense of their work-life balance.

Mental health support is at the top of the agenda,

with 59% of employees naming stress and burnout as a key concern.

Having faced a disorienting array of transitions over the course of the pandemic, people want to work for organisations that prioritise and support mental health. A clear framework of what that support looks like in practise is expected to be articulated clearly and executed consistently.  
Each year, we lose 12 billion working days to anxiety and depression alone. A solid foundation of wellbeing support can help reclaim those days, both for employees and businesses. And with 92% of employees more likely to stay if their bosses show more empathy, it makes sense for everyone that employers respond to these evolving needs. As a driver of business performance through talent attraction, productivity, and retention, wellbeing investment can also save recruitment costs and management time to focus on the job in hand. So how can we establish this foundation?
Understand your audience.

What other businesses are doing is good for reference but there's no blueprint for this. And so as employees are the consumers of the workplace, we need to understand them before we can meet their needs. In the same way that a marketing team would identify their target market before planning a campaign, a business needs to identify its employee demographic in order to cater to their requirements. 
For example, both working parents and Gen Z starters want a balance of in-office and remote working. For working parents, this allows them to balance work with childcare; for Gen Z employees, it affords them continued flexibility whilst facilitating access to the mentorship and networking opportunities that the office provides.
Keep communication lines open.

We can see that demographic trends are nuanced; working parents and Gen Z starters want the same thing, but for different reasons. And so, emotional safety is a must to open a dialogue. Are we deciding what our employees want, or are we asking them? How are we empowering them to communicate their needs?

Use data to integrate wellbeing into your business strategy.

So many conversations we have with people about wellbeing in their workplace hit a wall due to a disconnect with leadership teams, who aren't engaged early enough. Without insight on what is costing or impacting the company positively or negatively, wellbeing is seen as a fluffy add-on, and often treated reactively. Once you have an idea about where wellbeing and in particular poor wellbeing is coming up in the business you can make a true assessment on cost and opportunity to invest wisely. 
Words by Hannah Wilson.
At Tula, we develop relevant programmes by facilitating conversations with the teams they serve. Our tools, co-designed and delivered with our collective of experts; psychiatrists, nutritional therapists, athletes, artists and more exist to help individuals self-resource to feel and function at their best. We help businesses drive performance by integrating wellbeing into the DNA of their culture. We're here to support businesses through periods of flux by proactively building a solid foundation of mental, emotional and physical health.