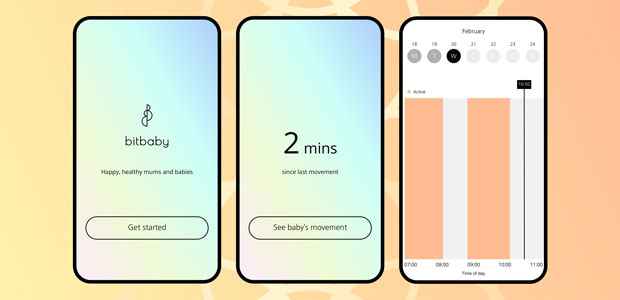 The wearable for expectant mothers
According to the stillbirth, premature birth and miscarriage charity, Tommy's, one in every 250 pregnancies end in a stillbirth. That's around 3,400 babies dying every year, or nine every day, on average. But research has shown that some still births can be prevented.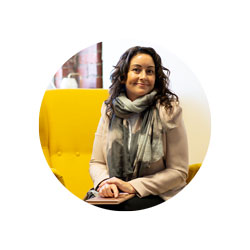 With 20 years' experience in Midwifery, Rachael Curran, Founder of bitbaby, experienced first-hand the effect a poor outcome can have on expectant parents, she said it was the stillborn babies, their parents and their families that she remembers the most. The idea came to her because of she wanted parents to feel empowered, confident and most importantly, enjoy their pregnancy experience.
Despite a large number of pregnant women noticing a change in their baby's movements, they don't seek advice straight away, or at all. Many women have expressed to Curran that they are unsure of what a regular pattern of movements means. They are anxious about keeping a check on their baby's movements during pregnancy. They don't feel confident enough, they doubt themselves and worry. But now is the time to encourage women to seek advice straightaway.
"As a midwife who worked in many hospitals over the years, I was always the one who used the technology and equipment in the hospitals – and not the one who was making it. But I constantly found myself saying 'Oh well if only it did this, if only it was this size, if only it was less bulky' and I noticed that I was looking for ways to improve it. So, the transition from that to being someone who actually developed something from scratch – well it's been a huge learning curve and really challenging but I'm loving the challenge!" explained Curran.
bitbaby is a wearable device that pregnant women can wear from 24 weeks gestation. The device monitors a baby's movements and relays the data through Bluetooth to the pregnant woman via the bitbaby app. bitbaby has been designed to educate women about regular patterns of movements for the baby. So if the baby's movements were to reduce, the mother will recognise this. The app will reaffirm her findings and she will seek advice straight away. Thanks to bitbaby, more women will be educated on wellbeing of their unborn babies, it will also reduce their anxiety and improve confidence.
Curran explained that the idea for Bitbaby was triggered when Fitbit started to track sleep and wake cycles, she noticed the similarities for how this could parallel babies in the womb as they follow a circadian cycle, which is the sleep wake cycle. Curran said: "We know through research that when they're awake, they're active. And when they're asleep, they don't move. So based on that principle, I thought if the Fitbit can monitor that kind of cycle, then surely we could create sensors that pregnant women can wear on their abdomen that would do the same."
The wellbeing of both mum and baby is central to bitbaby. In addition to the wellbeing of babies, the app component of the device concentrates on maternal mental wellbeing. Curran made sure to incorporate a mood checker for mums to use that will help keep a log of how they're feeling on a regular basis. This also gives gentle suggestions to consider if they are feeling low mood. The aim of this aspect is to help mums feel in control and so they can recognise if they're feeling low mood on a regular basis.
Over the last few months, most people have tried to stay away from hospitals as much as they physically can, due to the fear of catching COVID-19. Although restrictions are beginning to ease, and life may seem like it's getting back to a 'new normal' - the virus is still around and a very real fear for many, particularly expectant parents.
According to one study, the incidence of stillbirth was significantly higher during the pandemic period. The study found that although the women didn't test positive for the virus, they were fearful of contracting the virus if they went to hospital, so they stayed at home whilst experiencing changes to their baby's movements.
It is common knowledge that successful startups solve real world problems. But it's hard to solve a problem unless you've lived it first, because without gaining the understanding of lived experience, you'll never find a solution that works in practice as well as in theory. Which is why I see bitbaby only going from strength to strength. It has been created by an experienced midwife who speaks the language of pregnant women, because she's seen first-hand the problem they face, and she is working towards a solution that has a positive impact on pregnancies.
bitbaby recently completed a design sprint to focus on the main problems that they discovered through speaking with mums and pregnant women. This involved a three-day exploration, delving into the problems, looking at inspiration and interviewing some mums. The team are continually testing the app with women and gathering valuable insights into what they find useful when tracking their baby's movement.
bitbaby has been working with NOVA, a tech investment and mentorship programme, who has helped the startup enjoy their funding process so far. Curran explained: "Our funding journey has been really positive since NOVA put us in touch with a venture capitalist firm, who we now have regular pitch dates with to keep our investors up to date. They've been so supportive of bitbaby!"
The wearable device is still in the prototype phase at the moment, with plans for completion in 2021.