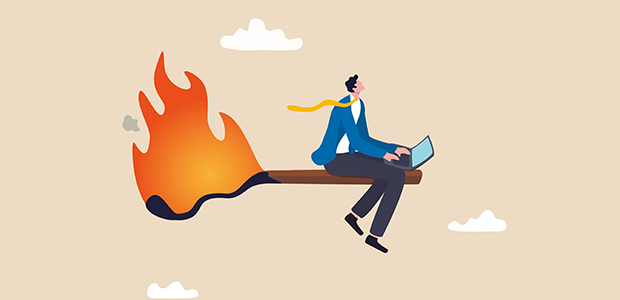 Watch out for burnout
Employees who are dealing with burnout will struggle to be productive and you may even start to notice issues such as more sickness absence, errors being made, poor performance and a lack of engagement.
So, what can you do to help prevent burnout in your organisation? In this article, Ben will be sharing more about the key signs of burnout and outlining ways you can prevent it from happening in the first place, as well as providing support to employees who are struggling.
What is burnout and what are the signs?
It's important to understand what burnout is and familiarise yourself with the signs so you can take action if any of your employees are struggling:
Unmanageable workload and unreasonable time pressures
When you have too much work to do, it can feel overwhelming and if you regularly work long hours, this can lead to exhaustion.
Not being treated well at work
Behaviours such as bullying, favouritism, not being remunerated fairly or being overlooked for a promotion can take a toll and increase the likelihood of feeling burnt out.
Lack of communication and support from management/colleagues at work
It's important to have a manager who communicates well with you and supports you with any issues that come up. Similarly, think about your relationships with colleagues, as having strong relationships at work can reduce feelings of burnout.
Lack of role clarity
Do you know what's expected from you at work? Having unclear goals can make it difficult to know what your responsibilities are and may lead to work-related stress.
Feeling unappreciated
If you feel like you rarely get positive feedback from your manager or no incentives in the way of a raise or a promotion, this is likely to feel disheartening, affect your motivation and increase your stress levels.
What can employers do to help prevent burnout in their workplace?
Take a look at the following tips to help prevent burnout in your teams:
Keep workloads achievable
Those who are overworked are at more risk of being stressed, which can lead to burnout and mental health issues if it goes on for a longer period of time. Keep an eye on workloads, ensure they are achievable, that deadlines are realistic and that your team has a good work-life balance.
Check in
Make sure you regularly check in with those you manage and be sure to ask them how they are. Showing a genuine interest in your employees' life outside of work can really make a difference, and also means that they may feel comfortable coming to you when life gets tough.
Keep targets SMART
Targets should always be specific, measurable, achievable, relevant, and time-bound. There's nothing more stressful than feeling like a target is completely out of reach.
Be understanding
Understanding that work and home life don't exist in isolation is key. All parts of a person's life impact on their health & wellbeing. Stresses from home can spill into work and vice versa so it's important for employers to be understanding when issues arise, either at work or at home.
Encourage an open culture
It's good to be open and vulnerable with others and share when you're struggling too - it shows that everyone has issues in life sometimes. Encourage your team to not only talk about things going well, but also share worries too. As they say, a problem shared is a problem halved. You can also tell employees how you deal with life's stresses and encourage them to share what helps them cope too.
Share Ben's support contact details
Share our support contact details far and wide through your available channels:
 
If you're struggling to cope, Ben is here for those who work, or have worked, in the automotive industry and their family dependents. Please don't hesitate to get in touch via our free and confidential helpline: 08081 311 333 or use our webchat at www.ben.org.uk.
You can also access Ben's out of hours text support line by texting BEN to 58258 from 8pm-8am. It's completely free to get in touch with us if you work (or have worked) in the automotive industry, or you are dependent on someone who is.