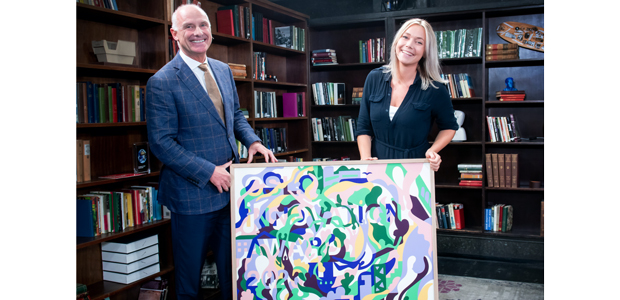 Warm tech startup selected as the 2020 recipient of Oslo Innovation Award
Oslo Innovation Week, on the behalf of The City of Oslo and Innovation Norway, is proud to announce warm technology startup, No Isolation, as the recipient of the 2020 Oslo Innovation Award. Presented during the final day of Oslo Innovation Week, the Scandinavian city's annual week-long technology festival, Karen Dolva, Co-Founder and CEO of No Isolation, collected the award from head juror, Per L. Saxegaard, Founder and Executive Chairman of the Business for Peace Foundation.
Now entering its 13th year, the prestigious Oslo Innovation Award is a collaboration between the City of Oslo and Innovation Norway and is designed to highlight the city's most innovative startups. The panel, made up of previous recipients of the award, business leaders and impact investors, sought out a recipient that was reflective of Oslo Innovation Week's 2020 theme: 'It's Time To Build'. Companies were considered based on their capacity to problem solve in a way that would create value for the business and for society; with the panel looking to award a scalable, impact-driven startup that had demonstrated the ability to be both ethical and socially responsible, as well as environmentally and economically sustainable.
No Isolation was selected due to the company's commitment to solving the global loneliness crisis through the creation and implementation of warm technology: tailored solutions designed to address the specific needs of the few, not the many. With the global pandemic highlighting now, more than ever, the impact that loneliness can have on people of all ages, No Isolation's products - AV1, a telepresence avatar aimed at tackling loneliness amongst children affected by long-term illness, and KOMP, a one button communication device designed specifically for use by seniors - have a become lifeline for many across Europe. Throughout the pandemic, No Isolation successfully scaled its production, meeting unforseen demand, whilst not compromising on the quality of its products, nor its commitment to existing users.
Karn Dolva, CEO and co-founder of No Isolation commented: "It's been a strange year for all of us, and we have all felt the consequences of social isolation during lockdown. The people we exist for feel this way most of the time – not just during pandemics – and being recognised for the work we do by receiving this award is important for them as well as for us. We are committed to ensuring that nobody has to feel alone because the technology that exists doesn't work for them, and I hope that one small, positive outcome of this strange time is that more people will be inspired to innovate for change."
"The Oslo Innovation Award is important because it reflects Oslo Innovation Week's core mission, bringing impactful and scalable solutions to global challenges", says Gaute Hagerup, CEO of Oslo Business Region and Project Manager of Oslo Innovation Week. "We are really happy to see a great Nordic company receiving this year's award. No Isolation is solving an issue that is really serious right now."
The 2020 Oslo Innovation Award panel included: Per L. Saxegaard, Founder and Executive Chairman of the Business for Peace Foundation, Haje Jan Kamps, CEO of Konf and ex-Techcrunch journalist, Christian Erfurt, CEO of Be My Eyes, Ann-Kristin Raknes Pfründer, Country Manager for 2019 winner, Too Good To Go, Claes Mikko-Nilsen, Investment Director at NordicNinja VC, and Zenia Francker, Chief Relations Officer of The Creators Community. No Isolation joins previous winners, including: Too GoodTo Go (2019), Otovo (2018), Be My Eyes (2017) and Kahoot! (2016).