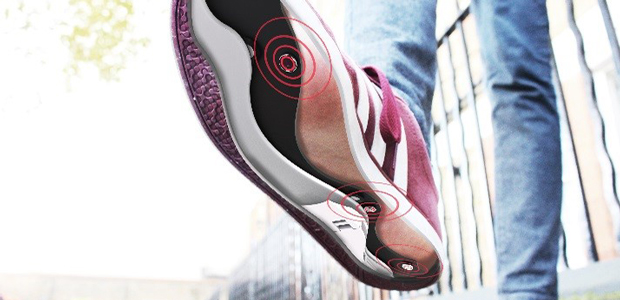 Walk with confidence
According to the Parkinson's Foundation, more than ten million people are living with Parkinson's disease worldwide.
And one of those people is the father of Lise Pape, Founder of Walk With Path. As somebody who saw the effects of the disease and what it can do to someone and their loved ones around them, this was Pape's initial inspiration. However, as she already holds a double Masters in Innovation Design Engineering from the Royal College of Art and Imperial College London, and a BSc in Human Biology from King's College London, she already had a keen interest in the medical industry.
Path Finder is currently the only product of its type available for purchase in Europe, and is particularly useful for people with neurodegenerative diseases such as Parkinson's disease, who suffer from Freezing of Gait (FoG), a symptom that causes an individual to feel as if they are frozen to the ground. The product is also helpful for movement disorders and stroke rehabilitation. Path Finder is a shoe attachment with a green laser line that projects visual cues onto the floor that guides movement of the opposing leg. The aim of this product is to reduce FoG and patient falls which are thought to be caused by FoG.
"I've heard about the concept before, that lines or steps can help Parkinson's suffers to walk in the freeze phases, and I was so happy to hear that a product was created to use that trick. It really helps me move about and stay mobile, when in freeze phases, and I feel better protected from potential falls. I like that it's hands-free, not like a stick or DIY solutions I've heard of before." said Tomasz, a Parkinson's disease sufferer.
The other product which the company is currently working on is called Path feel. It is an insole that provides the user with vibrational feedback to the soles of people at risk of falls. Path Feel is particularly useful for people who suffer with peripheral neuropathy, a result of damage to peripheral nerves that often causes weakness, numbness and pain in the hands and feet, and those who suffer with general balance issues. Walk With Path believe that by amplifying the sense of touch of the feet to the ground, patients are then able to identify when their feet touch the ground.
"These insoles will be a game changer for multiple sclerosis patients. They will enhance the quality of our lives, enabling us to participate more fully." said Laura, an individual living with multiple sclerosis.
When asked to describe her experience as a female founder, Pape said: "I haven't had any major challenges to deal with so far but one thing I have noticed is that the majority of investors are male. Also, sometimes when I meet people they don't expect me to be very technical and know what I'm talking about so that can be a challenge."
She also went onto say that if she could do anything differently it would be to have taken investment earlier. There were interested investors early on, but Pape was hesitant and took time deciding. She explained: "I wanted to make sure we were definitely on the same page and had everything understood."
Pape also said how she would have liked a bigger team to start with. Four years into her journey, at first glance it may look like she has cultivated a larger team than other four year old start-ups, she mentioned how a lot of her employees work for her on an ad-hoc basis. As she started the company completely on her own, she further explained how if she had a bigger team to start with she might have been able to do somethings differently and certainly faster.
Although Parkinson's disease currently has no cure, Path Finder by Walk With Path makes living with the disease every day that much easier. The disease affects everyone differently and symptoms can vary from person to person.
However, advances in technology, such as those by Walk With Path, are breaking new ground in the treatment of the disease, and while we may be some years away from a cure, living with the disease can now be made more bearable and suffers can be made more comfortable and are able to carry on their daily lives.