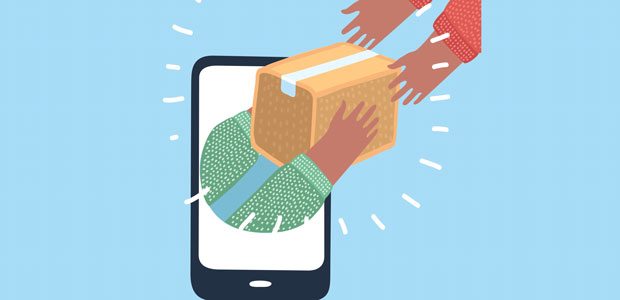 Wait a minute Mr Postman...
Online shopping is arguably one of the best inventions out there. Nothing beats that feeling of joy when your parcel arrives! But what about the times when your parcel isn't successfully delivered and you arrive home to find a 'sorry we missed you' card through your letterbox? iParcelBox solves the problem of missed deliveries, providing a smart, secure and weatherproof parcel delivery solution that users can monitor and control from their smartphone.
Ever since his school days, Founder of iParcelBox, Paul Needler has been a tech-lover. When he was studying at university, he set up a web design company creating websites for various companies including many schools. His entrepreneurial spirit came to the forefront as a result of his family getting fed up of countless missed parcels as they were always out at work.
"You might order something online that is going to be delivered by Royal Mail and if you miss the delivery slot then you've got to wait at least two days before you can go and collect it from the depot. With myself and my family, it got to the point where the convenience of online shopping was great but our experience of it was pretty poor because stuff was inevitably arriving when we weren't at home." explained Needler.
After some research was undertaken, Needler found that there wasn't really a suitable solution out there, so he decided to take the matter into his own hands. After tinkering in his garage at home, he made the first version of iParcelbox which was made from wood and found an electronic lock that he connected to his home's smart technology.
"Things were going really well and after about six months a few of my colleagues at work asked me to make some boxes for them because they were also dealing with the frustration of missed deliveries. It got me thinking about where these boxes could lead, and I decided to take the plunge and make them into a real product." said Needler.
Needler has spent the last year developing the product into a box made of steel, designing the electronics, writing the software that controls the box and writing the IOS app. He said: "It's been a deep learning curve for me since developing the product, putting it out on the market and getting it approved and regulated. There has obviously been some challenges and it's been hard work producing the whole thing on my own, but it's meant I've had complete control which was important to me."
Throughout the design journey, Needler focused on making the process for the courier as simple as possible. He explained how the technology works: "The box connects with the users' home WiFi which integrates with an app that the user downloads to their phone. This means that the courier doesn't need to have an app or an access code, all the courier has to do is press the button on the box to unlock it and deliver the parcel. Once your parcel has been delivered, because it knows the parcel is inside, iParcelBox will stay locked until the user collects the parcel by unlocking the lid via the app. When the box has something already in it, and a second delivery arrives, the box will remain locked. The delivery driver will then push the button and an immediate alert will be sent through to the owner's mobile phone, whereby they can allow access at a push of a button."
iParcelBox comes with pre-drilled holes for either wall or floor fixing and is supplied with multi-material fixings. However, iParcelBox is not a safe and not protected against a determined attempt to break in with power tools.
The box automatically locks if the power supply / WiFi supply is interrupted. If power is removed from iParcelBox, i.e if there is a power cut, it will stay in locked mode. When power is reconnected, iParcelBox will remember the box status/number of parcels present and return to normal operation.
If your parcel needs to be 'signed for', then the delivery driver can scan the unique bar code inside the lid of the iParcelBox as proof of delivery. Anyone can make a delivery to iParcelBox, and the company has already successfully received parcels from Amazon, DPD, Royal Mail, DHL, UPS, Fedex, Hermes as well as friends and family. The boxes are currently on sale at £199 from www.iparcelbox.com and the app is a free to download on IOS and Android.
The app has premium features which include interacting with your iParcelBox using your Alexa smart speaker, controlling your iParcelBox from multiple devices – allowing the whole family to have access, creating secure access tokens to allow couriers, friends or family to make deliveries, collect parcels or empty your iParcelBox for you and the ability to view a compatible CCTV/webcam stream directly within the smartphone app. iParcelBox Premium is free for the first year (if you sign-up when setting up your iParcelBox). Thereafter, iParcelBox Premium costs £2 a month.
iParcelBox differentiates itself from competitors with its ability to automatically unlock for the courier if the box is empty. As the technology is connected to your home WiFi, it can detect when a parcel has been delivered which then sends a notification to the user's app letting them know. Needler claims iParcelBox continues to be unique from its few competitors out there with its easy user interface. Other similar products currently require the courier to have an app on their phone or enter a code into a box-mounted keypad.
In the beginning, Needler and his family invested their own money into the business to see if they could create an MVP that worked. However, last year they got a small amount of funding from friends and family that gave them enough funds for the first production line and enabled them to get through their regulatory process.
"The biggest hurdle for us was going through the regulatory process – because the product connects to the users' home WiFi, and it's got a radio module in it, which means it needed to be tested in accordance with European legislation. That was a big learning curve because we created about 25 different versions of the product which all needed to be re-tested which obviously cost money – it wasn't quite what I had in mind and we ended up spending quite a lot of money and time on this. This meant that we were about four months behind the date we had originally planned to release the product," said Needler.
The next step for iParcelBox is raising the company profile. The company is focussing on engaging with the delivery companies and couriers as they believe it will be a real benefit for them if customers have an iParcelBox due the cost of missed deliveries. In the UK alone, these amount to around £1bn a year. Not only will iParcelBox help with this cost but it will also be helping the environment. If a van has to visit a house twice or three times trying to deliver the same parcel then this has a huge impact on their carbon footprint, as well as added time and stress for the delivery drivers.