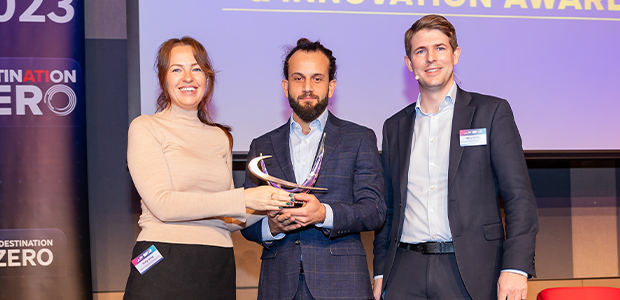 WAAM3D Triumphs with Hub Breakthrough Award at ATI Awards
WAAM3D, established by a research team from Cranfield University, received the Hub Breakthrough Award for the most promising startup at the ATI Awards in Birmingham on 15th November.
The company, launched in July 2018, is commercialising research equivalent to over 300 years, drawing on the knowledge from 300 academic papers, 40 PhD projects, and over 100 Master's projects. A notable achievement by the founders is the development of forged microstructures and mechanical properties in structures made through wire arc additive manufacturing (WAAM), positioning WAAM as a viable method for producing Class 1 structures.
Currently, WAAM3D is at the forefront of large-scale metal additive manufacturing (AM), showcasing the feasibility of some of the largest critical structures ever created. This includes primary titanium fuselage components for fighter jets, and components such as landing gear ribs, wing spars, and ribs. In the realm of large-scale metal AM, WAAM3D is unique in offering a comprehensive software solution encompassing everything from computer-aided manufacturing to post-build data analytics. This software is integral to their flagship large-scale metal printer, RoboWAAM.
The company's award win was based on its innovative approach, the market demand for wire arc additive manufacturing, and its contribution to the UK aerospace industry. WAAM3D serves aerospace customers in 10 countries, ranging from the USA to Japan.
Wire arc additive manufacturing has the potential to streamline design, manufacturing, and support operations globally, aiding in reshoring manufacturing, protecting profit margins, designing sustainable products, and expediting product launches. The technology also holds significant promise for producing spare parts and for repair and remanufacturing, extending the lifespan of high-value assets.
Dr Filomeno Martina, CEO and Co-Founder of WAAM3D, commented on the accolade: "We are delighted to win this award. Our relentless innovation is once again spotlighted, as is the strength of our unique team. Our collaborations with leading organisations within UK aerospace have yielded some outstanding results. Lead times have been reduced from years to weeks, material utilisation has increased from 2% up to 90%, Embodied Energy and equivalent CO2 emissions have been more than halved, and supply chain risks greatly reduced. In the modern multi-polar world, looking at AM is key to protect and improve your business. It's a great honour to be recognised by the ATI for our research and development and the positive impact we are having on the aerospace sector, at home and abroad."
WAAM3D has also made a significant impact through securing millions in grant funding and equity investment, creating 45 jobs in the UK and Singapore. The company is dedicated to the local ecosystem, employing apprentices, organising school tours in partnership with Cranfield University, promoting STEM subjects, and inspiring young engineers.