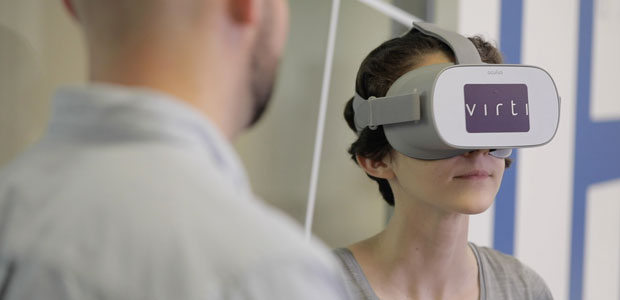 VR mindfulness training launched to support employee mental health
A pioneering new mindfulness training programme, powered by Virtual Reality (VR) training specialists Virti, has launched this month to help employees cope with the demands of their jobs during the pandemic.
Nearly two-thirds (64%) of those in work across the UK and Europe said their work-related stress levels have increased compared with pre-pandemic. Of these, eight out of ten (81%) described themselves as having a 'poor' or 'low' state of mind (source). 
Created by Virti in partnership with ex-RAF helicopter pilot and mindfulness trainer Sarah Furness, the immersive "Well Be It" programme has been designed to support the development of mental resilience and emotional regulation for workplace wellbeing in a workforce heavily impacted by the pandemic.
The programme consists of courses that last for four weeks but which require just 3-4 minutes of daily practice, and can be completed in sequence or in isolation. With recent research showing mindfulness practice can reduce emotional exhaustion and occupational stress (source), the digestible training sessions have been designed to fit seamlessly into the working routines of busy professionals.
Accessible to businesses and individual professionals, the entire course has been filmed in 360-degree VR - meaning users can immerse themselves in instructor-led mindfulness classes, wherever they are in the world. Mindfulness is an increasingly popular approach to supporting workplace wellbeing, and by practicing in a distraction-free and interactive VR environment, users acquire the core mental skills more rapidly. 
The courses, which can be accessed on-demand via a VR headset, laptop or mobile device,  are designed to support high performance under pressure. They teach users to navigate difficult emotions (including stress) and to maximise focus and productivity through mindfulness and meditation techniques. Other key benefits for participants include enhanced capacity for creative thought, increased self esteem and empathy, and better-quality sleep. 
To start the programme, individuals (or team leaders) must book a free initial coaching call with Well Be It. Once their individual needs and goals are established with a specialist, users can download the Virti app, where they will be able to access their personal mindfulness pathway.
Sarah Furness, programme designer, said: "It's easy to assume that mental resilience is instinctive, but my 20 years in the RAF taught me that people don't always feel as strong as they look. Since the pandemic began, most of us are encountering stressful situations on a daily basis, but few are equipped with the mental toolkit to cope with this stress in a healthy way. 
"The COVID crisis taught us the importance of being mentally adaptable and prepared for the unexpected; every professional wanting to operate at the peak of their capacity must first learn how to understand and proactively train their own mind. It's encouraging to see that businesses are now embracing tech-enabled opportunities for their employees and leaders to develop these essential skills.
"The Virtual Reality features of the Well Be It programme mean that the course is perfect for busy people who want to 'fast-track' their mindfulness skill acquisition. During the short daily practices, participants are fully engaged in (and interacting with) the content, free from the usual distractions. Just a small time investment pays dividends in the form of improved health and confidence for those who see the modules through to completion."
Craig A, a user of the Virti Well Be It programme, commented: "Working remotely can be isolating, and without the physical presence of colleagues, my stress levels can quickly escalate. However, I've been really struck by how quickly I was able to pick up the basic principles of mindfulness using the Well Be It course. After spending just a few minutes each day working through the modules, I quickly began to notice an impact on my mood, my productivity and the quality of my sleep.

"The fact that I can practice wherever and whenever I want to is a major advantage - I've been able to establish the practice as a healthy habit in my work-from home routine.
"I now feel well-equipped with coping mechanisms and strategies that enable me to better handle the pressures I face in my day-to-day work. I'd encourage anyone who wants to increase their professional productivity to explore the opportunities that mindfulness training unlocks. 
Richard McKenzie, another user of the Virti Well Be It programme, commented: "Since following the Well Be It programme, I've come to realise that my mental wellbeing has as much of an impact on my life as my physical wellbeing does. I've learnt that mindfulness is something that everyone can make use of - no matter what walk of life they come from. All you need is 5 minutes each day to rebuild new positive mental habits. 
"Since being introduced to the Well Be It programme, my daily immersive practice has become something that I really look forward to. I use the meditation techniques to overcome the 'noise' in my brain and unlock creative thought patterns. The Growth Mindset module has really helped me to deal with setbacks and build confidence in my professional life and personal life."