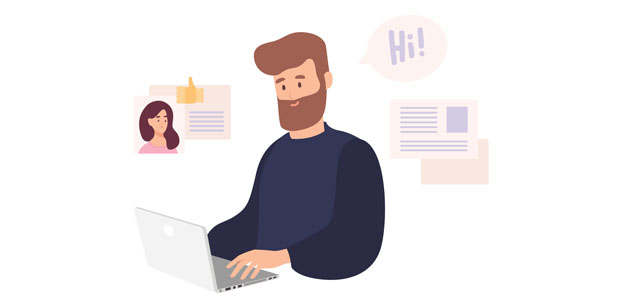 Virtual networking in lockdown and its role in economic recovery
The coronavirus pandemic has sent shockwaves through the business world and left many struggling to stay afloat and, with the future still uncertain, many business owners are turning their attention to how they can pivot their way through this difficult time.
Despite the lockdown easing, vast swaths of the globe remain under social distancing restrictions and networking may be the furthest thing from business leaders' minds.
However, just because they can't connect in person doesn't mean their business relationships have to languish. 'Virtual networking' could hold the key to opening new business opportunities that may not have existed otherwise, and is something all entrepreneurs should consider to help put them in good stead for when business resumes as normal.
What is virtual networking?
'Virtual networking', as the name suggests, is business networking taken online. It allows business owners to leverage their business and personal connections and can bring them a regular supply of new business.
Virtual networking is all about building rapport, developing connections and creating lasting impressions with different individuals. Not only is it one of the most successful marketing techniques to sustain and accelerate a business' success, it is a valuable tactic to help business owners increase their knowledge, learn from others' success, attract new clients and nurture their businesses.
Online networking events during the current crisis give businesses the opportunity to discuss the impact of the pandemic and the emerging trends and challenges facing their industry, and provides a platform for gaining valuable free advice and potential solutions.
The benefits of networking online
Virtual networking during the current pandemic can allow business leaders to build a stronger foundation for the future by establishing meaningful connections today. If a business maximises networking opportunities now, potential clients and business partners will be much more likely to try our their services or work together further down the line, as the company leader will already be established as a reputable resource and trustworthy business partner.
Unlike with some in-person networking events, building connections online does not limit business leaders to a certain geographical area and could help build a business' visibility in locations further afield.
Not only that, online sessions are far more interactive, allowing attendees opportunities to ask questions and spot the participants they would like to talk to later, as well as giving them the chance to talk to an entire audience, not just an attendee who is sitting next to them.
Attendees can share their impressions and observations in real time and get immediate feedback from fellow participants. Another benefit is that attendees have the option to back up words with visual presentations and links as they talk, as well as looking through materials shared by other networkers.
Furthermore, whilst in person events usually see attendees take a few days to follow up, after travelling home and looking through the business cards they have collected, online events give a greater sense of urgency and encourage attendees to act on new connections much faster, for example with a LinkedIn invitation, to solidify the new business relationship before attendees return to their day to day activities.
Virtual networking and the economy
Local economic growth is in every company's interest and virtual networking has a role to play. The value of building business relationships cannot be understated, even more so in times of uncertainty. It is essential to every facet of enterprise and the overall economic world.
Virtual networking allows two company leaders to share knowledge and do business with one another without ever having met in person, as the internet has made making connections between two people as simple as clicking a button.
The coronavirus pandemic has left businesses facing many challenges that they have probably never come across before, and it is easy to allow business connections to fall by wayside.
However, for business leaders, widening their network has never been more important and, the more time they invest in virtual networking opportunities now, the greater their return will be post-lockdown, and the sooner their local economies can start to recover.