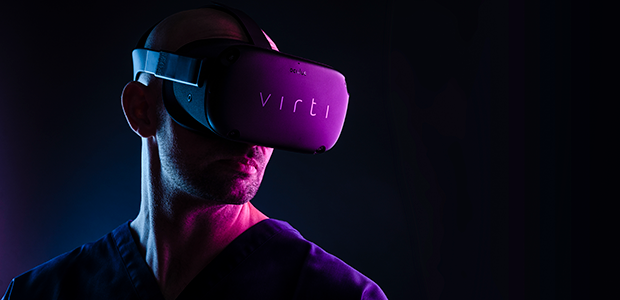 Virti launches AI-powered feedback suite
Human Performance specialists Virti have launched an AI-powered feedback suite of tools designed to help businesses meaningfully engage with and learn from their employees. 
The Feedback suite, accessible on the web or from within Virti's immersive training platform, contains all the tools that employers need to build and share bespoke digital feedback forms and surveys. The platform uses sentiment analysis to convert qualitative response data into clear and actionable insights for the employer: insights that can be used to promote productivity, wellbeing and retention.
Traditional feedback collection systems are time-consuming, costly, disengaging and periodic. In contrast, Virti's Feedback suite is intuitive and easy to integrate into existing processes, so that giving feedback becomes meaningful and fuss-free. Responses can be tracked and compared over time, or downloaded for offline detailed analysis. 
 Key features of the new suite include:
Fully-customisable, no-code form creation 

With quantitative (Likert scales) and qualitative (free text) form fields 

Capacity for any-time & real-time data collection 

Remote surveying of wellbeing, engagement, satisfaction (eNPS) and more

Detailed statistical and textual analysis 

Concise results displayed on clear graphs and charts 
The new feedback features support companies to foster an inclusive culture and engage all members of their workforce by bringing them into a conversation. The impact of new initiatives can be tracked in real-time as they are implemented, and warning signs of burnout and churn can be flagged early to managers and executives. 
If an organisation is delivering training to employees, either on the immersive Virti platform or by another means, Virti's Feedback tools can be used to assess the utility of the training from the perspective of the learner to ensure they're deriving maximum benefit.
Dr Alex Young, founder and CEO at Virti, said: "We built the Feedback suite to give organisations access to the insights necessary to implement change, drive innovation, grow engagement, improve productivity, and nurture talent.

"The competition for talent has never been fiercer. To retain valuable staff, companies can't just survey their people in the traditional way. Instead, they must focus on engaging employees on the issues that matter to them.
"On average, only 20% of global employees are engaged in the workplace. This costs organisations upwards of $500 billion annually in the US alone. At Virti, we're committed to delivering a solution.
"Connecting with employees and customers on their experiences is the best way for leaders to open and maintain a healthy dialogue. At the end of the day, happy staff make a successful company."
The Feedback suite can also be used to gather useful feedback from customers and clients, which in turn can be acted upon by the business to refine their product or service.
Virti provides organisations with a comprehensive suite of no-code technologies that they can use to optimise and scale training and communication across the hybrid workforce and international markets.