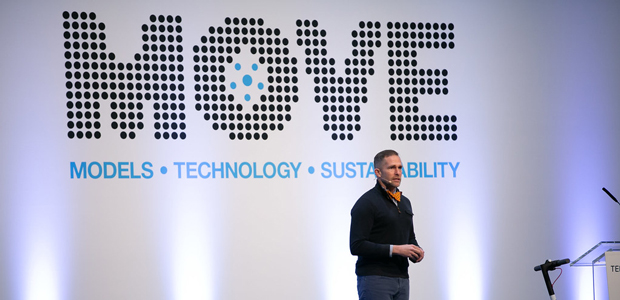 Village dedicated to startups at this year's MOVE
Described as the world's most important mobility event, MOVE is just around the corner and promises even more disruptive technologies and innovation to drive much-needed change. Taking place at ExCeL on the 11-12th February, MOVE focuses on models, technology and sustainability, and also has a section dedicated to startups.
With over 1,000 speakers spread across 15 different content stages, this year's MOVE suggests it will be jam-packed full of interesting topics and discussions around mobility, as it brings together disruptors, technologies and the right attitudes, with stakeholders across all modes and disciplines. The show aims to create insight and to promote collaboration, and is more expansive and multi-disciplined than ever before.
MOVE is also the global stage for the startups who are engineering our future. MOVE has a big focus on startups and has the capability to connect them to some of the world's most influential businesses, investors and media. 
There is a dedicated 'start me up' stage, dedicated solely for startups to come and pitch their ideas and includes some of the youngest and the brightest mobility companies.
You will also find the Startup Village with 250 exhibitors. This is the place investors will come to find their next unicorn, the media to look for the next big story and companies to look for partnerships and acquisitions. The exhibiting startups come from across 30 different countries, and will be looking for opportunities with VCs and investors.
Networking is a big part of the show, and MOVE aims to bring people together. The connections can start before the show and carry on afterwards through the app which can bring in potential leads and allow people to organise meetings.
Harry Foster, Marketing Manager for MOVE explained: "We are placing a huge emphasis on the importance of startups this year and even more so in 2021."
With such a big presence of startups, MOVE is trying to portray just how important the networking benefits are for startups to be exhibiting alongside the giants within the industry. In 2019 over 200 start-ups presented, pitched and found partners.
There will be other MOVE events held in Austin, US and Singapore, but London is the flagship event for 2020 after its success last year. With some exciting and interesting keynotes from some big names in the industry, it isn't one to be missed.
Startup magazine subscribers can also attend and check out the startup village with 50% off, with code START50, which is valid to use until the 11th Feb. Just register here.