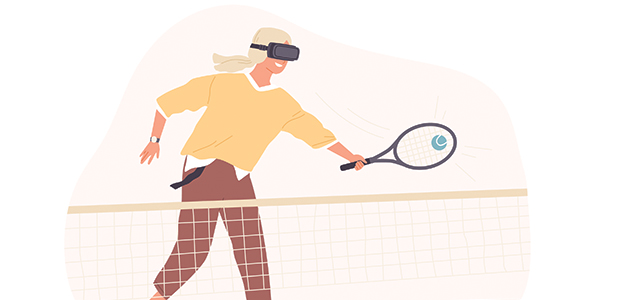 Using VR to aid rehab
Quite often the best ideas are born out of adversity, and that was certainly the case for Immersive Rehab, a startup specialising in the creation of interactive and engaging physical and neuro-rehabilitation programmes in Virtual Reality (VR).
CEO and founder, Dr Isabel Van De Keere had an accident at work in 2010 which left her immobile and requiring a lengthy period of rehabilitation. However, Van De Keere found the current rehab process boring, repetitive and non-engaging and as a consequence, left her frustrated and demotivated – particularly as the lengthy rehab process progressed. Another big issue with current rehab situation is the waiting times involved.
"Initially you are very eager to get back to the person you were and to regain your independence. However, over time rehab diminishes and that leads to a huge increase in demotivation and people become very depressed, and in some extreme cases have been known to commit suicide. This is something we need to tackle and VR can play a key role in getting the appropriate rehab to patients more quickly."
As such, Van De Keere founded Immersive Rehab in 2016 with the aim of using VR to create physical rehab exercises that improve patient recovery, reduce referral times and address the current limitations of physical neuro-rehabilitation, in particular for people with neurological upper limb mobility issues, stroke patients and sufferers of cerebral palsy (CP).
These patients either find it difficult or are unable to engage with objects in the physical world, which can be demoralising. By performing exercises in a virtual environment it is possible to tap into the neuroplasticity of a person's brain, which can lead to important improvements in motor function. Van De Keere commented: "I give the analogy that there's a WiFi connection between your brain and a part of your body that's been broken. We want to repair that WiFi connection.
"This is great for physiotherapists too, as it gives them access to tools that they currently don't have – we're not here to replace physiotherapists, we want to enable them to help patients gain their mobility back, particularly in the initial phases of their rehab."
Immersive Rehab's clinical product will be medically certified later next year and will then be available upon referral within hospitals, rehab departments, or physical therapy departments and clinics. "That certification has been a challenge but it's also very important so it will be a massive benefit later," Van De Keere added. "It's a much longer process to go through than a lot of other startups, as healthcare is an area that does not behave like many other fields of industry. Industries like e-commerce or fintech for example, move a lot quicker and you're not restricted to the same amount of regulations.
"In healthcare, you of course need to prove that your product or solution is safe to use and that it can actually improve patient outcomes. And in our case, we're actually working with some very severe cases so we also need to prove that we're not making a patient's condition worse. I've been there and I certainly don't want to make anything that could put a patient's rehab at risk."
The company's business model will depend on different countries and regions, as healthcare systems are very nationalised and differ greatly from country to country, with a mix of private and public healthcare. However, essentially hospitals will buy a Software-as-a-Service (SaaS) subscription where they will buy a licence on a yearly basis.
"Our differentiator is the fact that we can offer a very personalised environment that will be very functional for both the physiotherapist and the patient.
"Also, I've been through rehab myself so the way we create rehab exercises is very much with the patient at the centre and that will be key to how we work and what we will offer. And of course we will be fully medically certified so we will be able to easily fit within the clinical pathway."
Thus far Immersive Rehab has received some encouraging feedback and physiotherapists have been reaching out to learn more and to share their experiences. The patients themselves have also been very positive about what the company can offer and crucially what it enables them to do going forward.
One patient that the company has been working with is David Smith, a Paralympic athlete who was a gold medallist for Great Britain in London 2012, and is also a spinal cord injury patient. "He tested our VR rehab platform where he immersed himself in a 3D interactive environment to perform physiotherapy exercises based on the grasping method during which he had to move objects around," said Van De Keere. "It has been great to work with him to get his feedback during  the product development stage."
She concluded: "What I have seen is that VR can have a positive effect on people's health and recovery and compared to the current upper limb rehab the results have been encouraging. VR is an amazing technology that is giving ground-breaking results in healthcare so it's really important we embrace this technology to allow people to take charge of their health and well-being and empower them, because there's nothing worse than not having any options."