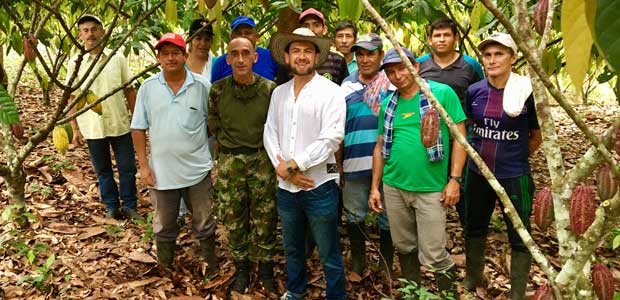 Using blockchain to bring peace to conflict zones
Chocolate is probably not the first thing that springs to mind at the mention of blockchain technology. However, it's that precise combination that is helping to bring an end to over 50 years of civil war in Colombia which has killed over 200,000 people and internally displaced millions.
Speaking at the Blockercon conference in Bristol, Matt Whiteman, Partnership and Growth Manager at Montreal-based startup Choco4Peace, a multi-institutional movement that uses blockchain and cacao (the base ingredient of chocolate) as economic tools to support the construction of peace, explained more about the situation in Colombia.
"In 2016 the Colombian government signed a peace accord with the FARC, the largest of several illegal arms groups that formed part of the conflict in the country. Since the accord was signed the Colombian government has introduced the crop substitution programme, which allows coca producers (the principle ingredient in cocaine), to transition to more sustainable crops like cacao - this process actually won a Nobel Peace Prize in 2016."
Despite this however, Colombia's export potential for cacao is still very marginal and the production of cocaine has continued to grow. The cultivation of the coca leaf has tripled in the last five years and 2018 represented the highest level of production the country has ever seen.
In the country there are already approximately 38,000 existing cacao producers, operating largely in rural, hard-to-access, post-conflict regions. Around three quarters of these live below the poverty line (which in reality translates to $2.00 per day). As such, the production of cacao is economically and logistically unfeasible in most cases, with farmers facing the dilemma of farming cacao in poverty or returning to cocaine production as a means of survival - often for the same people that have murdered their families.
Why are cacao producers in poverty?
"When we started we asked ourselves the question: why are these farmers in poverty in the first place?" Commented Whiteman. "Well, poverty is a very complex international development issue, but the reason behind a lot of the poverty we see is due to lack of access - to international markets and fair prices, finance, good governance systems, insurance, education, technology etc."
Whiteman went on to explain that there is also an international development problem called the agricultural financing gap. There are around 450 million smallholder farmers around the world, regardless of the commodity they produce, and together they face an agricultural financing gap of around half a trillion dollars, i.e. they can't get access to loans and finance in order to improve the quality of their crops or their yield.
However, blockchain has emerged as something of a dark horse in terms of bringing sustainable solutions to shortages and inequalities in the agrifood industry. By aggregating investors and producers within integrated economic networks, blockchain technology has the capability to bridge an often hard-to-cross gap, bringing together suppliers attempting to meet a rising product demand, and producers in developing countries who lack the means to both find buyers and export their product.
Whiteman commented: "To address these kinds of issues we use our hyperledger blockchain platform, called the Decentralized Inclusive Economic Network. The farmer is at the centre of the platform, and all of the elements that the farmers lack related to poverty form part of this blockchain."
Every step of the way
Whiteman explained that the first thing to consider is how to put value on the blockchain. "At one end we have the cacao producers who form the first step in the blockchain, and at the other we have the chocolate maker, and every subsequent step in the value chain gets added to the blockchain," he added. "So, by the end you have a finished product, the origin of which you can not only trace back to the farm where it was grown, but also the socio-economic and environmental impacts of consumption as well as production." Choco4Peace aligns and measures its work with six of the UN's sustainable development goals (SDGs) - No Poverty; Gender Equality; Decent Work and Economic Growth; Responsible Consumption and Production; Climate Action; and Peace and Justice.
Choco4Peace's programme provides smallholders with capacity building tools such as insurance, training, technology and certification services in order to transform them from high-risk investments to low-risk investments. These steps not only serve as preparation for access to investors and financial resources, but additionally, they promote principles of sustainability.
As mentioned, one of the main issues around trying to mobilise finance is the problem of investment risk. The farmers concerned represent a fairly uncertain investment, as they live in rural and remote areas, are largely illiterate, and are ex-cocaine producers and war victims. However, being able to borrow money is of course one of the most important methods of growing a business.
Therefore, one of the greatest challenges for Choco4Peace is mitigating that investment risk by finding bankable projects for investors who are looking to mobilise their capital. So by demonstrating the access to market, the investor will be much more willing to mobilise their capital down to the bottom of the pyramid and to the people who need it most.
Through the blockchain, the socioeconomic and environmental impacts of cacao producers' sustainable farming practices are made visible through an accumulation of data, recorded on a transparent hyper ledger platform. In collaboration with Top, a Dutch blockchain company focusing on projects that generate positive social impact, Choco4Peace seeks to measure and generate a proof of impact through the accumulation of data based on interactions within the economic network.
Blockchain technology's ability to store and provide extensive data is used as a means to build trust, incentivising investment in areas of need around the world as investors can see directly the impact their contribution makes.
Whiteman added: "So far we have signed agreements with seven cacao organisations in four post-conflict regions of the country, representing about 1,000 farmers, who can produce about 750 tonnes per year of cacao. At the other end of the value chain, we are working with a premium bean-to-bar chocolate maker in Montreal."
Roadmap
Looking ahead there are still 77,000 families in Colombia still producing cocaine, who have volunteered for the crop substitution programme. This represents around 100,000 hectares of land and potentially 150,000 tonnes of cacao per year. Beyond that, Colombia is not the only country with issues around the production of coca - Peru, Bolivia and Guatemala for example all have similar issues, and the Choco4Peace blockchain solution could be rolled-out in all these locations.
Similarly, the model can also apply to other illegal crops. Whiteman commented: "Whether you're talking about opium production in Afghanistan or hashish in Morocco, the commodity and the geography is irrelevant and this model could be applied anywhere, with fantastic results. We can demonstrate the measurement of socio-economic impact for investors, and they can then pass those benefits on to their shareholders."
Choco4Peace is currently raising funds to launch its pilot programme in Tumaco, Nariño in the south of Colombia, the largest cocaine producing region in the world, representing approximately 30% of all of Colombia's coca. "We are working with 50 families who have made the transition already to growing cacao and we're hoping to scale up from there," Whiteman added.
Summary
Through Choco4Peace's use of blockchain technology, chocolate, a widely-appreciated commodity throughout the world, is quite literally being used for the construction of peace, as blockchain technology provides a way for producers to build lives with dignity, transitioning from the production of cocaine to that of cacao.
Access to markets, fair prices and transparent and traceable trade, made possible by blockchain technology, make this positive transition feasible, bringing chocolate to the world while diminishing the harmful impacts of the cocaine industry and empowering those living in Colombia's post-conflict regions.