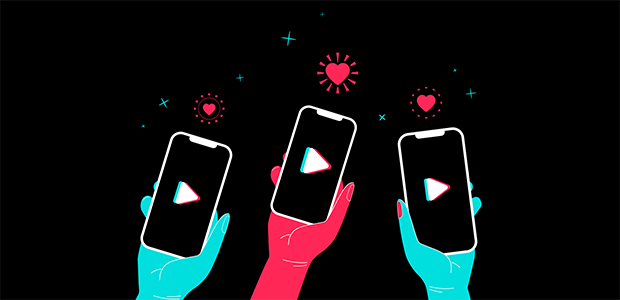 User-Generated Content as the Main Creative Approach on TikTok
User-Generated Content - it's the most effective way for communicating with Gen Z and Millennials. This phenomenon hooks us by being inherently genuine and authentic, with each phase of transforming it becomes more and more adapted to 'new reality'. Although, there are now tonnes of different social platforms, UGC always performs in different ways. 
Why does User-Generated Content work on TikTok? TikTok is the latest newcomer to the advertising sphere. It runs more lively, more segmented ads than other social media platforms like Facebook or Twitter. In 2022 the total number of app downloads have reached three billion and more than 800 million active users worldwide. The pandemic has brought with it a great need for sincerity. People are searching for what they will be willing to believe. It's a story about a sincere dialogue with the user when you are not trying to deceive him. But to get you content to blow up, you have to know how to choose the right approaches. 
What's so Intriguing about TikTok? 
TikTok is a platform that allows users to be themselves; honest and transparent. It inspires creative projects and trustworthiness. Besides, it brings passion to millions of people globally. That's why TikTok – is a UGC-platform. Users trust users (just like them!). And it's not mandatory to search for high-paid celebrities or luxury photo studios to be respected. 
According to Flamingo Group research conducted in Germany, France, Italy, Spain and the UK, on TikTok, authenticity is associated with feelings of creativity, uniqueness, inspiration and joy. Besides, 48% of TikTok users consider the platform as joyful compared to 30% for social media sources. TikTok's community builds this special atmosphere by the simplest expressions and forms: dancing and the ecstatic moving of the body; lip-syncing, a way of speaking and mimicking sounds; warm and fuzzy music. That's why companies also profit from TikTok's opportunities: 56% of respondents admitted to feeling more positive about a brand after seeing it on TikTok. 'Creative authenticity' of this video-sharing app opens a fuller and more complete version of living, where ups and downs can co-exist, dispensing with perfectionism. 
TikTok is valued by content about real life, which is also created by people themselves. There are intimate personal stories and tragedies of break-ups, as well as pets jumping on the sofa or kids cooking homemade pizza. That's what we call "new sincerity" – a new advertising reality. 
How does TikTok's Algorithm Work? 
TikTok's algorithm is a unique mechanism that randomly decides which videos to display to users on their For You page based on consumers personal choices. Simply put, it's the system that determines which videos you might be interested in. 
It's also important that two same users won't be able to see identical videos on their personalized pages. Furthermore, videos they see are constantly changing according to the user's viewing preferences and even their current mood. TikTok doesn't want spammers to be able to cheat the algorithm to get non-natural awareness. There are plenty of factors that affect the selection such – starting from User Interactions, and ending in Device and Account Settings. 
The algorithm usually pay attention to points like: 
What's happening in the video (what people do and say, what objects are around);

How the video was made (phone camera video or rendered animation); 

In what way video was edited (TikTok editor or another one); 

What kind of music was used (TikTok library or user's own); 

What was the video description (words and hashtags);

Copyright (if there're fragments or other videos). 
Additionally, TikTok algorithm includes language preference, country setting and categories of interests for specific users (automobile, education, financial services or whatever else). This complex system encourages our team to create different content: dynamic videos, reviews, unpackings and dress-ups. 
Whу Do We Use

User-Generated Content

as our Main Creative Approach? 
Latest research of mobile video advertising performed on the Realeyes has shown that TikTok videos with User-Generated Content have higher scores in several key metrics. To illustrate, UGC-videos in TikTok outmatched Facebook on Realeyes' Quality Score, which is reported on a scale of 0-10 and computes a video's ability to perform in real time. 
To ensure the effectiveness of User-Generated Content we tested more than 1000 different approaches (as it's always a game of trial and error). Though, that allowed us to form three main directions in making creatives: 
Graphics and UGC
Graphics combined with User Generated Content is the most practiced format when we need to take the level of authenticity to the max. In this case for the pharmaceutical marketplace our team simulates the shopping process with graphic elements and add-to-cart sound effect. We have also specified the reason why they should take the initiative (free shipping). Shoppers perceive it as a call-to-action: 'Buy now' bringing us a lot of clicks and purchases. 
The most usable formats for E-Commerce: 
Shopping Imitations

Lifehacks Videos

Contests / Giveaways
Graphics only
Creators use visual elements to increase conversion rate of advertising campaigns. Eye-catching graphics help to attract more users who want to get acquainted with the brand. In our videos for Onfy – a pharmaceutical marketplace in Germany – we got a standard video production technique which compares our product to a competitor's product based on price characteristics. It is perfect for spotlighting on any channel, especially E-Commerce. We also integrate every aspect of the company into a unified style with a green color palette. 
The most usable formats for E-Commerce: 
Product Demos

Product Comparisons

Add-to-cart Videos
UGC only
UGC only is about content with real people and their emotions. One of our favourite trends is unpacking (or unboxing) – video format, containing the process of unpacking goods. This approach increases brand trust, because the product is shown exactly as it is. We hand-picked a series of short creatives for Joom – a E-Commerce platform and mobile app that sells products from Asia and Europe. The audience can see sweater, sneakers and jacket in action and visualize it in the context of their own lifestyle. It creates anticipation in users that leads to increased sales.  
The most usable formats for E-Commerce: 
Testimonials or Review Video

How-to Videos 

Dress-ups 
Due to User-Generated Content we have received more than 400,000 Joom marketplace app downloads with TikTok advertising campaign. We were testing various categories of products but clothing and auto products showed themselves best. Trustworthy elements became the mainstay of our advertising campaign. For the entire period we created more than 100 authentic short vertical videos harnessing the power of UGC through the voice of people. AdChampagne team managed to generate live content that our users will love and want to share with others. The easy-to-use message for E-Commerce users is something they can relate to. Besides, User-Generated content intensifies many steps of the consumer's journey such as: 
Contacting with a product (or service) ('first-time experience')

Comparing the product (or service) to others

Ordering the product (or service)

Receiving the product (or service)

Engaging and sharing the experience with the product (or service)
These stages are generally the most exciting for the customer and it's important to focus on how to amplify the encouragement across the main phases. 
We believe that UGC-content proves product value while demonstrating it to users. It helps to create that unique feeling of delight – and make customers trust you. Our works are always eye-catching: bright first frame, short intro and unobtrusive call-to-action. It is important to feel the balance between meeting KPIs and maintaining user loyalty. 
That's why User-Generated Content is based on the main values as: Trust, FOMO (Fear-of-missing-out), Desire and Close-knit communities. Therefore, advertising campaigns with UGC content don't come off tacky or too salesy for users. Even while imitating User-Generated Content, we need to blend it inside the platform. 
Such way we can target two main categories: the audience likely to buy our products and the audience who won't buy them. What's the secret? When searching for your target consumer on TikTok, you have to primarily think about his interests and desires. Understanding the type of content your audience is already interacting with is quite an important point – it sets the direction for how you can enter this circle.