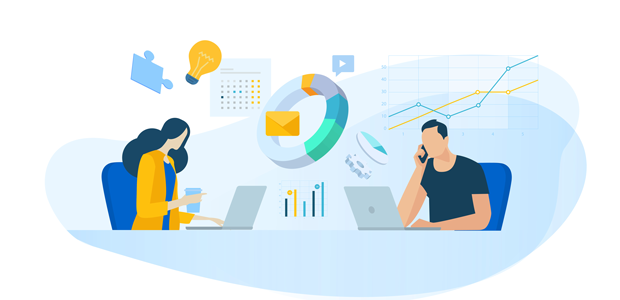 Upgrade Your Startup with These Must-have Tech Items document
There are many upgrades you can make to your workplace that make your startup a great place to work. However, there aren't many workplace upgrades like the following tech items that improve the quality of your service while enhancing productivity and company profitability.
Upgrading your workplace with the right tech items will propel your startup into the future, ensuring long-term success, online security, improved productivity, and so much more. 
Read on to discover the tech items we think are must-haves for any workplace.
Invest in Online Security Software
Did you know that out of date technology doesn't just reduce productivity and hold your startup back competitively, it also exposes you to cyber risks? A 2020 UK Government survey discovered that over 46% of businesses and 26% of charities reported security breaches in just 12 months. These losses in data caused many businesses to close completely.
Upgrading your workplace with the following tech items isn't just about modernising, it's about staying competitive and keeping your startup secure online. The importance of cybersecurity for businesses cannot be underestimated. If you haven't already, you must invest in online security software.
Introduce Smart Gadgets
"We are seeing a significant demand for commercial spaces with integrated smart gadgets. Business owners are keen to purchase space that allow for smart gadget integration to help make working processes easier, provide better customer service, and help create a working environment that attracts the best employees. We estimate this is only set to rise as remote working continues and employees demand better tech integration in the workplace." - Town & Country Mortgage Services.  
As technology continues evolving, it is becoming increasingly embedded in our workplaces, transforming our work processes, increasing productivity, and simplifying processes. Smart devices are a must-have for your startup workplace as they instantly increase flexibility and productivity.
Smart gadgets do a fantastic job at increasing and improving your workplace to create a better and more productive working environment. Introducing smart gadgets can benefit your whole team.
Adopt Cloud-based IT
Cloud computing is becoming increasingly accepted by businesses of all sizes because of its many benefits. Cloud-based IT offers benefits such as scalability and flexibility, security and recovery, and accessibility. Startups today are moving more and more of their data to the cloud, and it is estimated that 83% of businesses are currently working in the cloud.
If you haven't adopted cloud-based IT yet, now is the best time to do so. Cloud-based technology is one of the most functional business solutions available. It lets you connect to your business wherever you are and whenever you're ready to work. What's more, it is scalable - helping your startup grow and develop in an increasingly technological world.
Embrace AI Technology
More companies are investing in voice enabled AI applications to get tasks done faster and more efficiently. AI technology increases workplace efficiency by utilising voice-enabled smart assistants such as Alexa and Siri.
"AI will help small businesses offer more personalised experiences to their customers by maximising their time and automating manual tasks […] If you are spending almost a quarter of your day on manual tasks, like inputting data […] AI and automation can be a huge asset." says Meredith Schmidt from Salesforce.
Broadly speaking, AI can support your workplace and startup needs in three main ways: by automating business systems, engaging with customers and employees, and analysing data insights to increase business effectiveness. It is one of the most valuable startup tech tools available and can transform the workings of your company for the better.
Data Back-up and Recovery Solutions
Business data is essential to providing a high-quality service for your customers and building a startup your employees love to work for. As such, the consequences of business data loss cannot be exaggerated.
Having data back-up and recovery solutions in place can provide much-needed security for your startup, keeping your data safe and in your hands. Whether you are prepared or not, data loss can happen at any time and in a variety of different ways, so having back-up and recovery solutions in place is a must.
We always recommend the 3-2-1 rule; keep 3 copies of your data in 2 different mediums and 1 copy off-site. With the 3-2-1 rule, you will keep your data safer for longer.
Communication Tools
Did you know that 15% of total work time is lost or simply wasted due to ineffective and inefficient communication methods? Implementing effective communication in your workplace can greatly increase productivity, encourage healthy professional relationships, and streamline your work processes.  
If you want to keep up with the competition, it is important to embrace online communication tools. You don't have to be super tech orientated to get on with digital communication platforms. Thanks to intuitive designs, communication tools are easier to use than ever before. Introduce communication tools and experience the benefits of a closer team, more productive working days, and streamlined working processes.
Final Words
Technology lets people work faster, harder, and smarter. With a few simple changes and these must-have tech items, you can transform your startup into a productive, successful, and highly competitive force online.