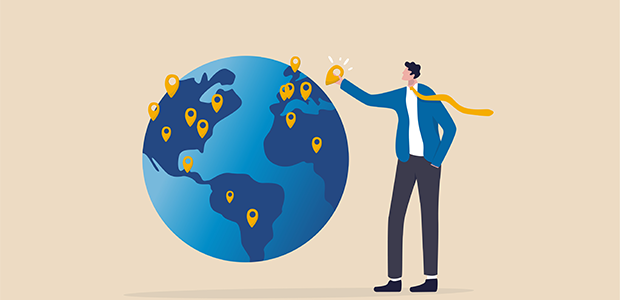 Uni of Oxford and OpenOcean Unveil AI-Powered Startup Ecosystem Mapping Platform
Saïd Business School at The University of Oxford and OpenOcean, a European venture capital firm, have released O3, the world's most accurate open-access startup insights platform.
The O3 platform is designed for steady global expansion, with this version tested on the UK AI startup landscape. In this first phase, the project will help improve decision-making for leaders across the UK tech ecosystem, giving them unique, granular data on startups and their underlying technology.       
The platform brings together the expertise of venture capital, the tech industry, and academia, setting a new benchmark for accuracy in startup evaluation. It will help founders assess competitors, investors weigh up their next investment, and policymakers looking to drive economic growth.
O3 uses a unique taxonomy to understand startups. It has been developed by combining Oxford Saïd's research, which started in 2019, with OpenOcean's nearly 13 years of experience investing and growing pioneering startups from across Europe.
Specifically, O3 offers granular information about the underlying technology stack, solutions and go-to-market approaches of technology ventures. By combining detailed classifications of startups, with data from traditional providers such as Beauhurst, open-access datasets from the community, and regular feedback from the market, it delivers the world's most precise data-driven insights on the tech ecosystem.
Having screened 16,913 UK startups, O3 has already revealed brand-new insights for the UK tech sector, including:
The number of UK startups with a clear AI offering today is less than 10% of the total UK startup ecosystem.    

By sector, health has the most investment in AI companies, with health startups having raised £3.4 billion since 2011.

When the purpose of the technology is considered, companies using AI for recognition tasks, such as facial recognition, have collectively raised more funding than any other use case - £6 billion since 2011.
Ekaterina Almasque, General Partner at OpenOcean, said: "In my time in venture capital, far too often the choice of which startups receive funding has come down to instinct and opportunistic use of data, rather than accurate definition and comparison of startups. We wanted to change that, creating a platform that cuts through the noise, and removes bias from decision-making. This is about empowering founders, investors and policyholders with the tools they need to accurately understand today's tech ecosystem. Already in the early days of the platform, we have shown it provides unique insights that were not possible before. But this is only the beginning. We want to see it expand to cover more markets and geographies. It is a community driven project, built on open access, where the more stakeholders participate, the more powerful is the common knowledge." 
Mari Sako, Professor of Management Studies at Oxford Saïd, said: "We are delighted to partner with OpenOcean to launch the O3 platform, the first open-source venture classification system of its kind. The OpenOcean team brings a fantastic granular understanding of the AI landscape that comes from more than a decade investing in cutting edge AI companies, complementing our research expertise in entrepreneurship and strategy. This platform will help to pinpoint strengths and weaknesses of AI ventures in the UK. It will enable policymakers, researchers, founders and investors globally to clearly identify gaps and opportunities in the AI ecosystem. We believe this platform has immense potential to aid innovators in making informed decisions based on sound data, and to boost research on AI."     
One of today's most pivotal opportunities for this new platform is artificial intelligence (AI). As policymakers seek to transform the UK into an AI superpower, O3 provides them with the means to identify structural shortfalls in the market. One of the foremost is a lack of support for startup growth in the UK.  
Early analysis from O3 found AI infrastructure startups in the UK raised £2.7 billion collectively, compared to £10 billion for AI startups in the application layer. This fundraising pales against major international rounds, including $11.3 billion for OpenAI alone. With infrastructure critical for keeping in-demand AI applications running, backing this market segment will be critical to ensure UK leadership on AI.
The platform has a rigorous classification process, allowing it to uniquely provide highly accurate and granular findings when mapping the UK AI startup ecosystem. Having screened 16,913 UK startups, the O3 platform classified only 1,270 startups as clearly using or facilitating AI.
Other key findings include:
Despite fintech traditionally viewed as dominating the UK, health is actually the highest-funded sector for AI companies in the UK, with health startups having raised £3.4 billion. This sector is followed by Finance (£2.6 billion) and then Horizontal AI startups (£1.9 billion); the long tail of sectors (32 categories) accounts for £4.0 billion in funding raised.

Companies using AI for recognition tasks, such as facial recognition, have collectively raised the most funding at £6 billion, followed by forecasting (£5.2 billion), goal-driven optimisation (£4.9 billion), and event detection (£4.4 billion). Recognition is a thriving space, with the image recognition market alone valued at $38.0 billion in 2022 — expected to hit $134.4 billion by 2030.

Despite the UK government preparing to host a global AI safety summit in November, the least well-funded AI use cases are for privacy protection (£1.2 billion) — still a nascent industry — and companies facilitating AI (£850 million).

Analysis highlights a significant bias towards London for startup fundraising, whilst also highlighting the prevalence of technology hubs outside of London: with top infrastructure companies are located in Bristol, Oxford, and Cambridge.
Almasque added: "We are thrilled to collaborate with The University of Oxford's world leading Saïd Business School on this endeavour. By leveraging transparent, accurate datasets, our in-depth analysis has already revealed fascinating findings that will spark crucial conversations on strengthening the UK's technology sector and making this country a global powerhouse for AI."