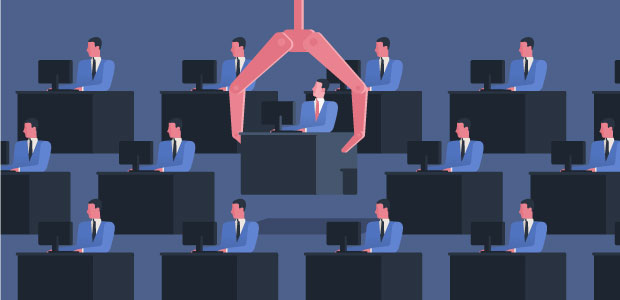 Understanding employee exits and dismissals
Whether you're looking to exit individuals on selling your business, downsizing a department or terminating an employment contract after a fair disciplinary hearing, at some point you will need to part ways with an employee.
These decisions take considerable and careful thought so the final section to HR happiness addresses the key areas of focus when it comes to exits and dismissals.
Ensuring a fair dismissal
If you dismiss an employee (with more than two years' service) for whatever reason, you must ensure it is fair, otherwise you could face hefty compensation claims at employment tribunals or other unwanted ramifications. Unfair dismissal compensation can be up to £98,922, and there are no longer any tribunal fees for bringing a claim - so claims are much more likely.
To avoid this, your reason and methods of dismissal must be legitimate and you must act reasonably, usually by following a sensible procedure. As well as claims for unfair dismissals, if you step outside a proper process, an employee may jump first and claim constructive dismissal, which will be covered in brief below.
Reasons for dismissal
Employees with two years' service are entitled, on request, to written reasons for dismissal. The Employment Rights Act 1996 establishes the five potentially fair reasons for dismissing an employee:
Misconduct
Capability or qualifications – typically poor performance or ill-health
Redundancy
Contravention of a statutory restriction (the right to work in the UK, for example)
'Some other substantial reason' (SOSR) – designed to catch potentially fair dismissals that don't fall into the other categories
However, identifying the reason for dismissal isn't always straightforward. There might be more than one reason, meaning you'd need to identify the main reason. Plus, some of the categories above are, in the world of tribunals, quite narrow. Redundancy in these cases only covers closure of your business or a workplace or a reduction in the need for employees to do 'particular work' that they were employed to do. SOSR is also narrowly construed – it can't just be used to mask the underlying reason for dismissal.
In a tribunal, it will be up to the employer to show the reason for dismissal. The reason is then considered for how reasonable it was in that situation for that employee. There are two parts to this:
Did the employer act reasonably in treating the reason as sufficient to dismiss?
Did the employer follow a fair procedure?
The test for reasonableness looks at whether the decision to dismiss was within a 'range of reasonable responses', considering the circumstances, including the employer's size and administrative resources.
Do note that employees are entitled to notice of an upcoming dismissal unless they have committed an act of gross misconduct. The amount of notice they are due depends on the length of their employment or, if greater, their contract of employment.
Unfair dismissal
Sometimes the reason for a dismissal is automatically unfair and there's no two-year qualifying period – these rules apply to every employee from day one.
The main examples of reasons automatically classed as unfair are:
Whistleblowing
Family reasons – pregnancy, childbirth, exercising rights to family leave
Certain health and safety reasons
Exercising rights to time off work
Trade union activities or taking part in protected industrial action
In the event of a TUPE transfer (see below)
Wrongful Dismissal
Often claims for 'wrongful dismissal' are brought at the same time as claims for unfair dismissal. Wrongful dismissal is a claim for a breach of contract, in which the fairness of the dismissal is irrelevant. For example, the dismissal could have breached the employee's notice period or breached contractual disciplinary or redundancy procedures.
Constructive dismissal
If an employee resigns and can show that they were entitled to do so because of the employer's breach of contract, they can claim constructive dismissal. The employer's breach must be a fundamental breach of the employment contract or shows that the employer no longer wishes to be bound by at least one of the key terms of the contract. It must also be sufficiently serious to justify the employee resigning.
Common reasons are where an employer has:
Failed to give the correct period of notice to terminate
Failed to pay for work carried out by the employee
Reduced an employee's pay without agreement
Changed an employee's duties without notice or agreement
Failed to observe the implied term of mutual trust and confidence
Discriminated against the employee
Failed to address an employee's grievance
Poorly handled disciplinary matters
Transferring employees under the Transfer of Undertakings Regulations (TUPE)
In the event of a sale of the whole or part of a business, or a service provision change, employers need to be aware of the effect of the Transfer of Undertakings (Protection of Employment) Regulations 2006 ('TUPE').
TUPE was introduced to protect employees when these transfers take place. TUPE is one of the most complicated parts of employment law, and if you expect your business to go through this process, it is highly recommended that you seek legal advice prior to a sale or service provision change in order to plan appropriately.
Employer responsibilities under TUPE
Under TUPE, the employer who is selling the business (or part) or undergoing a service provision change is known as 'the transferor' and the new employer buying the business (or part) or providing the service is known as 'the transferee'. Both businesses have responsibilities to employees 'affected' by the transfer. A key responsibility is that both the transferor and the transferee must inform and, in certain circumstances, consult with, either recognised trade unions or an elected representative of the employees.
The information given to the elected representatives should include:
The fact that the transfer is going to take place, when it will take place and why
Social, legal or economic implications, such as a change in location
Any measures that both the transferor and the transferee expect to take for their employees (including if there are no expectations)
The number (if any) of any agency workers employed, the work they are performing and in which departments
The transferor must provide information about any measures the transferee is considering for employees
This information should be shared in enough time, so a consultation held between the parties before any transfer takes place. If there are plans to make 20 or more redundancies within 90 days, employers must consult with the trade union representative and directly with the affected employees within thirteen weeks. If there are fewer than 20 employees being made redundant within 90 days, you must still consult with employees, but there is no time limit in which to do this.
Rights and liabilities transferred under TUPE
When a TUPE occurs, a concept called the 'automatic transfer principle' is introduced. This means that the transferee employer inherits all rights, liabilities and obligations associated with the transferring employees.
Employees affected by TUPE include those:
Employed by the transferor; and who are
Assigned to the organised grouping of resources or employees – meaning that if an employee spends most of their time in a part of the business being transferred, they are likely to be affected. However, this is largely undefined in the law itself.
Subject to the relevant transfer and would otherwise be terminated but for the transfer
The automatic transfer principle relates to all statutory and contractual benefits, including:
Pay
Holiday pay
Health insurance
Company car
Bonus or commission schemes
Profit share schemes
Enhanced maternity and redundancy packages
It also applies to any non-contractual benefits connected with the contract that would have been enforceable against the transferor or transferee.
Some rights and liabilities do not automatically transfer under TUPE:
Pensions (but beware as there are some exceptions)
Profit share and share schemes
Restrictive covenants
Contracts with third parties
Also, an employee may not want to automatically transfer to a new company. In this case, that employee may object to the transfer in writing and, legally, their rights, powers, duties and liabilities will not transfer as their employment will automatically and fairly end on the date of the transfer.
Protection against dismissal
Any dismissal made where the main reason for the dismissal is the transfer itself will be ruled automatically unfair. If the reason for the dismissal is an 'economic, technical or organisational change entailing changes in the workforce' (ETO) reason, the dismissal will be classed as potentially unfair and subject to the usual rules on reasonableness.
If an employee resigns in response to detrimental changes to their terms and conditions as a result of the transfer or a repudiatory breach of the contract connected to the transfer (see constructive dismissal above), they also benefit from protection against dismissal.
Managing redundancy
Redundancy is a potentially fair reason for dismissal and as with the other reasons, an employer must act reasonably when carrying out a redundancy dismissal.
Situations leading to redundancy
Redundancy can be a result of:
Temporary or permanent closure of a business
Closure or relocation of a certain office or workplace
Reduction in the requirement for certain roles within the workforce
Special rules apply in the event of administration or insolvency, where an insolvency practitioner is appointed.
Equally, it's important to know the situations that may not count as redundancy:
Changing workers from night time to day time shifts
Efficiency changes to a shift system
Reducing the availability of overtime
Selecting candidates for redundancy
The first stage is to identify how many and in what period. This can be an intricate procedure, involving 'pools' where objective selection criteria are applied to a group of staff who might be made redundant. Those staff members should then be informed, ideally in writing, and consulted. If 20 or more employees are to be made redundant within a period of 90 days, it is deemed a collective redundancy, which becomes a more complex situation.
Common selection criteria and methods include:
Last in, first out (although this is seen as outdated and potentially discriminatory against women, part time and younger employees)
Re-interviewing
A point-scoring system based on weighted criteria like skills and performance, disciplinary and sickness records and length of service
The redundancy process
Employees should be consulted on:
The reason for your proposed redundancy
The numbers and descriptions of employees you are proposing to make redundant
The proposed method of selecting the employees who could be dismissed
The proposed method of carrying out the dismissals, including the time period over which they will take effect
The proposed method for calculating any redundancy payments
In a collective consultation process the above information needs to be provided in writing to elected employee representatives, in the absence of a recognised trade union at the start of the process.
The process should provide for discussing ways of reducing or mitigating redundancies, such as job sharing or reduced hours. You should also consider the possibility of alternative employment, voluntary redundancy or redeployment such as the opportunity of a trial period in a new role.
Where there are 20 or more redundancies anticipated in a period of 90 days the consultation period must run for a minimum of 30 days. Where there are 100 or more redundancies, consultation must last for 45 days minimum. It's important to note that you must consult any employees who are on maternity leave. Employers should also be aware of any internal policies that they may be expected to follow, some of which may provide for enhancements on redundancy or the right of appeal. Some policies may also have acquired contractual status, either expressly or through custom and practice.