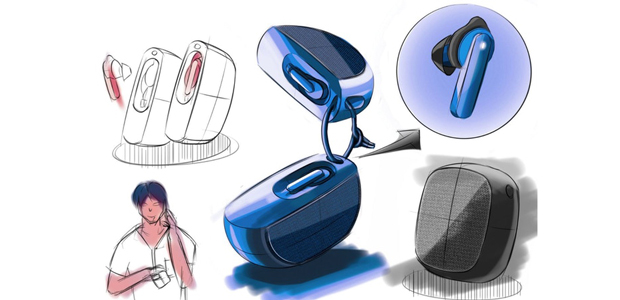 The ultimate duo experience
The wireless headphone space is becoming increasingly competitive, but imagine having a pair that when not in use can transform into a portable speaker – so when you are not listening to music by yourself you can listen out loud with others.
That is exactly what Duolink has designed with their new SpeakerBuds, which launched on Kickstarter yesterday. Described by Duolink as the 'future of music for every lifestyle' these speakers are the first of their kind and have the potential to revolutionise the wireless headphone industry.
The speakers and true wireless earbud hybrid are creating a new category within the audio hardware market, and are going to prove difficult to compete with.
Disrupting the space is exactly what Duolink will do with this best of both worlds device, which will appeal to anyone at any time. Having tried the earbuds combined speaker out myself I can say the quality will not disappoint.
The small, compact but at the same time very loud speaker that you first see is essential in today's world, as music is such a large part in almost everyone's lives. Listening to music whilst cooking, having friends over, or even taking it with you to the beach, speakers have become an integral part of everyday life, but Duolink provides a solution for every circumstance as it also has you covered for when you want to go out running or on your commute to or from work.
It seamlessly switches between a speaker and the earbuds function - with a microphone for incoming calls that are picked up using Bluetooth - and stereo speakers to fulfil your every listening need, as they instantly adapt to you. You simply just plug the earbuds to the inside of the speaker which will transform the music to out loud without any lagging – always a bonus. The speakers also were created with top-notch acoustical engineering to ensure the perfect sound is always delivered.
The earbuds can then be found inside of the speaker as it splits down the middle and is held together through a magnetic force. Not only will this keep your earbuds safe when they are not in use, but the Duolink also charges the earbuds whilst you are playing music out loud.
Described online as a "complete reinvention of the music player, the Duolink is a key part of a music revolution where we can place parties in our pockets and hear personal concerts with a snap." The company originally had the idea when experiencing first hand having to lug around heavy music boxes, untangling wires, and having to bring multiple devices around all the time, as well as having wireless earbuds dying unexpectedly, so pulled together and designed the idea of the Duolink.
The goal is to provide the greatest convenience to consumers whilst providing a high quality of music sound, with a speaker frequency response ranging from 20-20,000Hz and a microphone frequency range of 100-10,000Hz. The speakerbuds have also been designed with AI noise cancelling mics with voice enhancement technology which can extract a voice from a noisy environment, to ensure clear hearing the other end.
The earbuds fit super snug in the ear, and have been designed with comfort so if you need to wear them all day, you wouldn't even notice, as the small and sleek designed has been made to fit so perfectly in the ear.
Now let's talk battery life, of course something of a massive priority in today's tech landscape. The Duolink includes longer battery and charging efficiency, as it can be fully charged in just 1.5 hours. As previously mentioned the earbuds can be charged in the speaker, so they will charge as you play music out loud. The speaker has been created with a longer battery life, the earbuds will last around four hours and the speaker six, but as the speaker acts as a powerbank, it provides twice as long battery life, around seven to eight hours, compared to similar true wireless stereo products.
The Bluetooth connection is important and has been created to hold a stable connection, as the latest Bluetooth 5.0 stabilises the connection to any portable device without audio drop. The product has been designed with water resistance (IP54) which will cover it against water spray and limited dust coverage, to ensure they are sweat and travel proof – again essential for today's consumers.
Finally, one of the exciting features of the Duolink is the tap control function, as the speakers can be controlled by just a tap so you can answer and end calls, adjust the volume or summon your voice control function, hey Siri, just using the tip of your finger.
The Duolink is available now on Kickstarter, so if you are ready to experience the unexperienced you can find out more here.