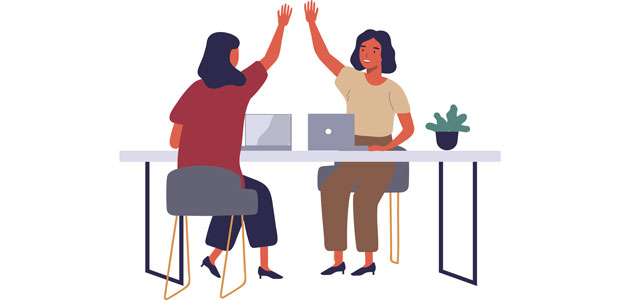 The UK universities that produce the most female tech entrepreneurs
Between 2000 and 2019, the London School of Economics and Political Science has seen 18 female graduates found a tech company after studying at the university. That's more than any other UK university.
In 2014, two years after graduating from LSE, Anna Iarotska went on to launch Robo Wunderkind, a company that sells toys to teach children how to code.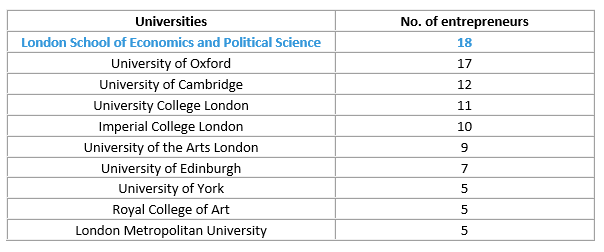 What are your recommendations for women that want to launch their tech startup?
Sarah Wood from Women in Tech said: "First and foremost, have the confidence to persist and see your dreams through. A more practical recommendation would be to utilise the 'plugged in' connected world we live in and engage in networking on sites such as LinkedIn! No advice is too much advice and all advice is valuable in some way, so seeking out help from experts is a must also.
"If you haven't decided on what your business will be just yet, definitely find your niche and research ways you can contribute to the market and improve it. Lastly, never underestimate how valuable you are as a woman in tech."
Royal College of Art alumni are the quickest female tech startup founders
Female entrepreneurs from of the the Royal College of Art, Imperial College London and University College London were quickest, on average, to launching their tech companies after finishing their education at these universities.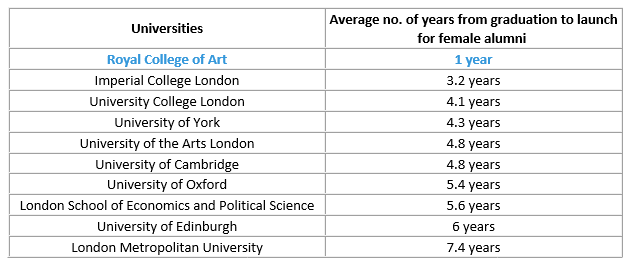 In 2017, Florence Gschwend graduated from Imperial College London with a PHD in Chemical Engineering and succeeded in launching a spin-off company with the university known as Chrysalix Technologies, which had raised more than £4m in funding by 2019.
What is the role of universities when it comes to entrepreneurship?
"It's difficult to say whether you can truly teach someone to be an entrepreneur. However, universities have a level of responsibility to provide students with access to resources, confidence building and networking opportunities to nurture entrepreneurial students from a whole host of disciplines and backgrounds. University is a unique time where young adults are full of hope and possibility for the future! Universities with the resources to deliver lectures, workshops and fairs centred on entrepreneurship should encourage as many students as possible to partake."
Top 10 universities from which female alumni raised £1m the quickest
Tech companies founded by women who previously studied at Kingston University were quickest to raise £1m or more in a single funding round, managing this achievement within 1.3 years, on average.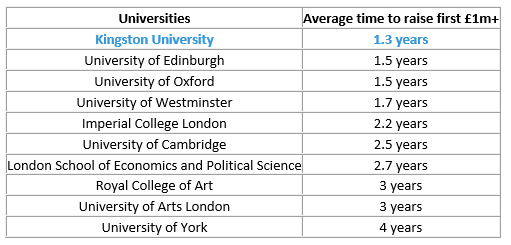 It only took a year for Joanne Filbin, Founder of Globacap who attended Kingston University, to raise $1.5m after 2 previous rounds of less than £1m investments.
Are there specific organisations women could reach out to in order to get help with resources to start a tech company, such as fundraising, mentorship, etc?
"On Womenintech.co.uk we publish regular guides detailing resources women can access to help them start or change to a career in tech. We actually run our own Mentorship programme where we match mentees with appropriate mentors and support a virtual working relationship between the two."
Q&A with Sarah Wood from WomeninTech 
According to the study from Tide, there is no real difference between men and women when it comes to the time it took to launch their tech startup:
Do you think it is unique to the tech sector or do you feel it is the same across the board?
"We'd suggest that this may be the same across the board. It's unsurprising that more and more women are turning to entrepreneurship considering that the reality still stands that women are by large still the primary caregivers in their homes, so the flexibility that comes with entrepreneurship is attractive to women.
"Also, having more control over your career and the speed of which you can progress is understandably more attractive to a lot of women who may not feel like working for a tech company would open doors to the same level of progression."
If there isn't much difference after graduation, could it be that the gap widens later on in life?

 
"From our experience the gap is at the beginning of the career as well with only 7% of Computer Science Grads being female. The gap also widens later on with motherhood. We recently published an article that looked into how the motherhood penalty could be a major contributor to the gender gap and judging by what we found during the research for that piece we'd agree that the gap widens later on.
"From our experience it seems there isn't so much a shortage of women wanting to work in tech, it's more of a case of companies retaining women in tech. Unfortunately many women get close to senior and leadership positions in the sector then find they are negatively impacted by the motherhood penalty.
"A trend we found was women either not returning to their work full-time after having a baby or going back into more junior positions that pay less, meaning the gender pay gap is then widened further. A working solution to the motherhood penalty could be the normalisation of shared parental leave."
The tech sector is known to be predominantly masculine, is this statement true? If yes, what can be done to encourage more women to enter it?

 
"Unfortunately this statement is still true in the tech sector. Women make up around 17% of the sector. It's a complex problem and there's no one solution that will narrow the gender gap. However, the most important factors that we believe will actively narrow the gap are the visibility of more female role models for future generations of tech women, encouraging girls to study STEM subjects at school, employers adopting measures such as more flexible working opportunities and better parental support to retain women in tech in the long run.
"Breaking down gender stereotyping in the sector by telling the stories of the women already proving that tech can be as much of a gender diverse world as it is a man's world is also important. Ultimately narrowing the gap will rely on a combination of education, empowerment, and more companies breaking the mold and leading the way. Tech companies coming together to make gender diversity in the sector a priority will also be crucial."
From your experience, what are the main obstacles that minorities face when wanting to start a business?

 
"One of the biggest challenges is access to capital! We recently published an article about where female tech entrepreneurs can find grants and funding, during the research for that piece we discovered that when it comes to achieving capital following a pitch for a startup men are four times more likely than women to succeed. There are many factors that could explain why this is, but the most likely reason is unconscious bias, which presents as a real obstacle for women in tech to this day."
More information all alumni available here.