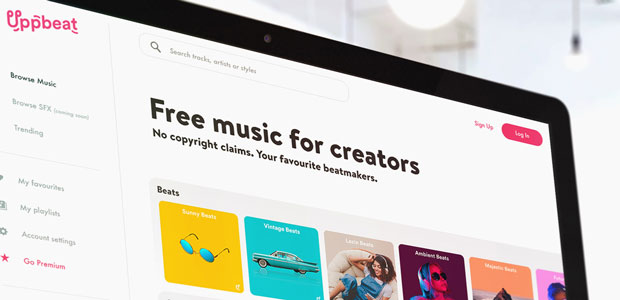 UK startup launches free music platform for YouTubers and content creators
Uppbeat, a new startup providing free music for YouTubers and content creators, has recently launched. Removing the barriers to high quality, legitimate music, it is poised to become the go-to resource for creators across the world.
With over 50 million people creating and sharing content across YouTube, Twitch, TikTok and other social media platforms, the creative community is booming, and more users are joining every minute. However, for YouTubers to avoid copyright claims, and loss of ad revenue, they must contend with pricey music license subscriptions, uninspiring Creative Commons music and clunky website interfaces.
Uppbeat, a startup based in Leeds, UK, has launched to meet this demand from YouTubers and other content creators for free, quality music that guarantees no copyright issues. Whether it's chillhop for YouTube travel vlogs, ambient sounds for podcasts, or background beats for corporate social media videos, Uppbeat's diverse catalogue and curated playlists are designed to perfectly complement all types of content.
Uppbeat is the brainchild of Lewis Foster and Matt Russell, the co-founders of Music Vine, a music licensing platform for professional filmmakers. With years of experience and a carefully curated catalogue of talented artists, composers, and producers from all around the world already at its disposal, the team of eight is now poised to shake up the YouTube and content creator space.
Lewis Foster, CEO, Uppbeat said: "The lack of affordable copyright-free music has been an obstacle in the content creator space for far too long. With Uppbeat we see a real opportunity to become the go-to resource for YouTubers and creators that are seeking quality music for their content."
"Beyond providing a great experience for our users, supporting our artists and music producers is immensely important to us. They're the beating heart of our platform, so we've devised an ethical business model that allows us to remunerate them from a number of revenue streams. It means our artists are always paid fairly for their music."
The platform launches with over 1,000 registered tracks from indie artists, producers and composers from around the world.
Uppbeat's free users can download ten full-length tracks per month, which they can freely use in YouTube videos without risking copyright claims. Or, they can opt for a £6.99 Premium account that provides unlimited and unrestricted access to Uppbeat's catalogue, as well as the ability to whitelist YouTube channels and pre-empt any future copyright claims.