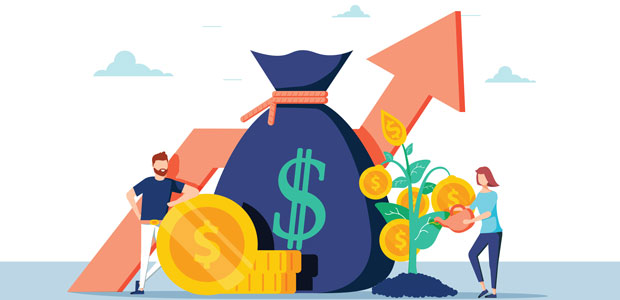 UK fintech startup launches to compete with premium bonds
EverUp, the savings app offering tax-free cash prizes, has launched in beta in the UK today to help millions of people to save money in a fun and exciting way. EverUp encourages and rewards good financial habits, through in-app games with real cash prizes.
When it comes to saving money, UK households perform poorly. According to the Office of National Statistics (ONS), in 2019 the household savings ratio stood at just 5.9%, meaning that for every £100 earned, only £5.90 was put into savings. This is half of what it was throughout the 1980's and 90's, despite the fact that UK consumers today need to save more than ever before.
EverUp aims to change this by making saving a more fun and exciting activity. The EverUp app is available to download now on iOS and Android. Users can currently subscribe to the growing waitlist on EverUp's website. The company plans to onboard its subscribers gradually from the waitlist, by sending them an invitation code.
EverUp customers earn virtual coins based on how much they are saving - the more they save, the more coins they earn. They also earn coins as they perform other in-app actions, such as signing up, opening an account, signing in, levelling up and inviting friends to join. The virtual coins can then be used to play EverUp's suite of games and lotteries, which offer customers the chance of winning daily tax-free cash prizes. EverUp offers a completely risk-free way to save and win prizes, as customers can never lose any of the money they have saved. 
Prize-linked savings accounts have a long history in the UK through NS&I's Premium Bonds, which are held by over 20 million people. EverUp brings this idea into the 21st century in a digitally-native format, which offers instant cash prizes and entry into lotteries.
Commenting on the launch, CEO and Co-founder, Giuseppe Caltabiano said: "There are hundreds of financial wellbeing apps out there which help consumers to save money incrementally but those apps fail to address a fundamental human desire - our need for instant gratification. By rewarding good saving habits with virtual coins and games, EverUp is helping consumers to both save money in a fun way, and get the thrill that comes from playing and potentially winning prizes."
"We were really passionate about developing something that is truly financially inclusive so we hope that EverUp will provide all those that are underwhelmed by low-interest bank accounts or disillusioned by unengaging savings accounts, with a new and exciting way to save more money. This is arguably more important now than ever before."
EverUp is a registered agent of an e-money institution authorised by the FCA and its EMI partner stores customer money with the Bank of England in a safeguarded account, which means it can never be used for any other purposes. In addition to this, EverUp uses bank-level security, 256-bit encryption and two-factor authentication to help keep people's money safe. 
EverUp was founded by Giuseppe Caltabiano and Egi Messito who have each spent 20 years working in financial services and the lottery and gaming industry respectively and is backed by C-Suite professionals from major corporates including financial services veterans Miguel Ortiz, who is also Chairman of EverUp, and William Nott, who is an advisor of the company. The company was overfunded by 300%+ on Crowdcube when the campaign closed earlier this month.