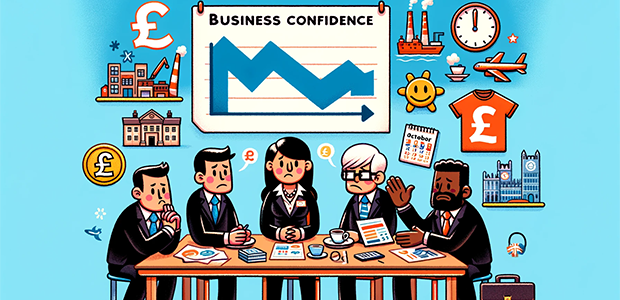 UK business confidence falls to its lowest in 2023, but inflation softens
In October, the Accenture / S&P Global UK Business Outlook reported a decline in UK business confidence, reaching its lowest point this year. The net balance of firms anticipating growth over the next year dropped to +37%, a decrease from +40% in June and +43% in February.
Despite this, UK companies still hold a more optimistic view for the forthcoming year compared to the global (+25%) and European (+16%) averages, which saw a reduction of 3% and 9%, respectively.
Concerns about living costs and high interest rates have somewhat dampened the optimism generated by lower inflation rates. The UK service sector, particularly affected by interest rate hikes, recorded a decrease in confidence to +36%. Hospitality businesses, in particular, reported a notably less positive sentiment.
Conversely, the manufacturing sector showed a slight increase in optimism (+44%), with the transport and food and drink industries expressing notable confidence. Manufacturers are hopeful that new product launches, technological advances, and reshoring opportunities will boost their output.
Ewan Mackay, Strategy and Consulting lead at Accenture in the UK & Ireland, commented on the resilience of UK businesses' optimism compared to European and global counterparts.
He commented: "UK business respondents are more optimistic than firms in Europe and around the world. However, it's no surprise that corporate confidence has wavered in the face of ongoing change, with wider economic challenges impacting interest rates and high prices putting a dent in consumer spending."
"While projections for the next 12 months remain positive, it's important that businesses take action now to turn expectations into reality even if the economic picture remains uncertain. Now is the time to stay the course with strategic investments where possible, hiring the best skills and embedding the right technologies throughout the core of their business to position them for future growth."
Despite a decline in inflation expectations, business confidence dropped. Firms anticipate a slowdown in price increases due to lower non-staff input costs. Expectations for input costs (+47%) and output prices (+43%) remain high but are the lowest since February 2021.
Reduced cost pressures and steady growth forecasts have increased profit optimism, with the UK being the only country in the survey to experience a rise in profit expectations in October. Salary cost expectations have risen marginally to +73%, with companies indicating that addressing employment and skills gaps may continue to drive wage inflation.
The survey also reveals a projected decline in research and development spending (-4%) for the upcoming year, with interest rate rises posing challenges to maintaining investment levels. Capital expenditure projections also show a downward trend, particularly affecting manufacturers.