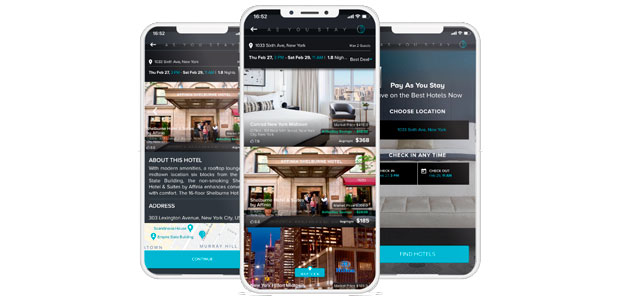 Traveltech startup lets travellers determine check-in and check-out hours to maximise savings
Israeli Traveltech startup, As You Stay, which lets travellers save money by eliminating fixed check-in and check-out times, has announced that its smartphone app now allows making holiday reservations at 400,000 hotels and properties around the world at prices that are substantially lower than pre-Covid-19 pandemic levels.
As You Stay allows its customers to set check-in and check-out times and pay according to actual hours of the stay. As You Stay is a free member-based app available on Android and iOS.
As You Stay believes that there is now a window of opportunity to reserve rooms at a substantial discount over pre-pandemic levels. However, the company expects prices will increase soon with the lifting of lockdowns now in place in many countries, progress with vaccination campaigns, the reopening of the skies to flights and the renewed popularity of hotels and holiday venues.
Over the past year, As You Stay took advantage of the months that hotels were shut down to expand its offering from 100,000 hotels and lodging facilities at the beginning of 2020 to over 400,000 properties on five continents today. As You Stay's vast supply includes most of the hotels around the world.
As You Stay disrupted the global hotel market by eliminating the artificial constraint of checking in to a room at 3PM and checking out by 11AM. The customary times forced tourists to adapt to timetables that are both inconvenient and lack flexibility.
Today, in addition to the lower prices due to the Coronavirus pandemic, customers get up to an additional 20% to 30% discount on room rates because of As You Stay's model for calculating stays based on an hourly rate.
As You Stay was established by Ofer Helfman, an Israeli who lived in New York City, held numerous executive management positions in hotels in the US and served as the CEO of Woogo international hotel chain. Helfman understood the weaknesses of the hotel industry and decided to develop a technological solution that would put an end to the frustration of hotel customers, saves customers money while at the same time increases profits and revenues for the hotel owner.
Ofer Helfman, Founder and CEO of As You Stay said: "During a time when hotel rooms around the world are being offered at bargain basement prices, As You Stay is implementing three game-changing moves - payment on an hourly rate by determining flexible check-in and check-out times any place in the world, an additional discount based on the hourly rate and permitting reservations without giving credit card details and no cancellation fee up to 48 hours prior to the pre-determined arrival time."
"Thanks to the COVID-19 vaccinations, we expect travel in countries and between countries to gradually recover during 2021. We are now initiating a process that will help tourists and hotels over the globe get ready for the post-coronavirus age.'"
Helfman summed up: "Users of our app and website will discover that As You Stay has a huge supply of hotels and lodgings throughout the world along with a user-friendly reservation experience and a far more convenient and economical stay compared to the traditional check-in and check-out times. The app offers a far more economical service that is more suited for private customers and businesses that have seen their travel budgets slashed during the current economic crisis."
The new As You Stay model is also great news for hotels that deal daily with the logistical burden connected with preparing many rooms, often hundreds, just hours before customers are due to check in. Often the housekeeping staff is unable to deal with the pressure and rooms are only ready for the guest hours behind schedule.
The As You Stay technology expands the check in and check out times of guests over a 16-to-18-hour cycle in a way that enables a smaller staff to deal with preparing rooms without any delays and eliminating bottlenecks in the check in process.