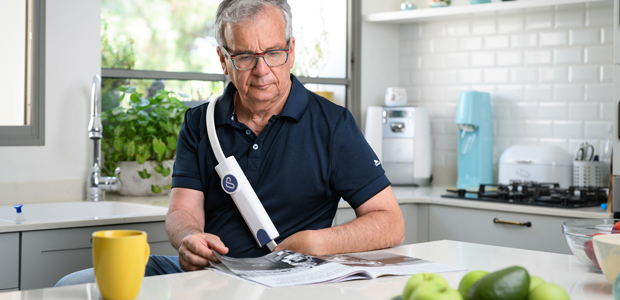 Transforming heart failure treatment
Vectorious is a Tel Aviv based healthtech startup which has developed the first wireless and battery-less in-heart microcomputer. The device, called the V-LAP, identifies deterioration in heart failure patients  even before the onset of symptoms. We spoke to Oren Goldshetin, CEO at Vectorious to learn more about them.
Tell me about your startup and what you do?
The small device is implanted on the heart in a minimally invasive, low risk procedure which takes less than an hour. The microcomputer is placed on the heart's inter-atrial septum and then measures transmits pressure from the left atrium. Left atrial pressure (LAP) is known in medicine as the earliest and most accurate physiological indication for heart failure deterioration. Managing patients' medication dosage based LAP can prevent unnecessary hospitalisations and enables the patients to enjoy longer, fuller lives.
Where did the idea come from?
My co-founder, Dr. Eyal Orion, and I identified the need for better management and treatment of heart failure patients. At the time, the only way to measure the most specific physiological indication for heart failure deterioration- the left atrium pressure- was to insert a catheter with a pressure sensing tip in a hospital environment - a procedure which proved costly and impractical. We looked for a way to harness technology so that we can directly measure the heart's pressure remotely at home on a daily basis, and thus, the V-LAP was born.
What technology is involved?
The V-LAP is a sensory implant and the first digital, wireless, battery-free device of its kind which is able to communicate from deep within the heart. The implant itself is made from titanium, weighing around five grams and is three millimeters in diameter. The V-LAP houses a tiny ASIC chip, which reads the pressure within the left atrium, processes the data and wirelessly transmits it to an accompanying charging belt.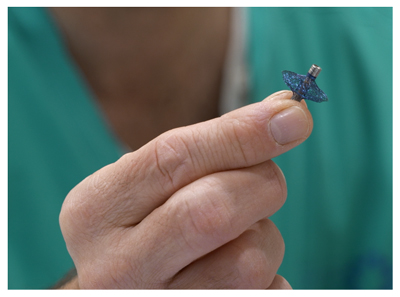 An external belt powers the V-LAP, collects and sends pressure data through the cloud to clinicians. Once received, this data is analysed for abnormalities, using AI, providing a preventative analysis using proprietary algorithms. In case of a rise in pressure, the clinician contacts the patient and treatment is adjusted accordingly. 
How many are on your team?
We have a team of 40 employees.  
What is the main goal?
The aim is to help the millions of people living with heart failure across the world to take control of their disease, allow them to better manage their condition, keep them out of hospitals and living longer, healthier, fuller lives. So far, our clinical study has demonstrated huge potential in this area and we have no doubt we will reach this goal. 
What makes your business different from others?
Our V-LAP system is a combination of multiple disciplines, from electronics and software, to mechanics, medical and clinical. Our one-of-a-kind technology is a unique combination between high-tech and med-tech, being composed from the small ASIC chip inside the implant, to a cloud-based patient management system at the physician side. 
How have you found funding?
We started our funding in an incubator scheme supported by the Israeli Innovation Authority. After this, we raised money from leading technology angels in Israel. Thanks to their funding we were able to develop the first prototype, enabling us to attract institutional investors, and close our round B funding, which was led by venture capitalists from the US, China, Cleveland Clinic Medical Center and Fresenius Medical Care. More recently we have raised an additional $15M round- bringing the total investment in the company to $35M.
What have some of the biggest challenges been so far?
In our early days as a very small start-up with limited resources,  our biggest challenge was building and developing an innovative ASIC chip. However, we understood that without a chip we would not be able to demonstrate the feasibility of our concept. After securing a seed funding of $5M and 4 years of development work, we built a prototype and successfully implanted it inside an animal. That's when we knew it could be done."
How has your business managed or adapted during COVID?
The pandemic has slowed down our clinical study across Europe and Israel, and caused a couple of our sites to close in March 2020. We had to adapt quickly so, as we are based in Israel, we decided to increase the number of Israeli hospitals that were taking part in the study, so we did not have to fly across Europe. Recently, we have been able to start activity up again in Germany and Italy, and are hoping to reopen clinical study in the UK within the coming months.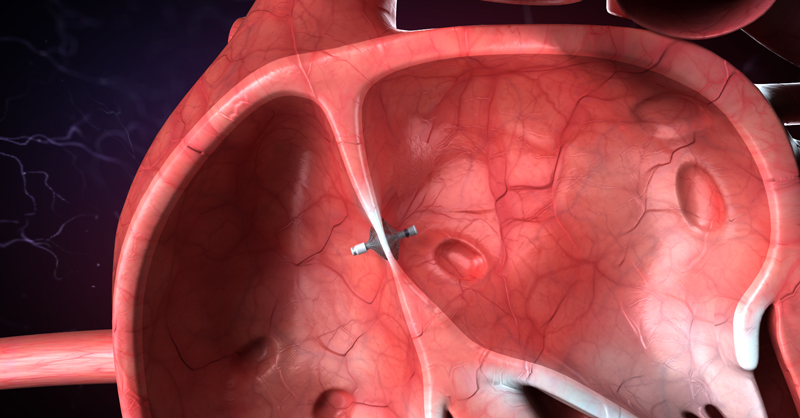 What sort of effects has the pandemic had on the medical industry?
The pandemic has raised awareness of the significant need for telehealth, digital health and remote monitoring technologies. This has been a fantastic opportunity for Vectorious to strengthen our remote patient monitoring offering. Before the Coronavirus outbreak, remote monitoring was an emerging field which was perceived as complementary to clinic/hospital visits. COVID-19 has helped to bring it to the forefront. With patients avoiding  hospitals' visits and an increasing number of patients being seen online, the need for remote monitoring technologies is now more prominent. 
How difficult is it to breakthrough into this sector?
Building a device that requires a full regulatory path (which is also known as full PMA path) with a large controlled study and many regulatory obstacles, is a long and a very expensive road- which can take 15 years from inception to FDA approval. As a result, they are very few VCs that support this path. Saying that, the success we have had so far proves taking a risk to get into the industry sometimes pays off.
Do you think the pandemic will change that in any way?
The pandemic has already brought remote patient monitoring into the spotlight and new bigger investments in the medical field. The same goes for digital health and telehealth which attract more money from investors, and not only from traditional medical investors.
What do you have planned for the future?
Within four to nine years, the V-LAP will change the way we manage heart failure patients in most of the Western world. In addition to measuring heart pressure, the V-LAP's  breakthrough technology can be integrated into many other types of implanted devices - like artificial valves and shunts. We hope it will be an enabler for new combined diagnostic and therapeutic medical devices.
We believe that in a few years, sensors will be fitted across the cardiovascular system and will  remotely monitor not only pressure, but other valuable physiological parameters, like flow, voltage pressure, sound, optical and other parameters,enabling personalised, remote health and heart disease management.