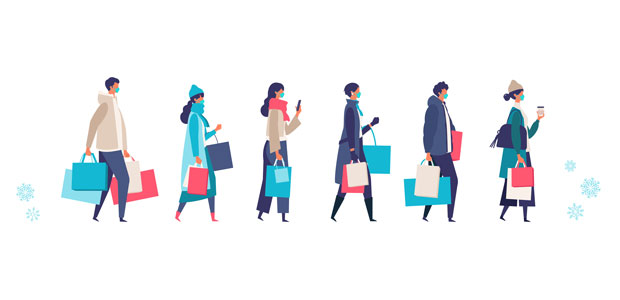 Top tips for SMEs to prepare for this year's peak retail season
Many small and medium sized enterprises (SMEs) and startups will be entering uncharted waters with this year's peak retail season. The past several months have radically changed business operations, and current health and safety restrictions have accelerated the trend in consumer spending online.
All businesses, regardless of size, will need to be adaptable in responding to this seemingly ever-increasing customer demand for online services
A report by Accenture, suggests there has been a huge increase of 169% in e-commerce purchases since the pandemic began, with most consumers expecting to sustain digital and omnichannel shopping behaviours into the holidays shopping season. Three-quarters (75%) of consumers say they will do at least some of their holiday shopping online this year (up from 65% last year), meanwhile almost half (43%) plan to shop exclusively online.
Adapting to this year's challenges hasn't been easy for SMEs and startups. However, we've seen first-hand that those businesses which have been able to quickly respond to the current climate are the ones that have thrived. The boom in e-commerce in both national and international markets has accelerated the transition for businesses to digitalise their operations and provided the opportunity to reach a much larger marketplace.
So how can SMEs and startups help ensure they are ready for this year's peak season?
1) Invest in your people
Having the right team and sufficient resources in place to respond to demand is critical. The current circumstances make organising stock and the dispatching process in your warehouse a bit trickier, but with the right health and safety measures in place, business owners can help ensure their workforce is protected while also meeting customer demand.
2) Invest in your business
Equip your company with the necessary tools not only for peak season but for the months to come. While planning mid to long term might sound odd given the current uncertainties, setting up rock solid operations from the start will help you be more agile and adjust to any circumstances.
3) Invest in your supplies
Help prepare your suppliers as well by tracking your most popular products, monitoring reactions to promotions, and using demand-forecasting tools. Knowing which products you need to stock up on in advance will increase your ability to meet customer expectations.  
4) Invest in your website
Use this digital customer interface to manage customer expectations, from FAQs to product description and delivery time. You should also outline expected challenges now to encourage customers to shop early.
Transparency goes a long way to building a returning client base. We encourage our customers to 'Order Early' from their suppliers and 'Ship Early' to their customers while avoiding pushing last minute sales which, especially under these challenging circumstances, may create a barrier to timely shipment processing.
This year, more than ever, managing customer expectations and ensuring they receive festive purchases on time is crucial following a challenging year. By collaborating and communicating with every stage of the supply chain, from suppliers to retailers and logistics providers, we will all be as prepared as possible to overcome potential external challenges together.
As logistics providers, we at FedEx are here to support our SME and startup customers in successfully managing the increase in demand and delivering for their customers. Peak season is a very exciting time of year for businesses, and with the right preparation it does not need to be stressful. Planning is the key to a successful peak season and our teams are on hand to help you navigate this period.