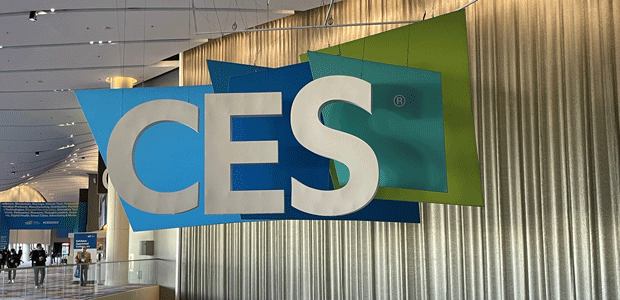 The top ten startups from CES
After a slightly different, but still extraordinary CES show this year we were thrilled to see so many incredible startups with some pretty remarkable products and hardware on show.  
Being located in Eureka Park in Las Vegas and with three days to go around hundreds of businesses from across the world we managed to whizz round with our notepads and camera and chat to a lot of startups and learn all about the latest solutions. So it has proved difficult to narrow it down but we have picked out ten from some of our favourites that we saw at the show.
Engineering Arts
Starting at the UK pavilion, and probably the busiest stand in the hall, Engineering Arts introduced the world to Ameca, the world's most advanced human shaped robot representing the forefront of human-robotics technology.
Multiplying the power of AI with an artificial body, Ameca is the physical presence that can bring code to life. Speaking to Morgan Roe, Director of Operations, he said this is the most advanced lifelike humanoid you can use to develop and show off your greatest machine learning interactions. "One of the main uses for a technology like this will be entertainment and communication. We think this will help with certain jobs that may not need a human. This robot is the digital interface to the real world."
Ameca is not just a development tool it's a cutting-edge integration of the latest technology that's built to last. This was very clear from the crowds she attracted and the amount of videos people were taking of her, although she did refuse a high-five from myself!
Smart Audio Technologies
Sticking with the UK startups for now, we also got the chance to meet Smart Audio Technologies Ltd, who were showcasing its SmartMute technology, which we were able to try out. Amongst all the hustle and bustle and very loud show, using the SmartMute Technology, I was able to record a message and listen back, with no background noise whatsoever.
Sandeep Chintala, Founder and Managing Director explained that the brain is such a clever and sophisticated machine, it is capable of subconsciously supressing the surrounding noise when in a noisy environment and to focus on the target sound, even though there is sound being received by from all directions.
Smart Audio Technologies have managed to replicate this complex functionality of the human brain and created an intelligent, AI based engine that is capable of accepting voice inputs from target speaker and eliminating the rest when the target speaker is not speaking, without the need to manually placing the call on mute or unmuting it.
ChessUp
One of the most traditional and yet still popular games is Chess, but it can be difficult to teach and sometimes to learn, (I know this from first-hand experience).
ChessUp is the solution is an incredible, connected chessboard with a built-in chess instructor, as when you touch a piece the board lights up all possible moves according to strength. With built in AI the board also acts as someone to play against, ChessUp's adaptive AI makes a perfect opponent no matter your skill level.
Talking to Adam Roush, Co-Founder and CDO he explained the idea first came to them, when trying to teach children how to play chess. "It wasn't really benefitting anyone, as it was either let them win from which they were not learning, or play to your full strength and not help which was really deterring them. With ChessUp it can help you build up your knowledge and skill."
CyberStroller
In 2022 there are not many things that haven't been made digital or in some sort of cyber form. I hadn't personally seen your traditional pushchair/stroller become more innovative, until now that is.
Cyberstroller was designed and developed by inventor Stephen Senior who recognised that the performance of a stroller could be radically improved through innovative technology.
After becoming a parent, you soon realise that a lot of strollers are not designed to be used with ease on all surfaces, and this can be a massive pain. CyberStroller is reinventing the industry for a generation of new parents, raised on technology, who deserves intelligent strollers that fit seamlessly with their world of increasingly smart homes, cars and workplaces.
Driven by innovation and designed for the urban landscape the nifty product has a 3-wheel steer, constantly monitors the air quality of the environment and automatically activates in-built filters when necessary. You can include digital add-ons such as a SatNav, emails and social media.
Popl
Giving the Engineering Arts stand a run for its money in terms of popularity and busyness was Popl - the next generation digital business card.
When at University in America, Jason Alvarez-Cohen and Nick Eishens found themselves going to parties and events, meeting people and making connections and never being able to stay in touch, so decided to create a way that you could connect easily and instantly, so they founded Popl.
In terms of the product, Popl was created as a round circle stuck to the back of your phone which when you tap to another phone your contact details appear instantly. By downloading the app, activating your Popl and adding all the information you wish to share with people, making connections and increasing your visibility couldn't be easier. 
As well as the phone sticker products also include a keychain or wristband, as Popl uses NFC technology to make sharing contact information as easy as using Apple Pay.
GenieCup
There are a number of products on the market now that are trying to make female health more innovative and sustainable, but I had yet to see one incorporate IoT.
A startup from South Korea GenieCup is disrupting the market and bringing us the first menstrual cup with a smart IoT case, which includes a non-invasive sensor IoT to allow women to experience 12 hours of freedom.
The GenieCup believes it has achieved the best unfolding and vacuum release experience with menstrual cups, which allows users to get it in, in one try and compared to the leading cup on the market boasts a 13 times better vacuum level.
The GenieCase is the menstrual cup smart carry case, which will be the new standard for carrying, washing and sanitising your cup. Utilising sensor fusion, UVC-LED and a cleverly designed thermal structure makes cleaning the GenieCup and predicting your cycle automatic.
PickWheel
Hardware products often catch your eye when walking around the show, especially when they are able to take people all over. PickWheel did exactly that. PickWheel is an augmented mobility solution for professionals.
The 100% electric commercial vehicle is driven with feet only, which means you can use your hands for high ad value tasks. It was also designed to improve worker's health and productivity, as it lowers the risk of accidents related to walking.
The features include being stable, easy to drive, providing optimal comfort and increased productivity. When asked what the main purpose and industry it would be best suited to the team said one of the primary areas would be cleaning services, as it saves times, leads to health improvement for employees and is efficient with allowing hands free.
Event hosting and Security are two other sectors that we expect to see PickWheel feature in a lot too, thanks to its design and ergonomics.
Vaonis
Space is something that we are constantly exploring, and just in the past few years we have seen a lot more breakthroughs. Vaonis has created a number of products that will allow a lot more people to expand and investigate the universe in a completely new way.
Stellina, just one of Vaonis' products, is an observation station, which is a perfect hybrid between a telescope and a camera. Vaonis has created the smart and fully automated product which is the perfect combination between a telescope and a camera, redesigning the experience of a night sky observation.
Being more than a telescope, the Stellina aims to revolutionise the world of astronomy with a completely redesigned experience of observation, substituting the eyepiece with a mobile application, everyone can access the wonders of the Universe with ease.
Emma healthcare
Emma Healthcare provides medical technology to improve the quality of human life. Using extensive research in innovative technologies, the Korean-based startup aims to become a leading company in global medical aesthetic market.
The products being developed provide effective and reliable medical technology through clinical data acquisition and collaboration with medical institutions. One of the main hardware's on show at CES was the BebeLucy, an AI-based smart baby care system. Through environment monitoring, and IoT based system, extensive sleep technology and bio signal processing using AI the smart cot aims to monitor and provide the baby with the best possible conditions.
With five unique motions speeds the cot can rock and bounce the baby, includes a timer to help establish a bedtime routine and improve sleep quality and includes Bluetooth to connect other devices.
Brelyon
Last but certainly not least, we spoke to Brelyon a company who is creating a window to a whole new world.
Although immersive displays are not new, Brelyon is taking you beyond screens into the Metaverse, as it has created the first-ever, headset-free virtual display for gaming and enterprise applications. The technology uses novel physics with optical and computational techniques to create true depth and panorama, replicating a cinema-like experience in a 32" monitor form factor. This then equates to a massive 120"+ panoramic virtual image with meters of true optical depth that pans across your field of vision, all in a small footprint. The display provides a depth profile that is so natural to the eye that it relaxes the ciliary muscles of your eye and reduces your vergence stress, enabling comfortable extended use.
The goal is to provide display solutions that amplify users experience with computers, and create immersion combined with comfort.