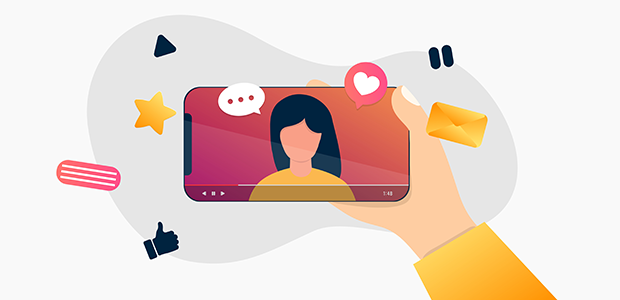 Top 5 Tips for Creating Engaging Video Content for Your Business
It's no secret that video content has become the most successful audience engagement tool for everyone, from individuals and start-ups to big brands.
Video content is an easy way to reach audiences across many different platforms, from streaming sites to social media there is a vast array of methods to reach your audiences.
But with the thousands of videos filling our feeds every day, how can you make video content that stands out? How can you capture the audience's attention before they scroll past your video? And how can you effectively deliver a powerful and emotive message to your audience?
I've broken down my five top tips for creating engaging content that can be easily used by any business no matter how big or small.
CAPTURE YOUR AUDIENCE'S ATTENTION
It's critical to grab the audience's attention straight away. Data analysis conducted by Facebook found that capturing people's attention within the first 3 seconds of a video means they will likely continue watching for the next 30 seconds. Which buys you more time to convey your message. 
Stop the scrolling and hook people within the crucial 3-second window by starting with a powerful thumbnail image. Choose something that will draw interest to your videos, like unique imagery or eye-catching text but try to avoid wording that may come across as clickbait and deter any potential viewers.
Use the first few seconds to connect to your audience. Although it's best to avoid wasting any time by displaying your logo, using brand colours, themes and imagery makes it clear it's your company right away. 
KNOW YOUR GOALS
Always keep your goals in mind: whether it's increasing brand awareness, communicating brand values and beliefs, or getting audiences excited about a product launch, your video should have a purpose and this should permeate and drive every aspect of the video.
You can then design a strategy for creating a video that will best help you reach your goal. For example, including a strong call to action that directs audiences to the next step may help you to reach your goal of driving website traffic. Getting your goals clear should always be the first step before creating any content.
ENGAGE WITH CREATIVE STORYTELLING
Audiences are inundated with video content every day. Research shows that the average person watches 100 minutes of video content daily. Incorporating storytelling allows you to reach audiences in memorable ways, engage effectively, and keep people watching.
Consider the ads we see around Christmas time and how every company, from big supermarkets to chocolate brands, start making emotionally charged videos rich with storytelling. They work because people may forget what you say in your videos, but they will not forget how it made them feel.
CONSIDER THE SILENT VIEWERS
The way audiences engage with video content is forever changing, in fact, 92% of people now watch videos with the sound off. A data survey by Facebook found that 41% of video ads were meaningless when viewed without sound. This means it's important to consider how you can express your message visually to avoid losing engagement.
You can consider incorporating captions into your videos which will allow you to communicate dialogue easily and soundlessly. Also, try to get creative with ways you tell your message visually, and focus on footage that tells a story with environments, action, and texture shots.
MAXIMISE YOUR ENDING
The end of your video is an opportunity to maximise the impact of your message. It's also an opportunity to offer practical information to create further engagement from audiences.
Ideally, the end of your video will be something that will stay with people long after it's finished. 
To know how to do this best, consider it as a question: what question is your video asking the audience? Then leave them with that question ringing in their ears. There should be no doubt of your message by the time the viewer reaches the end of your video. Always plan to end with impact.