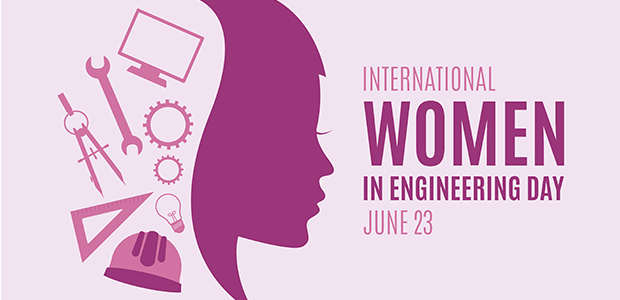 Top 5 female-founded startups for INWED
2021 figures indicate that in the UK only 16.5% of engineers are women. The percentage of female engineers and computer professionals varies by specialisation too.
Only 9% of mechanical engineers are female compared to 35% of environmental engineers. In the computer industry, only 18% of software developers and 32% of computer and information research scientists are women, according to the Society of Women Engineers. This is why days like today, which is International Women in Engineering Day (INWED) if you didn't know, are so important. Whilst the percentage of women in STEM is increasing, events like INWED are vital in ensuring the women in these often male-dominated industries are celebrated and appreciated.
2023 marks the 10th year of International Women in Engineering Day. The Women's Engineering Society began the International Women in Engineering Day in 2014 as a national campaign, and since then it has grown tremendously, receiving UNESCO patronage in 2016. The following year, the 'National Women in Engineering Day' became international for the first time due to the interest and enthusiasm developed by an international audience and participants in previous years.
There's no better time to celebrate women in tech and engineering than International Women in Engineering Day! The team at Startups have complied some of the most exciting female-founded startups to showcase and celebrate.
PlayThru
Founded by Rose Tan, PlayThru is a platform for teachers to increase engagement during lessons using gamification. Educators upload their lesson content onto PlayThru, which then converts it into a game. Tan came up with the idea when she was teaching a class and realised that all the students were playing computer games.
On the company's website, Tan is quoted as saying: "A light bulb moment went off in my head. Learning should be just as exciting and engaging as video games. It was obvious if students weren't interested, forceful methods weren't the right approach. I decided to put work into research and designed my lessons with game-like elements which improved engagement and reinforced positive behaviour."
Teachers can upload their lesson content onto PlayThru, which turns the session into an interactive game, or find ready-to-play lessons on the web app.
Space DOTS
Space DOTS is forging the in-space R&D and in-situ testing of advanced materials for future space missions, developing some of the foundational building blocks necessary to ensure the viability of a sustainable circular economy in space.
The entry product is the Barnacle DOT. The first 10x10x1cm hosted payload with integrated labs, for active in-situ environmental testing of advanced materials and small components. It will offer tensile, creep and fatigue testing capabilities, with a variety of thermal and electrical capabilities coming soon.
Bianca Cefalo is the CEO and Co-Founder of Space DOTS, a Space Engineer, a Deeptech Sales Executive and a public speaker with 11+ years of industry experience. Born in Naples, Italy, she earned her MSc in Aerospace and Astronautical Engineering from the University of Naples, specialising in Spacecraft Systems, Hypersonic Aerodynamics, Microgravity and Satellite Remote Sensing. She is also an associate member of the Women's Engineering Society in London.
Elvie
Elvie is a health and lifestyle brand developing smart technology for women. It is committed to building products that improve the health and lives of women everywhere and at all stages of life. Its first product, Elvie Trainer, is an award-winning app-connected Kegel trainer that helps women strengthen the pelvic floor via fun, five-minute workouts. It recently launched a second invention: Elvie Pump, a silent wearable breast pump, which is making it possible for new mothers to pump anytime, anywhere.
Founded by Tania Boler, an internationally recognised women's health expert who has held leadership positions for various global NGOs and the United Nations. Passionate about improving women's physical and emotional wellbeing while leading taboo-busting conversations around women's health, Tania founded Elvie in 2013, partnering with Alexander Asseily to create a global hub of connected health and lifestyle products for women.
Tozero
Tozero was co-founded by Dr Ksenija Milicevic Neumann and Sarah Fleischer in July 2022 in Munich, Germany.
The company is on a mission to introduce a sustainable process to recover critical materials from all types of lithium-ion batteries. It aims to be the first in Europe capable of recovering all critical materials – lithium, nickel, cobalt, manganese and graphite, and reintroduce the raw materials back into the supply chain.
After its recent funding round, Tozero will build its prototype plant in Munich, Germany - where a third of Europe's lithium-ion batteries are planned to be produced by 2030.
Adafruit
Adafruit was founded in 2005 by MIT engineer, Limor Fried. Her goal was to create the best place online for learning electronics and making high-quality products for makers of all ages and skill levels. Adafruit has expanded offerings to include tools, equipment, and electronics that Limor personally selects, tests, and approves before going in to the Adafruit store.
Adafruit is a 100% woman owned manufacturing company, a certified Minority and Woman-owned Business Enterprise (M/WBE), a certified Women's Business Enterprise (WBE), and WOSB.
Limor Fried is an American electrical engineer and owner of the electronics hobbyist company Adafruit Industries. Fried studied at MIT, earning a BS in Electrical Engineering and Computer Science (EECS) in 2003 and a Master of Engineering in EECS in 2005. In 2005, Fried founded what became Adafruit Industries in her MIT dorm room, and later moving it to New York City, where it is still based.
This is not an exhaustive list by any means. We could have complied a very long list, because there isn't a shortage of female-founded startups out there that are doing amazing work that will change the technological landscape of the future. Stay connected with Startups for our women in tech issue, publishing in September, to discover many more female-founded startups.