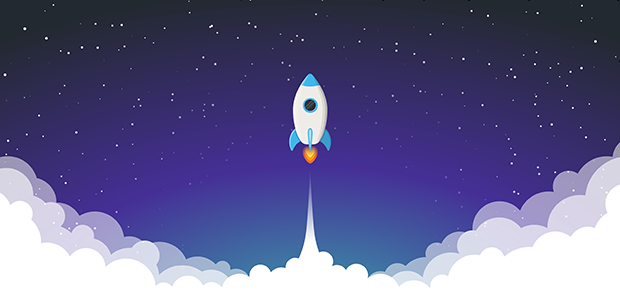 Top 10 Space startups that are taking off
Space is an area of excitement and constant discovery. With constantly evolving and improving technology, the startups focusing on space are filled with innovation and are consistently making huge strides in improving and developing space technology. Startups Magazine has rounded up 10 of the most exciting space startups that should be on your radar.  
Astra
Astra's mission is to "Improve Life on Earth from Space" by creating a healthier and more connected planet. It's a rocket launch startup, founded in 2016, that provides satellite delivery and launch services. To date, it has raised $365 million in funding over nine funding rounds, the most recent being in June 2023. In 2021, Astra became the first space launch company to trade on Nasdaq.
Astra offers one of the lowest cost-per-launch dedicated orbital launch services of any operational launch provider in the world, and one of the industry's first flight-proven electric propulsion systems for satellites, the Astra Spacecraft Engine. Astra delivered its first commercial launch to low Earth orbit in 2021, making it the fastest company in history to reach this milestone, just five years after it was founded.
Exo-Space
Exo-Space's mission is to leverage its expertise in AI, machine vision, and satellite design to offer an edge software and hardware package that can withstand the harsh environment of space. These devices will provide data processing services for space applications. Its vision is to lead the effort in building a data processing infrastructure in space.
Exo-Space has developed an Edge Computing device for on-orbit image processing. The Edge Platform, named FeatherEdge, mounts directly onto a satellite and hosts applications for AI, analytics, and communication, enabling complex image analysis on-orbit. Exo-Space is working on expanding beyond single purpose satellites to a satellite-as-a-service business model, which will allow anyone to get access to space data, whether it's needed to respond quickly to natural disasters, monitor crop yield, or find the closest open parking spot.
Founded in 2020, the company has raised $208,000 to date, through one pre-seed funding round.
Gama
Gama is a space exploration and interplanetary transportation startup. Its website states: "Thanks to low-cost, reliable, and scalable solar sails, we are redefining deep space access. Designed to meet your mission requirements, our line of spacecrafts allow new missions previously considered too expensive or complex to launch. Our technological breakthroughs, paired with recent disruptions in the launch industry, unlock opportunities in the solar system." The company's mission is to explore deep space, from Saturn and its systems, to Jupiter, to even further away.
Gama was founded in 2020, and is headquartered in Ivry-sur-seine, France. To date, through only one seed funding round in 2022, the company has raised $2 million.
Miles Space
Miles Space was founded in 2015 as a space exploration and technology development company, and is a manufacturer of electronic propulsion systems for small satellites. It is a hybrid electrostatic thruster that uses quasi-neutral plasma to generate thrust. It also offers proprietary software to manage propulsion, detumbling, and positioning of satellites. It has applications in providing orbital repositioning and inserting services, deorbiting operations, orbit elevation, and solid-state detumbling operations.
The company's original technology was created for the NASA CubeQuest Challenge, where it won prizes in every Ground Tournament. Team Miles came together to compete in the Cube Quest Challenge. Their goal was to develop a small spacecraft that would journey into deep space to demonstrate newly developed navigation, propulsion, and communications technology. The mission goals were to demonstrate the ability to conduct orbital manoeuvres, navigate to a target given limited information, and demonstrate robust communications with a ground station from deep space.
Phantom
Phantom was founded with an aim to revolutionise the way we transport satellites and other assets into and through space, and ultimately back to Earth. The startup offers launch, propulsion, and satellite solutions which enables a widening demographic to access space, space technology, and space data. In May 2021, Phantom Space acquired StratSpace, a satellite programme designer and manager, which made Phantom Space the first 100% US-based satellite supply chain, which aided its effort to mass produce rockets on a large scale.
As of August 2022, the company has been building Daytona, a two-stage rocket. It will be able to loft 450kg to low Earth orbit, 160kg to Geosynchronous Transfer Orbit (GTO), or 50kg to the Moon. They are also working on a larger two-stage rocket called Laguna. It will be able to launch 1,200kg to low Earth orbit, 425kg to GTO, 200kg to the Moon or 100kg to Mars.
Phantom Space Corporation was founded in 2019 by Jim Cantrell and Michael D'Angelo. To date, Phantom has raised $27.7 million over five funding rounds.
Pixxel
Pixxel is a space data company, building a constellation of hyperspectral earth imaging satellites and the analytical tools to mine insights from that data. The constellation is designed to provide global coverage every 24 hours, with the aim of detecting, monitoring and predicting global phenomena across agriculture, mining, environment and energy use cases.
Pixxel's hyperspectral imaging satellites are designed to beam down data in hundreds of wavelengths to detect problems that are invisible to current satellites, which could provide up to 50x more information compared to today's datasets. The constellation is designed to provide global coverage at a revisit of every 24 hours.
Pixel was founded in 2019, and to date, has raised a total of $33 million through three funding rounds. Most recently, Pixxel won the iDEX Prime (Space) grant to develop miniaturised multi-payload satellites.
Reaction engines
Reaction Engines is a UK based startup founded in 1989.
The research Reaction Engines undertakes focuses on the Skylon and Synergetic Air-Breathing Rocket Engine (SABRE). Skylon is a design for a single-stage-to-orbit combined-cycle-powered orbital spaceplane. Skylon and the SABRE engine are being developed as a private venture which aims to overcome the obstacles that were imposed on further HOTOL development due to the British government classifying the HOTOL engine as an "Official Secret," and keeping the engine design classified for many years. All three founders had previously worked on the HOTOL project before funding for it had been withdrawn. The company's current development effort is focused on developing a ground demonstration of the SABRE air-breathing core.
To date, Reaction Engines has raised a total funding of $117 million over five rounds.
Skyroot
Skyroot is on a mission to open Space for all, by pushing the boundaries of today's technology. It aims to develop and launch its own series of small lift launch vehicles especially crafted for the small satellite market. They "envision a future where spaceflight is as regular, reliable and affordable as airflight."
Skyroot Aerospace was formed in 2018 and initially raised $4.3 million. This helped the company develop its first launch vehicle, the Vikram 1, which had its maiden launch in November 2022. This solidified Skyroot as the first Indian private company to reach outer space. To date, Skyroot has raised a total of $68.1 million in funding over six rounds.
Solestial
Solestial is a solar energy company for space. The startup is on a mission to deliver cost-effective, reliable and safe solutions to power the new space economy.
Solestial's core technology is an ultra-thin silicon solar cell that can self-cure radiation damage at normal operating temperatures in space, packaged in a flexible, lightweight panel designed to achieve minimum degradation for up to 10 years in LEO. Solestial panels can be mass-produced using automated machines resulting in costs 90% lower than incumbent technologies, with virtually unlimited manufacturing capacity.
Founded in 2013, Solestial has raised $12.2 million over four funding rounds.
Varda
Varda aims to build the first space station dedicated to industrial use, which will take advantage of microgravity to manufacture fine goods that are difficult to produce in Earth's gravity. The microgravity environment and absence of dust particles in the station allows for the manufacturability of fine technical products like computer chips with higher precision and quality than the ones produced on Earth. This also allows for the manufacture of completely new materials and products there, including fibre optics and pharmaceuticals.
To date, Varda has received a total funding amount of $51 million since it was founded in 2020. Most recently, Varda was one of 11 companies to receive a NASA Tipping Point contract. The contract is worth $1.9 million, and is for "Conformal Phenolic Impregnated Carbon Ablator Tech Transfer and Commercial Production."