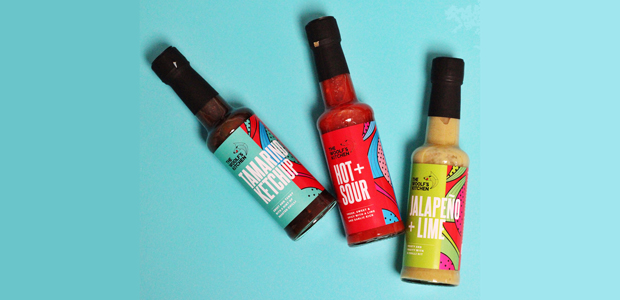 Tips for Getting Recognised Early as a Foodpreneur
In the UK, the percentage of small businesses dominate the economy. Of all UK firms, 99% are considered small businesses and 60% of the workforce is employed by small business firms. Amazon has over 17,000 small business partners in London alone and these small businesses recorded over £970m sales just last year.
I launched a range of Thai-inspired sauces under the label The Woolf's Kitchen in June 2020, amid the Covid pandemic. In the span of just one year, I have been able to expand the product range to include fierce sauces, spicy condiment pastes and bold-flavoured nuts. We've stocked across more than 100 independent retailers across UK and recently won not just one but four Great Taste Awards for the sauces and snacks. 
So here is some advice on launching a business during the pandemic and some tips on how the products received recognition so early in the 'foodpreneur' journey. 
Be bold, be passionate and be ready
I've worked in sales and as a singer-songwriter before having three beautiful kids who kept me busy for almost half a decade. It wasn't until after I was finished with nappies that I had a moment to think about what I wanted to do for myself – start a business of my own!
Living in London, I was surrounded by a melting pot of cultures and a vibrant food scene that brings 9.5 million Londoners together every day. Being half-Thai, I've always loved big and bold flavours. Inspired by the recipes my Auntie Dang used to make, I decided to create my own range of sauces and make these sweet, tangy, and spicy flavours easily accessible to Londoners.
Of course, it isn't enough just to have an idea, I quickly acted and enrolled at Leiths Cookery School to train, threw myself into creating recipes and perfected my photography skills. Once I found the right small-batch manufacturer and had my branding right, I was ready to launch the first three Woolf's Kitchen sauces in June 2020, right in the middle of the pandemic.  
Start local and value communities
As a budding food business, I knew it was important for people to sample my sauces, but the pandemic restrictions made it challenging. I started locally and the support from my community was unmatched! My local pub which turned into a deli during lockdown wanted to stock my sauces and sold out 42 bottles in a week, this gave me the idea to search for other local shops to sell my products. I also promoted my sauces on local Facebook groups where people were particularly supportive of local small businesses during these difficult times.
As the demand for my Thai sauces grew, I realised that people really did love Woolf's Kitchen and this motivated me to find new ways to grow and reach more people. Amazon was a natural choice for a small food businesses like mine with its ability to reach potentially millions of customers that I wouldn't be able to on my own. I applied for the Amazon Small Business Accelerator and the free resources and bootcamps were critical to helping me launch on Amazon. As a one-woman-band running this business, the European fulfilment side of Amazon was really appealing, especially as I've already had orders from Slovakia which gave me a taste of the possibility of expanding overseas. The access to the online community of other small businesses also mimicked the support of my local community, which was much appreciated in the early phases of my business. 
Put yourself out there as much as you can
The food industry is tremendously competitive and I'm always looking for relevant opportunities for exposure. I had to be ready to put myself and my products out there leading to fantastic results – from being one of Theo Paphitis' Small Business Sunday winners, to winning four Great Taste awards and soon to be featured on The Pitch as a semi-finalist! I not only gained confidence in myself and my products, but also made connections with inspirational people in various industries to help propel my business further.  
Now that events are back on, there are more opportunities for people to taste my products. I've already attended events such as 'Pub in the Park' and soon I will be holding live sampling at Selfridges. From local pub to Selfridges, a luxury department store which brings around 160 million people in foot traffic a year, it has been a whirlwind of a journey and I am excited for the future of Woolf's Kitchen. 
For those having the desire to be a 'foodpreneur' I can tell you it is not easy, especially during a global pandemic! Finding a route that works for you takes time but brings a lot of reward once those obstacles are overcome. Start locally, reach out to your community and build onward and upward. I started selling at my local pub and now with the help of online resellers and marketplaces, such as Amazon, I am able to reach customers from all over the country. My passion originates with my culture, having people share that with me is lifechanging.