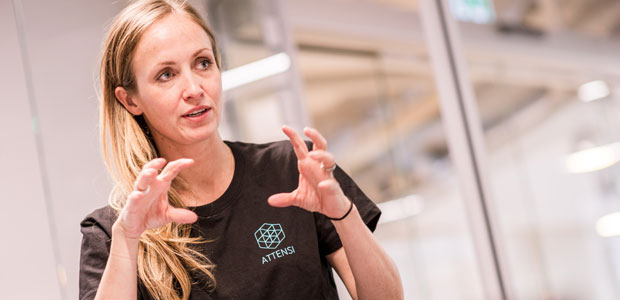 Time for women to sharpen their elbows
In our last Women in Tech issue back in September, the founder focus feature saw us head to the land of the midnight sun, Norway, to speak to Anne Lise Waal, CTO and COO of Attensi, provider of gamified training solutions, about the diverse team she has built, and how women in CTO positions can influence the ethos of a tech business.
Anne Lise is one of Europe's leading women in tech. With a computer engineering background, she grew up with a tech geek dad who encouraged her to play with games and gadgets at a very young age. "I was given the same opportunities as my brother so for me, being a female tech executive, gender has never been an issue. As a kid it was equal opportunities from the word go, I guess it's one of the blessings growing up in a country like Norway" she commented.
Anne continued down the tech path, which lead her to engineering school to study computer science engineering. After a few years consulting in the enterprise architecture sector, she saw an opening as a project manager at the leading gaming studio in Norway, Funcom. She joined the team and began working closely with Trond Aas, the CEO of Funcom at the time. She quickly became part of the leadership team managing the AAA projects including 200 plus developers, spending eight years creating massive multiplayer online games, such as Age of Conan and The Secret World.
While working at Funcom, Anne Lise, Trond and several other team members began to notice a huge appetite in the market for gaming technology to be used outside of that particular sphere. She commented: "We were being approached by retailers, TV studios, the oil and gas industry, to use gaming technology for other purposes such as training.
"We saw an opportunity. We already knew how to make gaming engines and tools, and to make technology that enables others to make games." On this basis Trond co-founded Attensi in 2012 (with Anne Lise joining the founding team soon afterwards) with the core vision of using gaming technology and 3D simulations in learning. Attensi helps organisations to make transformational changes through Gamified Simulation Training that is driven by the best of psychology, learning, and gaming.
One of the first simulations built by Attensi consisted of a 3D replica of a hardware store, including artificial customers and avatars who made a variety of requests and were in all kinds of moods - some were in a hurry, some were irritated, some were returning a bad product.
"All the employees at this hardware store could train in this shop simulator in order increase sales, with a high growth in sales during the pilot stage alone. That was the core vision of Attensi - to make very realistic, engaging games and simulations to be replicas of an everyday working environment so that you can become better at what you do in a fun way," Anne Lise added.
Anne Lise's core task is to provide the platform and technology vision at Attensi, and to get hands on with developers and architects to keep pushing the envelope in what the company is developing in terms of features etc. "Connecting the dots is one of my strengths because I'm technical, but I also get the business side of things," she added. "So, I get the developers, sales, marketing and content all working together - I join all of the bits and pieces in the eco-system of developing world leading simulations for our customers and partners."
Although the company started out with half a dozen gaming industry specialists, Anne Lise explained that Attensi has been very vocal in championing the hiring of people from different backgrounds, age, nationality, gender, educations, to challenge the company to consider different perspectives. The team is now extremely diverse, and Anne Lise highlighted that you can be non-technical and still work in all parts of a high-tech company like Attensi.
Women CTOs
Of course, it's no secret that women CTOs are few and far between, even in a country like Norway, considered to be one of the most gender equal countries in the world, and top of the tree in Europe for the percentage of engineers and scientists who are female (55%).
Anne Lise believes that there are certain skills that women CTOs can bring to the table however, that makes them well suited to the task. "When I studied engineering, the university had this campaign to recruit females, yet very few are now in CTO positions," she continued.
"However, there are lots of benefits to hiring more diverse CTOs. Women tend to bring a more people, customer oriented, inclusive, and open mindset to the role of CTO. I've always had a strong focus on including people in discussions, and to hear everyone's opinion. In my experience it's a classical trait that women have – to hear more voices before making final conclusions. Another key point is that I am not afraid of losing face. I don't have a problem if everyone else's solution is the best."
She added however, that the CTO role is often placed on the shoulders of the most senior developer or architect in the team or business. And, of course, if you purely boil it down to the number of programmers, you have significantly more male developers than female, so there is a huge imbalance in the number of people in the talent pool that you select your CTO from. It's therefore understandable that there are more male CTOs than female.
What's to be done?
It may be something that we've heard several times before, but Anne Lise stressed once again the importance that role models play in redressing the gender imbalance within tech and making women, and what they can bring to the industry, more visible.
Admittedly, this was something that Anne Lise didn't want to acknowledge early on in her career, as she just wanted to be treated equally regardless of her gender. "Now I'm a bit more mature I see that my role as a senior female tech executive, not only for my kids, but also for the generation growing up now, is super-important.
"For two years in a row I was featured on Norway's 50 Most Influential Women in Tech list.  I also coach a girls' soccer team, as well as mentoring and investing in the startup community, so I became something of a north star for young girls. It's important for us to be visible and demystifying - you don't have to be a super-skilled developer or a hardcore tech engineer to make a career in the tech space. With the right interest and mindset, anyone can do this. Tech will be, and is, everywhere, so we need every perspective and background in order to develop the technology of tomorrow."
Anne Lise admitted that she is faced with something of a dilemma. When recruiting for senior tech roles she explained that the ratio of male-to-female applicants is something in the region of 20-to-1, hence the predicament.
"I think we need to do more around internships – allowing for a soft-start to test out a tech career. A male developer would typically be much more brute force in going about solving complex tasks. And that's something that we need to pay attention to in terms of providing close mentoring and career building for young women going into development. In Norway we say, 'sharpen your elbows' so that you can make your way forward in a crowd, and that's what we need to inspire young women to do."
Advice for female founders
Top of Anne Lise's must-haves for women embarking on a career in tech is to be open-minded, inquisitive and to ask questions. It's a high paced sector and there is a lot to learn, however, the trap that many fall into is to assume that everyone else knows more than you, are an expert and understands everything that's being spoken. Of course, that is not the case.
"Ask questions because you can be sure that others are wondering the same things you are, but don't dare to ask because they are worried about making a fool of themselves. Being a leader in technology is more about making people talk and connecting the dots. Women are really good at that and seeing the big picture. So just do it."
Anne Lise also stressed the importance of finding a mentor – being a founder (particularly a one-woman band) is tough, uncompromising and, at times, lonely, so you will need someone that you can lean on, and who can guide and coach you in the right direction.
In terms of what can be done within the corridors of power to help break down gender barriers, Anne Lise highlighted that Norway has been very pro-active in this regard, for instance, in the educational space, introducing cross-competence master's degrees to break down the silos between sectors, professions and careers.
She added: "If you are a doing a bachelor's in health, for example, you can study a tech master's afterwards, and you get this degree which is a combination of technology and health. That's an excellent starting point of acquiring cross-industry knowledge. Tech is everywhere and the young people growing up now are digital natives - they need to be equipped with the basics of technology in every sector."