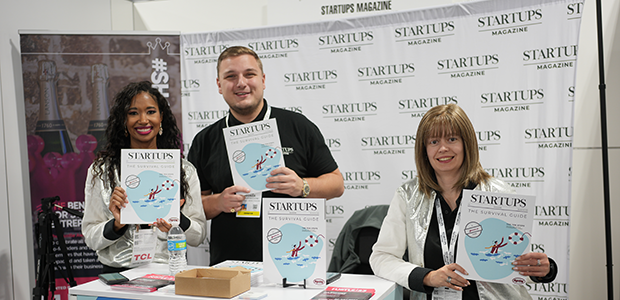 That's a wrap! CES was back, larger than before
CES 2023 concluded yesterday with innovative product launches that will help to solve many global challenges.
Companies of all sizes demonstrated how technology can conserve energy and increase power generation, address food shortages, create more sustainable agricultural systems, power smart cities, support access to clean water and more.
The organisers have reported that the show was more than 70% larger than last year's show, with over 3,200 exhibiting companies, including 1,000 startups. That includes innovations in transportation and mobility, accessibility technologies, electric vehicles, digital health, sustainability, Web3, the Metaverse and beyond.
"CES is back! The halls are buzzing with energy and excitement – attendees, exhibitors, and media from around the world are passionate about gathering together and advancing our industry," said Gary Shapiro, President and CEO, CTA. "At CES 2023, new innovations promise to change our world for the better. Companies big and small are showcasing innovations in mobility, digital health, artificial intelligence, robotics, food tech, smart home, digital assets and more."
The show saw influential brands like Canon, Google, Hisense, Intel, LG Electronics, Nikon, Samsung, TCL and Voxx, in addition to new and expanded areas, including:
Automotive and Mobility – The automotive sector was bigger than ever, making it one of the largest auto shows in the world with nearly 300 exhibitors in West Hall. Global launches and keynotes from BMW and Stellantis led into exhibits featuring the latest in self-driving tech, electric vehicles and personal mobility devices for land, air and sea. 
Digital Health – The past few years have shown that consumers want to take their health into their own hands. CES 2023 brought even more digital health innovations and brands to the global stage, showing how rapidly this market is growing. There were advancements in digital therapeutics, mental wellness, women's health tech and telemedicine.
Sustainability – Global brands like John Deere, LG, Samsung, and Siemens showed how innovation can conserve energy and increase power generation, create more sustainable agricultural systems, power smart cities, support access to clean water.
Web3 and Metaverse – For the first time, CES 2023 had a dedicated Metaverse area on the show floor. Exhibitors showcased sensory technology building immersive, interactive digital worlds. A Web3 Studio, produced by CoinDesk, was the focal point of the Web3, Metaverse and Blockchain area at CES. CoinDesk hosted industry leaders and visionaries as they discussed the most impactful developments that have taken root across industries, technologies, and capabilities.
Keynotes
John May, Chairman and CEO of John Deere, delivered the opening CES 2023 keynote unveiling a new era of farming with advancements in technology that will help to ensure food security for the growing global population. May noted: "Technology allows farmers to create more with fewer resources – doing more with less is the path forward."
Dr. Lisa Su, Chair and CEO of AMD, delivered a preshow keynote Wednesday evening, unveiling a broad range of new AMD products, powering artificial intelligence, hybrid work, gaming, adaptive computing and more. Emphasising her belief that "technology should do good" Dr. Su also highlighted the power of adaptive computing to drive advances in healthcare, Metaverse, space exploration and entertainment – all while using less energy to create a more sustainable world.
Oliver Zipse, Chairman of the Board of Management for BMW, delivered an evening CES keynote on Wednesday. Zipse introduced the "perfect digital car of the future" – the NEAU KLASSE generation of vehicles – and unveiled the i Vision Dee, a BMW concept electric vehicle equipped with high-end and adaptive AI. Vehicles are set for production in 2025. "We are able to explore the full potential of digitalisation to transform the car into an intelligent companion," said Zipse.
Startup central
The team at Startups Magazine was based in Eureka Park, right in the heart of innovation. Filled with 1,000 startups, 200 more than last year, there was plenty of opportunity to see world-changing ideas across the 4-day show.
The team interviewed various startups across all industries, including:
Piano LED: Piano LED Plus is the only light system in the world that guarantees automatic synchronisation with Synthesia via Wi-Fi, without any cables. This technology allows pianists to make videos and performances much more interesting for the audience.
I-PERCUT: This is the first smart punching bag cover. I-Perskin transforms your punching bag into a boxing analysis tool. With luminous targets equipped with ultrasensitive sensors, your punching bag becomes interactive and guides you in your exercises.
NaraXR: This involved learning technologies for the future. Cloud XR is a WebXR application currently being developed by NaraXR that allows for 3D models to be demonstrated in the real world.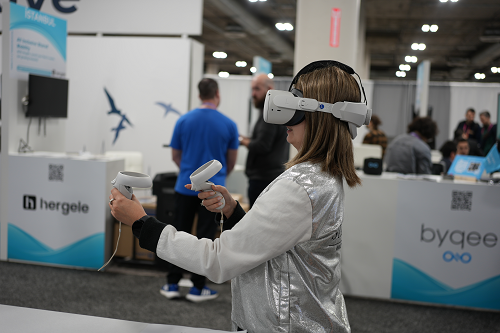 Strap Tech: Ara is a smart device that detects the environment and the objects surrounding the user. This is real optimisation in assistive technology for the blind and the visually impaired.
BRLAB: BRLAB provides a platform that enables advanced level of sleep analysis and sleep improvement solutions. It helps people to have better sleep experiences without changing their lifestyle. The solutions are based on AI powered algorithms with the highest level of reliability and unique sleep enhancing technology which are scientifically proven and patented.
Circle: This company's car is more than just a car, it's a connected 'POD' dedicated to free floating. 100% electric, small, comfortable, easy to drive, automatic disinfection between rides, and mobile induction charge included.
Meropy: Through its expertise in agricultural robotics, Meropy proposes a new approach to field crops plots monitoring. SentiV is a scouting robot that highlights the variability within field crops plots and detects potential threats to crops. Being in contact with the ground, we are talking about near sensing.
Keep an eye on our YouTube channel to see our interviews with these startups and more!
Celebrities at CES
Entertainers and other figures from sports, music, movies, TV and technology appeared throughout the week celebrating technology through speaking engagements, signing autographs, and meeting conference attendees including: Grant Hill, Jessica Mendoza, Ken Jeong, Barbara Corcoran, Snoop Dogg, Imagine Dragons, Mario and Marco Andretti, Paris Hilton, Joe Theismann, M. Night Shymalan, Erin Andrews, Arnold Schwarzenegger, Kevin Pearce, Jose Andres, Seth Rogen, Paula Abdul, David Dobrik, and Lauren Miller Rogen.
"What a fantastic platform to see so many startups working across many different industries and solving problems that I didn't even realise needed solving," said Paige West, Editor, Startups Magazine. "I've thoroughly enjoyed chatting with founders, CEOs, engineers, designers and many more to understand how these great projects came to life."