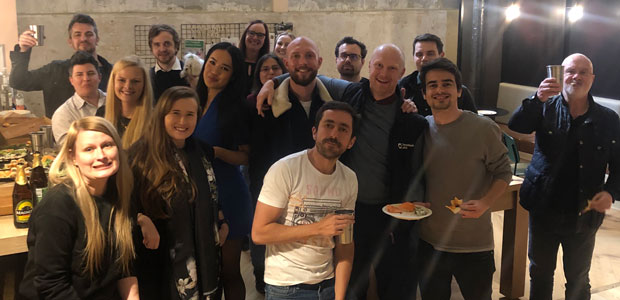 Techstars London celebrates underrepresented founders in 2022 cohort
Techstars London has unveiled its 2022 cohort, with a major focus on supporting underrepresented founders. The latest cohort from the global accelerator is the most diverse in its London history. 
This year, 42% of the businesses within the cohort are female-led and two-thirds of the companies are now based outside the UK and EU.  Bucking tradition, North American companies have been re-locating to the capital in a bid to join the programme. 
The 12 startups, each selected for their innovation, passion and drive, will spend the next three months supercharging their plans, guided and supported by an experienced team - including new Managing Director, Saalim Chowdhury who joined in January, former founder and start-up veteran, part of companies acquired by Cisco and Toptal. 
Saalim Chowdhury, Managing Director at Techstars London, said: "For over 10 years in London, Techstars has created an incredibly diverse founder community that not only continues to support each other, globally we've collectively invested in more than 2,200 companies that today have a combined market cap valuation of $29 Billion. I'm incredibly proud of this year's cohort already as we represent many founders who would ordinarily have been overlooked by investors or accelerator programmes. My past investment track record proves that diversity drives hard returns and I intend to continue my work in this vein at Techstars - We have some amazing highly empathetic entrepreneurs on board, and I'm looking forward to working closely with each of them as they grow." 
In an aim to foster an inclusive culture and environment, with founder well-being at the forefront, dogs, babies and children are all welcome in the Techstars offices, and founder therapy sessions and ongoing performance coaching is provided. 
Each of the founders was selected based on their empathy and compassion for their customers, and as part of the Techstars accelerator programme, each business receives one-to-one mentorship, customised training and access to capital as they build, launch and scale their businesses. 
Yin Noe, Co-Founder & CEO at Savium said about the programme: "Having been through a couple of corporate accelerator programmes, we applied to Techstars London as we wanted to be mentored and coached by a team of founders that have actually been there and done it. With all the challenges and growing pains a new business can experience, getting advice from someone who's been on the same journey as us is invaluable, and the access and expertise they offer has already accelerated our growth faster than I could have imagined. But it's not the experts involved in the programme. Techstars has built a solid community of entrepreneurs and startups - both within the current cohort and the alumni. Starting a business can be a lonely experience, so simply being around each other every day provides a network of support that we haven't experienced anywhere else."
Techstars, one of the world's leading accelerators, has invested in more than 2,200 companies that today have a combined market cap valuation of $29 Billion. Techstars London first launched more than a decade ago and alumni include Sendbird, leading chat API valued at over a billion dollars and Beam, the homeless social enterprise. Collectively, they have gone on to raise over £1bn.  
Here are the new companies joining Techstars in 2022:
Atom Universe

 - launching the first Metaverse As-A-Service solution.

Flex

 - turning video-game achievements into a real-world soft skills profile.

Fluffy

 - everything you need to raise a healthy and happy pet, in one app.

Krater Tech, inc

. - enabling data centers, crypto miners and hardware dealers to connect effortlessly.

Multy

 - an open-source platform that makes it easy to deploy to multiple cloud vendors.

Pulley.ai

 

- connecting stores, email, and ad platforms to offer personalised recommendations for growth driven by AI.

Savium

 - a next-generation finance platform..

SepetLive

 - bringing shoppable AI experiences to video and live-stream content.

SPEEQO

 - a voice-based machine learning software, which flags distress levels, as well as provides advanced speech and audio signal analytics.

Stance Fitness Ltd 

- IoT wearables and Apps to track, monitor and enhance weight/strength training.

Tonic Audio Labs

 - a remote audio collaboration platform. 

Vimma

 - building the Operating System for the Creator Economy. 
London is Techstars' third largest base globally, and part of a larger network that includes 50 programmes across the world.