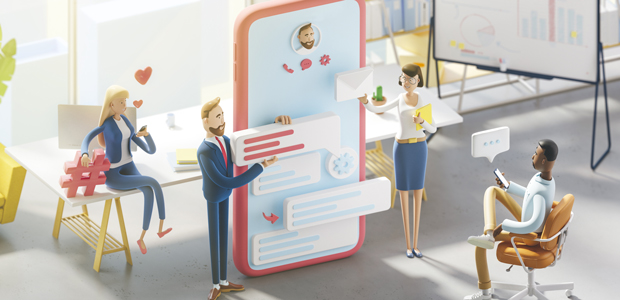 The technology built to help adapt businesses
These days, most businesses rely on just a few short, daily peaks to bring in most of their money. In order to do that, customer service needs to be top-notch. This starts with having great people and enough of them on the floor when things pick up. That is where Stint comes in, it helps companies to work smarter by connecting students with high street and hospitality businesses needing to fill shifts at peak times. We caught up with the two co-founders and learnt some more about the startup! 
Can you tell me about your background?
We are Sam and Sol Schlagman, brothers from North London. We came up with the idea for our business, Stint, while we were both studying at UCL in 2016. We spent two years developing our idea and talking to lots of businesses before taking the leap in 2018 and setting it up. Sol turned down a job in the City and Sam dropped out of university. We really felt like there was no time to waste and that we were onto something.
Our family, and especially our grandfather, were all in business which is probably what gave us the entrepreneurial bug. We always knew we wanted to set out on our own and be entrepreneurs, and it just so happens that our business is one that we believe can truly help other businesses. 
Tell me about your startup and what you do?
Stint helps companies to work smarter by connecting students with high street and hospitality businesses needing to fill shifts at peak times. Through our platform, we place hard-working and motivated university students for short Stints in pubs, restaurants and retailers for two or three hours at a time to help businesses ensure that they are correctly staffed when it matters most, during busy spikes in trade. This enables high street businesses to serve more customers - and to a higher standard - which in turn is great for revenue and staff satisfaction.
The students focus on basic tasks freeing up experienced staff to focus on providing high-quality service with fewer distractions. We have found that if our model is implemented fully, we can improve customer service, boost revenue, reduce employee turnover and improve team morale in those businesses.
With the challenges that Brexit and Covid-19 have created for businesses, we think our model can help more than ever, and be an essential part of the high street revival.
Since 2018, we have worked with 100s of businesses and carried out 40,000 individual stints. During the development phase we chose not to spend on marketing but still managed to sign up over 20,000 students to Stint, almost entirely through word of mouth.
Where did the idea come from?
The idea came to us when we were both studying at university. Without a doubt the main challenge facing our friends and other students on campus was money.
A lot of students have to have a part-time job at university to tide them over - especially in London. Many of our friends would skip lectures in order to make a shift, or miss a shift in order to make a lecture. There was no work on offer that would fit around their lives. We could see this was totally unsustainable, and having a negative effect on student finances, grades and mental health in equal measure.
We felt very strongly that it shouldn't have to be this way. So we did some serious market research, talking to businesses in the area around our campus to see if we could find a solution to what we saw as a broken student jobs market. 
What we discovered was that high street businesses were facing problems of their own. Staffing for retail and hospitality was really hard to get right - particularly around getting the correct balance of staffing levels throughout the day.
We could see both high street businesses and students were getting a bad deal - why was the world getting more convenient (with things like Uber, Netflix and Deliveroo) for everyone but them? So we decided to test and develop our idea with high street businesses and students, and found we could deliver meaningful benefits for both. With that, Stint was born.
Tell me about the solutions, how they work and the technology involved?
Students sign up to our platform using their university email address - this allows us to make sure that only students and first graduates are using Stint. They are then on-boarded by our central team, and can then sign up to do their first Stint. Students can pick up a Stint immediately, depending on what opportunities there are locally. For students, the flexibility to support themselves around their studies is what they tell us they value most. The work is basic which makes it very accessible, and can be in a variety of different businesses - from restaurants, high street shops, events. This allows students to have the opportunity to experience different work environments.
Businesses use the app to post job opportunities - usually a 2 or 3 hour shift - well ahead of time. The feedback from the major high street chains we work with, including Busaba and Chipotle, is that helping them to staff optimally for peak times is enabling their experienced staff to focus on providing high quality service.
Both businesses and students can rate each other on the experience they had. This allows us to keep an eye on quality control. We want to make sure that students are doing good work, but that businesses are also ensuring that the students have a good working experience.
How many on your team and how did you build and grow it?
We're really pleased that what started as a two-person venture has now expanded into something so much bigger: we have recruited a team of 100+, including a Chief of Staff, Head of Community, Head of Growth, Head of Marketing and a Recruitment Lead. We are also currently hiring roles within sales and tech development, and constantly looking for great talent to help expand our business.
Do you have any competitors, if so, how do you differentiate yourselves?
Students have a few different options for earning money, but Stint is the only one that meets what they tell us they need - flexibility, accessibility, variety and ease of use.
The part time work normally on offer for students is often inaccessible and inflexible. Most of the time you need experience to get the experience, such as in bar or pub work, and it can be really hard to take time off in order to study or sit an exam. With Stint, the students fulfill basic but vital tasks for the businesses they work for and don't need any pre-existing skills.
Employment agency work can pay well but usually requires highly skilled people and the shifts on offer are very long, which doesn't really work for students who will be busy on and off with lectures throughout the day. At Stint we allow businesses to staff by the hour, which means students can get short Stints of work which fit around their schedule.
With gig-economy work, such as food delivery, it can often lack the variety that we can offer at Stint where you can work in different kinds of businesses.
Another differentiator for us is that we really pride ourselves on being a company by students for students, and students' well-being is at the heart of what we do. All our student workforce are employed by Stint, accrue holiday and get paid for every shift they do, even if they are sent home early.
What funding process have you gone through?
So far we have received funding from one investor, Edinv, the family office of founder and executive chairman of Telereal Trillium, Graham Edwards.
What challenges have you faced, and how have you overcome them?
We work with hospitality businesses so when the lockdown happened all of our partners had to massively scale back their operations, as did we. But what we are finding now is that as people reopen and adjust to the new normal Stint can play a really important role in helping them to reopen more sites and boost their customer service offering.
We have always had strong demand from businesses - the challenge as we have grown has been to build the technology and infrastructure that would allow us to scale. Now, we have built almost everything that we need and we're ready to enter the next phase of growth.
How is your business profitable?
For now our focus is on growing Stint so we can help as many students and businesses as possible. That's why we're reinvesting all our profits back into our expansion. This year we are targeting 50,000 Stints in Q4 and expanding out of our London base to major cities such as Birmingham, Glasgow, Edinburgh, Sheffield, Leeds, Manchester and Cardiff.
What's next for you guys? What is your strategy for growth?
We are looking to expand to 50 cities across the UK by the end of 2020. It comes at a time when both students and businesses need all the support they can get, and we think there's a huge role for companies like Stint to help get Britain working again.
Over the lockdown period, we've been working behind the scenes on getting everything ready for our launch, including investing in our product, brand and our tech and data. We now have everything we need to show students and businesses across the UK that there is a better, smarter way of working together that meets the needs of everyone.
How are you publicising the company?
We are active on social media with an engaged following on Instagram, and regularly post on our LinkedIn page. We have also recently launched a successful ambassador programme in all the main university towns where students function as promoters at university social events.