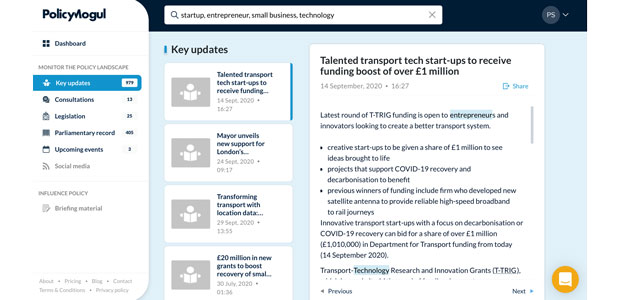 Tech startup shakes up traditional public affairs industry
For too long successful lobbying has been the exclusive realm of companies and organisations with deep pockets. That is about to change with the launch of PolicyMogul, which provides free access to political updates, parliamentary proceedings and the wider policy-making environment via a feed, powerful search tools and email alerts.
The public affairs industry, often described as a 'revolving door' of lobbyists moving between government departments and the private sector, has been essentially unchanged for decades. PolicyMogul's product launch puts organised information at the fingertips of any business, startup or charity.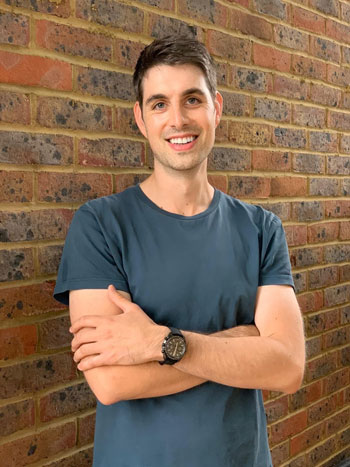 The startup - three years in the making - is the brainchild of PolicyMogul's Founder and CEO Elliot Robinson, who said: "Through technology we can offer confidence to users who have been priced out of the policy-forming arena. Policy decisions can be make or break and we put organisations of any size or sector on an equal footing with their larger competitors. This will really help startups in regulated sectors such as finance, energy or healthcare."
James Turgoose, a public affairs expert who has held senior management positions in the consultancy world and an early PolicyMogul user, said: "PolicyMogul is a breakthrough in public affairs. Most who engage with politics face the dilemma of paying high fees for access to real time political and parliamentary news or wading through countless websites and RSS feeds to find the critical information they need. For the first time, anyone can access the sort of up-to-the-minute, organised information PolicyMogul offers. It's a breath of fresh air, a healthy dose of democratic access at a time when millions of businesses and charities are affected by significant policy changes."
In addition to a free service, PolicyMogul also offers a more comprehensive paid platform using technology that allows established organisations, such as blue-chip companies, industry bodies and public affairs agencies to pay a fraction of what they are paying today.
Of course, there will always be a place in the market for traditional parliamentary monitoring services. But the fees they charge are way outside the price range of most companies and charities. Many organisations who do stretch to pay for such services simply don't require the full range of services for which they are paying.
Robinson said: "PolicyMogul is designed to cater for the mass of organisations who would love to be in the loop on political and policy developments, but previously felt that was simply impossible. We're using technology to do what has traditionally been done by people, so we can offer comprehensive intelligence, faster and for less.
"In addition, we expect to appeal strongly to home-bound public affairs professionals as renewed Covid-19 restrictions threaten the traditionally face-to-face nature of the industry. We hope smaller businesses and charities, and the people whose lives they benefit, will be the biggest winners. As a free service, we're offering anyone who needs it access to the heart of our law-making democracy. A jolt of innovation will make public affairs fairer and more accessible."
The starting point for this innovative startup has been to create a parliamentary and political monitoring tool that any organisation can use to search for issues of importance to them and be kept informed via email alerts of changes and announcements as they happen. Even this is something they would have had to pay many thousands of pounds for in the past.
PolicyMogul has future plans to introduce game changing facilities which could transform how public affairs is conducted, not just in the UK but in any democracy.