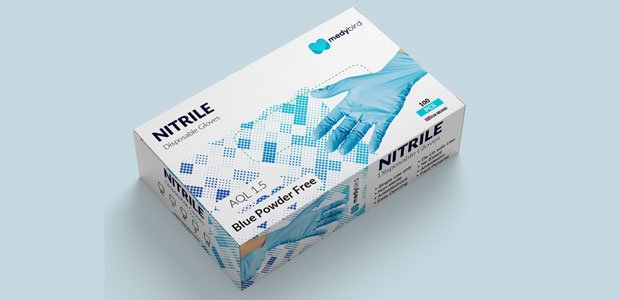 Tech entrepreneur pivots to support local businesses
A tech entrepreneur who created the world's first truly wireless earbuds with live voice translation has pivoted during lockdown and used his global manufacturing connection to create a brand new organisation tasked with making and distributing high quality, certified PPE at affordable prices to the healthcare sector and local businesses.
Medybird is the brainchild of Danny Manu, inventor of Clik and numerous social media and entertainment apps. His new venture specialises in powder-free nitrile gloves and has already supplied more than one million pairs to local businesses to help them reopen safely.
While focus from the public and government is currently on masks which can be manufactured cheaply almost anywhere, the production of powder-free nitrile gloves is more complex. It requires raw materials only available in selected countries, scientific expertise to develop the right formula to meet strict regulations, high tech equipment and a skilled workforce.
Manu said: "Since March 2020, we have seen many inexperienced companies supplying non-certified PPE to governmental organisations and individuals, wasting millions of pounds.
"While the production of masks can easily be automated to reduce costs, automation is limited in the production of nitrile gloves. Skilled labour accounts for a large proportion of the cost of the product. For this reason, we have partnered with large, experienced manufacturers to build our network and provide a reliable supply chain at a fair price."
Medybird Nitrile Gloves are waterproof, greaseproof, oil proof and most importantly, chemical resistant to a range of common chemicals and substances. The high puncture resistance and dexterous strength of the gloves makes it suitable for use in a variety of key UK industries like healthcare, food or automotive manufacturing plants, barber and body massage studios.
With some of those businesses only just permitted to re-open, their survival is highly dependent on offering safe environment to their customers.
With fears of a second wave growing around Europe, it is essential healthcare organisations and local businesses fully stock up on high quality PPE.
Medybird is investing in a new manufacturing facility to ramp up production and increase stock. It expects to supply more than five million gloves by the end of 2020, despite launching just six months ago.
The certified, powder-free, nitrile gloves are available to purchase from the Medybird website and can be delivered worldwide.