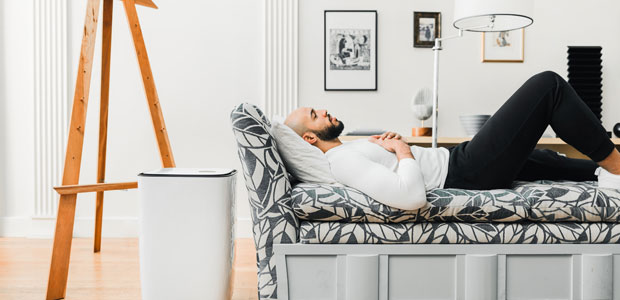 Swiss startup creates air purifiers proven to remove Coronavirus
aeris health, a Swiss startup that creates commercial and residential air purification systems that are improving health globally, is facing huge demands on its manufacturing, as sales have doubled month over month since January.
aeris health has announced the completion of its $3.3m Series A funding round to meet US demand. The funding, led by Tencent, Co-founder Vic Lee, Tinder, Co-founder Justin Mateen, PreAngel, Sarona Ventures, and additional investors, representing investments from the US, China, Israel and Switzerland.
aeris develops AI-powered air purifiers which learn and adapt to each user's personal habits and the air quality in their home over time by gathering data with proprietary sensor technology.
Developed by MIT engineers, aeris's medical-grade purifiers have been proven to remove at least 99.95% of indoor pollutants down to .1 microns, high clean air delivery rate (CADR), HEPA ratings of 13 and above as well as a sophisticated design.
Unlike most other air purifier companies, aeris is not reliant on third-party purchases, allowing the startup to develop air purifiers that are truly unique in the market, higher quality than competing models, and adapted for specific conditions such as odors and viruses without any loss of suction power, a common issue among conventional HEPA filters.
"The global pandemic has fueled a major shift in consumer awareness and concern over the air we breathe. Demand for clean air has never been higher. And our rapid growth in sales is proof that consumers recognise that not all air purifiers are built the same," said aeris CEO, Pierre Bi.
"With the latest round of funding, we're now in a position to further capture this enormous opportunity and help consumers across the US and North America protect themselves and their families from airborne pollutants, including coronavirus."
According to the company, aeris provides one of the only air purifiers on market today proven to remove feline coronavirus from the air, and are certified by major third-party standards testers, including AHAM and EN1822.
In addition to securing new funding, aeris purifiers will also be available in more than 600 Best Buy stores across the US beginning fall of 2020.  
aeris offers four unique products to best suit the needs of each customer, room size and budget:
aair lite:

 A small air purifier that can remove 99.95% of the air-borne bacteria, mold, mildew, odor, and other pollutants from any space up to 350 ft².

 

aair 3-in-1-pro:

 Using technology, the aair 3-in-1 Pro eliminates indoor air pollutants while becoming more efficient and effective over time. For rooms 750 ft² and larger.

 

aair Medical Pro:

 Hospital-grade air filtration that prevents even the most difficult airborne health hazards from affecting users.

 

aair Gas Pro:

 Combining the power of our strongest air purifier and a filter designed with the ability to move odours at a molecular level, the aair Gas Pro will ensure that you never have to worry about distracting or embarrassing odors in your home again.
Since its inception in 2017, aeris has been recognised with two design awards: the iF Design Award in 2017, and the Red Dot Design Award Winner in 2019. 
Ultimately, aeris has plans to expand into markets beyond air purification. Pierre Bi expanded on this, saying that the company see itself as a 'fundamentals of health' company. This will mean using the design and engineering principles applied to air and expanding it into areas like water, nutrition, and sleep.
"Our vision is to create technology that aids in the long term health of our customers. 600,000 to 700,000 Americans die early from air pollution every year: we see this as one example of many such hidden, lower-prioritised health concerns that must be urgently addressed," Bi explained. "That's where aeris will come in."