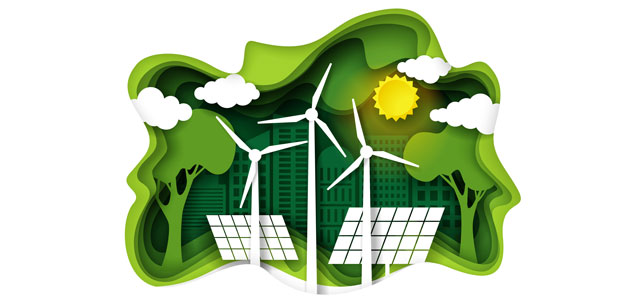 Sustainable Tech will Make or Break Businesses
There is no doubt that consumer demand for sustainable options is on the increase. It is now becoming a huge factor in the choices buyers make when shopping for goods. A recent survey conducted by Deloitte found that 32% of consumers are highly engaged with adopting a more sustainable lifestyle, with 61% of respondents saying they have limited their use of single use plastic, and 34% have chosen brands with environmentally sustainable practices and values.
We are now seeing the conversation around sustainability seep into the digital space.
For example, a study by the University of Cambridge found that Bitcoin consumes more power than the Netherlands, more than 121 terawatt-hours (TWh) annually, ranking it in the top 30 electricity consumers worldwide if it were a country. These concerns are echoed in Amazon's 2020 sustainability report, which found a 15% increase in the company's carbon footprint.
Despite the success of Amazon as a business in the past year, the E-commerce industry demand has made buyers rethink the sustainability of their shopping routine and are now looking for transparency in their buying decisions.
We regularly work with some of the biggest companies in the world, and we're seeing them begin to wake up to the need to change outside of empty promises and pledges. Nike is a good example, recently announcing their Execs will receive bonuses based on sustainability goals rather than business goals, reflecting the known importance of financial incentives in tackling the climate crisis.
Nike's 2025 targets summary also outlines their plans and commitments to the reduction of greenhouse gas emissions through 100% renewable electricity and fleet electrification. Johnson & Johnson has committed to ensuring all its packaging is recyclable, reusable or compostable by 2025, whilst Microsoft is also making waves by unveiling a plan to become 'carbon negative' by 2030, meaning it will take more carbon out of the atmosphere than it emits.
Microsoft has also launched the AI for Earth initiative, which provides individuals and companies with AI and cloud tools to solve global and environmental challenges, an incredible example of how technology can assist in businesses' sustainable efforts.
The shift in attitude from consumers has also led to companies rethinking their business models all together. At Rehab, we have been speaking to brands about how they might set up different side businesses or services designed to collect old products (clothes, product packaging etc), and take the materials to a central distribution warehouse to sell or re-purpose for another aim.
We can certainly use existing technology to deliver this type of business model or service seamlessly. It's not just the fashion industry that could benefit from schemes like these, as we expect other industries, like food delivery services, to follow suit, and there is certainly an appetite for this. Deliveroo could implement a similar service that recycles old food packaging, optimising drivers' journeys in a way that allows them to pick up used packaging and tupperware en-route, before ending at a recycling point.
Oddbox is also a great example, using food that would normally go to waste, with the company's foundations based on a sustainability model. These are all straight-forward, achievable solutions that can be implemented easily through tech, allowing these huge companies to disrupt their own business models and adapt to the new demands of modern business, differentiating themselves from their competitors to appeal to the modern audience. They will outlast their competitors by doing so.
There is also a growing plethora of technology that can enable brands to internally pivot and truly make themselves more sustainable at the heart of their business. A fantastic example of this is FARM's Carbon Calculator, a tool that helps brands and businesses to accurately calculate the carbon impact of their products. When combined with consumer facing consumer experiences, this type of tool becomes incredibly powerful and could inform their purchase decisions.
This sort of information could be accessed via a combination of augmented reality and machine learning by consumers in retail stores, to show - in real time - the carbon impact of certain products, simply by scanning their phone across the shelves in the aisle. With data like this becoming more easily accessible, there could easily be a domino effect where brands will need to show clearer emissions metrics on their own labels. But it will take a brave brand to step forward to do this as it really is warts and all.
Take the fashion industry (especially the fast fashion industry) - at some point a brand may well step up to the plate and put carbon tax onto clothing, which will force the hand of the rest of the industry to quickly follow suit. This change is coming soon. We believe technology like this could be the future of creating sustainable brands that consumers trust, and we are working on developments behind the scenes that could influence buyers decisions. There will of course be winners and losers here, but I'd be hedging my bets on organisations that meet, or are working towards, the b-corp certification and a triple bottom line - social, environmental and financial.
The Internet of Things (IoT) is another really interesting area for businesses to also explore. A project that we worked on, which was awarded Gold at the 'Change for Good' Hackathon at Cannes in 2019, allowed individuals to take a picture of a landmark or the sky. We then use that photograph to measure the level of air pollution by identifying light scattering on the particulate matter in the air. This sort of data can be used in a variety of ways, from using the evidence to campaign and communicate to governments to enforce change, or by businesses taking on similar processes to demonstrate their paths to becoming more sustainable.
The approach to implementing or at least achieving wider internal buy-in for this type of thinking (which lets face it, might upset a few people internally!) is similar to how we suggest running innovation pilots that might go against the grain of the regular business.
Set up these pilot initiatives outside of the main business in order to explore this away from the bureaucracy and politics of day to day corporate life. It will speed things up considerably. These pilots should focus on new business models, new services, new digital products or platforms that may seem alien to the brand (e.g. recycling services for a CPG company) but if this resonates with your core, loyal audience, then it is well worth exploring.
This last point is key. You do not need to focus on mass adoptions straight away. Start small - tens, hundreds, low thousands of users - to gradually build up the insight you need to develop a solid proposition or product. This is how startups work. It's how your business needs to work, otherwise you may get left behind, or worse, waste money chasing the wrong feature or idea.
And prepare to fail. It's not a bad thing if you've learned something. Some ideas may provide the differentiation you need, others may provide a new data point, or insight that you had not previously known about or understood.
Another thing to think about is if brands are fighting for reputation, they should consider what they want to be known for (going back to the Oddbox example, the purpose of their business is to reduce food waste, and is the foundation they are built upon).
Action, not words, will be the key differentiator between brands that talk a good game, and those that deliver meaningful change. So take a step back, consider what is really important and explore how technology can help. The change won't be easy, but soon you won't have much choice.