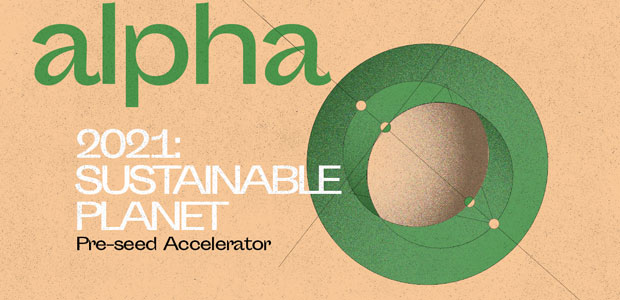 'Sustainable Planet' themed accelerator launches to support startups
Creative workspace and accelerator, Huckletree has announced the opening of applications for its eighth cohort of the Alpha Programme, a 12-week pre-seed accelerator designed to turbocharge the launch and growth of the most exciting and impactful businesses in the UK and Ireland.
The theme of the 2021 programme is 'Sustainable Planet', which will see Huckletree searching for five purpose-driven, for profit startups, working on innovation and new technology to encourage consumers and companies to improve the impact of their everyday living and operations, from how they consume to how they move.
According to Dealroom, European startups working to tackle climate change attracted €9.8bn in VC investment over the last five year, whilst The World Economic Forum states that digital technology can reduce global carbon emissions by 15% by 2030. Huckletree strongly believes in supporting the next generation of innovators, and the Alpha Programme aims to help supercharge the first steps of founders from diverse backgrounds. Since its inception in 2017, the program has seen over £10m raised in funding from alumni, two acquisitions, and created over 120 jobs.
With support from AccelerateHER, the organisation for addressing the under-representation of women in tech, diverse startup community YSYS and Conduit Connect, an investment platform connecting high impact businesses with investment opportunities, the programme is open to pre-seed founders who intend to raise a Seed Round of at least £350k within 6 months of leaving the programme. 
From 4th February, founders can find out more and apply to the Alpha Programme here now. After applications close, Huckletree will host virtual pitches and will take five startups onto the programme, ahead of announcing the successful startups on the 19th March 2021.
Beginning on 6th April, successful applicants will embark on a 12-week programme designed to turbocharge their launch and growth. The programme will include workshops led by pioneering industry talent, relentless pitch practice and collaboration with Huckletree's network of talent, partners and investors. Founders will also be given free access to Huckletree workspaces for one year.
Gabriela Hersham, Co-founder and CEO of Huckletree commented: "Solving the climate crisis isn't an easy task, but it's an urgent one, so the theme of Sustainable Planet for us was a no brainer and this year's Alpha will tackle issues that are extremely close to us - fair funding, sustainability and innovation. The state of funding across the board is, frankly, unacceptable, and action needs to be taken to address how underrepresented women and people of colour are in the process. We're excited to launch our Alpha Programme this year, in a climate when the world feels like it needs more than its fair share of love and support for one another - and we're here to help."
Maya Lingham, Community Data and Impact Manager at YSYS added: "Over the past four years at YSYS we have been working on our mission to give 100,000 diverse individuals access to connections, opportunities and investors in tech, so we know that collaboration and partnerships are crucial for us to take meaningful steps towards an equitable industry. Huckletree shares our values and commitment to supporting underrepresented founders. We're excited to partner on the Alpha Programme to provide more opportunities for more founders."
Yang Liu, Founder and CEO at JustWears, award-winning sustainable men's underwear brand: "This is the only programme we would highly recommend to any early-stage founding team. A ton of valuable resources and contacts into an efficiently well-curated structure so that we could continue to scale our business."
Further successful Alpha alumni include the likes of OnLoan, a fashion rental subscription business, Evocco, the pioneering carbon footprint assessment app, HANX, sustainable sexual health and intimate wellness brand, Bombinate, platform for the world's finest craftsmanship brands, Wild.AI, B2C training app for female athletes offering coaching based on the menstrual cycle, and LoveShark, AR-focused mobile gaming studio.
Want to apply to this year's programme? Find out more about the Alpha accelerator here.