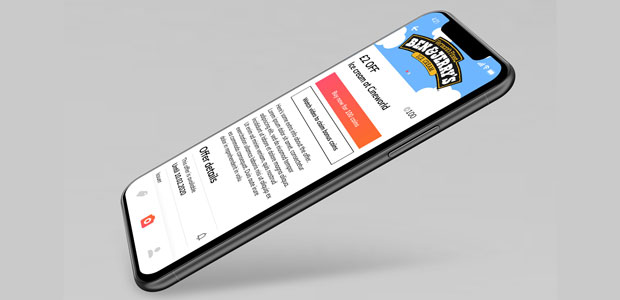 Sustainable advertising platform hits 101% funded on Seedrs
Bagboard, the creation of former credit trader Ben Ayres, advertising executive Ashleigh Bishop, and startup specialist Charlie Ayres, has hit over 100% funded with 13 days remaining. Bagboard marries major brand advertising campaigns and environmental impact, with a mission to empower consumers to use their collective spending power as a force for good.
This comes at a time when COVID-19 has, in the span of four months, shifted the way consumers think about their daily shopping and consumption habits with 45% of consumers saying they're making more sustainable choices when shopping and will likely continue to do so. 
Bagboard works by featuring campaigns from planet-friendly brands like Sky Ocean Rescue, Ben & Jerry's and Loop on reusable, recyclable and eco-friendly paper smart bags, replacing single-use plastic ones in over 2,000 local shops across London. 
Through the Bagboard app, people are incentivised to use (and reuse) their free smart bags in return for money-off planet-positive products and services, while helping to raise awareness of brands committed to sustainability, wherever they carry the bag. Bagboard additionally rewards people by removing ocean plastic on their behalf each time they reuse their smart bag, via a partnership with innovative NGO, Plastic Bank.
"Bagboard is part of the new wave of cause-driven business that's using technology to tackle some of society's major issues, while still driving revenue for brands - and keeping investors happy," says Co-CEO, Bishop.
"We're taking the long unchallenged, often one-way advertising model and flipping it by creating a direct dialogue between brands and consumers - one where consumers get paid for choosing to interact with an advert; and where brands can invest in sustainability and advertise in an entirely new way all via their traditional advertising budget."
For brands, Bagboard acts as a platform selling digitally-verified media impressions, offering a solution for those with a sustainability commitment to invest in advertising that is more robust and reliable than traditional out-of-home advertising formats, which are a large contributor to the annual 163 million wasted impressions purchased by brands. Brands fund the plastic offsetting that happens with each journey, transparently contributing to a tangible sustainability initiative driven by the consumer. 
With 91% of millennials saying they would switch to brands associated with a cause (Cone Communications Millennial CSR Study), and 61% saying they feel personally responsible to make a difference to the world (Cone Inc), Bagboard is poised to help deliver on the desires of the consumer and to offer a measurable channel for brands to showcase their commitments to sustainability.  
Since the launch of Bagboard in 2016, the platform has received funding from Innovate UK, and Sky's impact investment fund, Sky Ocean Ventures which invests in innovations to end the devastating flow of plastic into the seas. Bagboard has signed up 2,000 independent retailers (ranging from convenience stores to pharmacies) across London and built up a network of 6,000 consumers (and counting) on the waitlist.  
"Bagboard is one of those rare, simple, brilliant ideas that can help change the world. You want people to use the same bag over and over again? Then reward them for doing it," says Vanessa Draper, Director Partnerships and Corporate Engagement at Sky Ocean Ventures. "We're delighted to have partnered with Bagboard. Together, we can make an impact on plastic wastage and increase awareness of the issue at the same time."
Within the first day, £516,330 in funds were raised, with notable investors including Simon Balderson, Owner & Managing Director of Sirane, experts and innovators in packaging. Raised funds will be leveraged to launch in London and scale to additional UK cities, maintain rapid growth of the consumer network, improve the sustainable reward scheme and marketplace app, and develop an auction-based sales system for brands to bid for campaigns online.
"The world is an uncertain place. But one thing remains true: we still have a planet to save," added Bishop. "With brands searching for better ways to connect with consumers while having a positive impact on the planet, there's never been a better time to launch our platform."