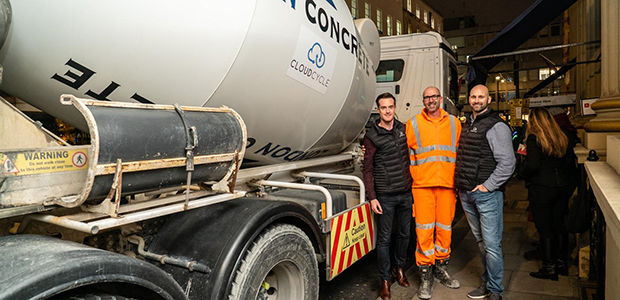 The sustainability mission that's set in stone
If I was to tell you that water is the most used material in the world, I doubt you'd be surprised. However, if I asked you what material comes second in that list you may be left scratching your head. Plastic? Copper? Carbon Fibre? Good guesses all. However, you'd be wrong – it's actually concrete.
Due to its strength, durability, longevity and resilience (combined with the fact that it doesn't burn, rust or rot), we produce over ten billion tonnes of concrete every year to construct our buildings, bridges, roads, dams, pavements, kerbs, pipes and even drains. However, due to its widespread use, concrete contributes eight percent of global CO2 emissions. To make matters worse, around 500 million tonnes of concrete is wasted every year, at a value of $40bn. This constitutes a huge problem that London-based startup CloudCycle is on a mission to solve. We speak to founder Phill White to find out more.
CloudCycle has developed an on-truck IoT device and sensor array that feeds real-time data to its cloud-based machine learning solution. The company's AI assistant offers automated and suggested interventions to ensure concrete always arrives on-site within specification.
The company also offer deep insights into the rheology (the branch of physics that deals with the deformation and flow of matter) of clients' concrete quality on arrival and improves productivity via fleet optimisation and improved customer service. This in-turn helps to reduce waste with fewer rejected loads and associated lost time and resources; whilst also enhances accountability – enabling the client to know their concrete characteristics up to the point of handover. This all ultimately leads to the reduction of CO2 emissions associated with the waste, disposal, and recycling of concrete.
Rooting in the circular economy
White is an entrepreneur who's passionate about building businesses around a circular economy that are sustainable, resource efficient and are low carbon/low waste. With a background in the construction industry, White quit his career five years ago and actually started a mushroom farm working with Sydney Airport in Australia, using the coffee waste from the airport's cafes from which he grew oyster mushrooms - that was his first circular economy business.
Then whilst speaking at an event in Australia, where he lived for ten years, White was approached by the managing director of one of the largest concrete companies in the world, explaining the huge issue that existed around waste in the industry.
"He said that if we could build a solution to fix that, then he'd be very interested," said White. "My co-founder and I have known each other for around eight years – he's more technical oriented, I'm more business and commercially focused in the circular economy space. So, we got together, and we started thinking about CloudCycle."
CloudCycle leverage three cutting edge technologies to bring deep insights to the rheology, of every concrete load in-transit.
These three technologies are:
IoT: The company's proprietary CloudBox collects data from its on-truck sensor array and feeds it into the cloud system.
Machine learning: The company analyses many data points from every concrete mix design to calculate instantaneous concrete characteristics and predict the characteristics of the current load on arrival to site.
AI: The company automate interventions to ensure that concrete arrives to site within specification.
In phase 2 of the model, when all else fails and surplus occurs, CloudCycle will build a marketplace to match surplus concrete spec with local demand.
 "We put sensors and IoT devices on concrete trucks and we monitor the quality of the concrete in real-time. A big reason why concrete is wasted is because the quality is not right when it's shipped over to site. And it's in the concrete truck that things go wrong," White continued.
"We install our devices and provide real-time reporting on the quality of that concrete, to make sure that when it is delivered to site, at any time, we can give it a digital fingerprint to say that the quality of the concrete was good upon delivery so it reduces liability. If there is a problem with the concrete we can then intervene and suggest how we can fix it so it's delivered to specification every time, which then reduces waste and saves money. The owners of the concrete trucks pay for the service which operates as a subscription model - we're currently piloting with the world's biggest two cement companies."
White estimates that CloudCycle will be employed on around 25-30 trucks in the next couple of months. Over the next three to six months the technology will be validated, with product/market fit towards the end of the year. "Then we'll be looking to raise another round and scaling at the back end of this year/early next - we're just closing our seed round now and have received a £250,000 grant," he added
"Our two pilots are with global companies so we'll be scaling through them, and that will be a business in itself. We've identified six countries who we are speaking with in Europe, and then we'll look at scaling into Asia and Australia (as my co-founder and I have a history in Asia). Surprisingly, the US isn't one of the biggest markets because they don't invest a lot in infrastructure."
CloudCycle founded in March last year, and were part of an accelerator programme run by The Carbon Trust. The company then entered into a programme called Antler, a global VC and startup generator. At present the company purely consists of White and his co-founder but are just about to start hiring with around six roles to fill before the summer. He added: "We'll be looking for a deep learning lead, a data scientist, a customer success lead (because we want to change how customers could be selling to the construction industry), a firmware lead, and a software developer."
Challenges
White muted that the long sales cycles of the companies within the industry is a challenge, commenting: "We've been talking to these companies for over a year, yet we've only been able to install hardware last month. So, without programmes like Antler and support from Circular London we wouldn't have got the grant."
"We are using WeWork and I'd highly recommend Antler, as they are now the world's largest startup builder. You join as a single founder, you meet your tech or business founder; you share ideas and collaborate; and you then pitch to their investment committee after two months, and then you get invested in. We were Cohort One in London – around 1,700 people applied, they chose 70 – then out of that around 13 companies were formed and received investment."
White added that in terms of competition there are a couple of analogue solutions available but questioned their level of scalability. "Their hardware costs about £5,000 and ours cost about £200. And we are the only ones that can manage flow concrete, which is much more liquid. And that's where the industry is moving towards."