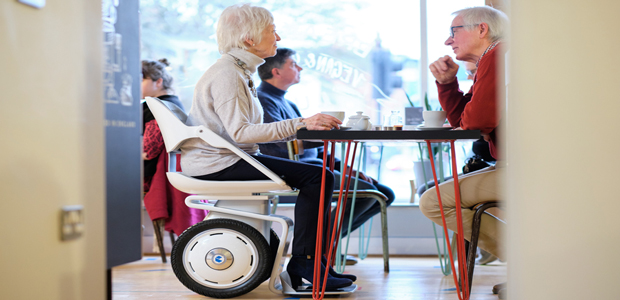 Sustainability fund backs innovative COVID-19 wheelchair
Developers of an electric wheelchair designed to enable social distancing and built with COVID-19 resistant materials have been awarded a UK government grant of £175,000.
The two-wheeled, self-balancing Centaur is a personal electric vehicle which helps protect users and staff in the care industry from diseases like coronavirus.
Its collision avoidance software – the first to be installed in a wheelchair - will help enhance social distancing, particularly by reducing contact between carers and residents.
The money will fund research to further identify and develop plastics and other materials which viruses find it difficult to live on which will make the Centaur easier to decontaminate than existing chairs.
The seat is height adjustable and can raise occupants to eye-level. As well as giving users greater dignity, this helps prevent transmission as the lower you are, the greater the risk of infection from aerosol spread disease.
The Centaur is also driver-operated and fits into the space of a dining chair. This helps minimise contact between carers and residents, further reducing the risk of catching the virus.
Chris Hay, chief executive officer of Centaur Robotics, said: "It's really important that people move independently of staff. If they eat in a dining room for example, they move on their own and don't have to be helped in and out of another chair. They stay in the Centaur, reducing contact and the likelihood of infection, but increasing socialisation which is so important for mental health."
Innovate UK, the government's innovation agency, made the award to Centaur Robotics as part of an initiative to help businesses recover in a sustainable way from the economic effects of Covid-19.
The £175,000 grant is the maximum amount payable from the £10m Sustainable Innovation Fund, run by UK Research and Innovation. Centaur Robotics will contribute an additional £87,500 to the project.
The two stage project will assess how the Centaur fits into the care industry and monitor the impact on users. The money will allow also Centaur Robotics to develop further prototypes for demonstration and marketing purposes.
Centaur Robotics director Paul Campbell, former head of global design at Ford Motor Co, said batteries will be made from recycled materials as part of Centaur Robotics sustainable goals.
"We are also developing a foolproof cleaning regime and using latest materials designed to be both recyclable and help limit disease transmission."
The Centaur, which is manufactured in England, is the only UK company in the race for the next generation of personal electric wheelchairs. There are no wheelchairs on the market which offer collision avoidance or cues and warnings about social distancing.
Innovate UK Executive Chair Dr Ian Campbell said: "In these difficult times we have seen the best of British business innovation. The pandemic is not just a health emergency but one that impacts society and the economy.
"The Centaur, along with every initiative Innovate UK has supported through this fund, is an important step forward in driving sustainable economic development. Each one is also helping to realise the ambitions of hard-working people."
The Centaur was the brainchild of company founder David Rajan. He failed to find a wheelchair that suited the needs of his son Alfie, who has cerebral palsy, but also looked good and would help him lead an active life.
The Centaur was then developed to counter the stigma surrounding wheelchair use and allow users independence with dignity