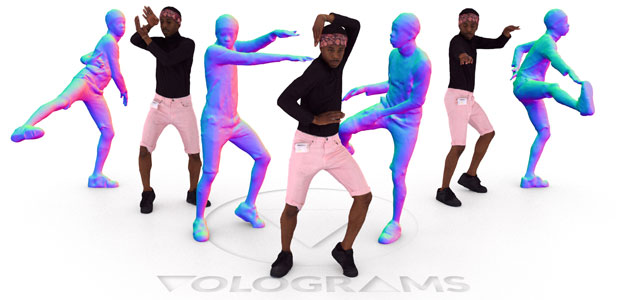 Sure Valley Ventures leads €1.5m investment round for Volograms
Sure Valley Ventures, the venture capital firm that invests in early stage software companies, has announced that it has led a new €1.5m investment round for Volograms. Atlantic Bridge University Fund and Enterprise Ireland have also made follow-on investments as part of this round.
Volograms is a reality capture and volumetric video company which is a spin-out from Trinity College, Dublin. Volograms' technology enables users to capture volumetric holograms (or volograms) of real people. By inserting the 'Volograms' into videos, people can create their own immersive Augmented Reality (AR) and Virtual Reality (VR) content for use in apps, social media and VR headsets.
The funds raised will accelerate Volograms' ambition to bring AR capture closer to everyone by helping it to integrate its technology into personal mobile devices. The mobile AR market is forecast to grow from the one billion compatible devices and over $8bn in revenue in 2019 to 2.5 billion compatible devices and $60bn in revenue by 2024.
The company has worked on projects for customers including Samsung, The London College of Fashion and The Royal College of Surgeons in Ireland. Other providers of volumetric video capture require a person to travel to a specialist studio (often overseas) which is typically comprised of up to 100 cameras. This approach demands a significant investment of time and money. Alternatively, Volograms' current technology can achieve high quality AR image and video capture using far fewer cameras and different camera setups thus reducing the cost for the creators.
Sure Valley Ventures Managing Partner, Barry Downes said: "This is another step in our strategy to provide our investors with exposure to high growth, futuristic technologies, such as Volograms. The mobile Augmented Reality market is experiencing significant growth. Volograms' ground breaking technology will enable mobile phone users to take AR pictures and videos, then view, edit and share them with others. This can be done directly or through social media platforms. 
"The technology behind this new mobile 'AR camera' has been developed by a team that are already world leaders in the field of volumetric high end dynamic AR content. We believe that Volograms is opening a new market category for AR photos and video. This category will have much greater appeal for content creators and social media users than the existing static 3D content solutions on offer. Volograms' technology will usher in the rapid expansion of the mobile AR industry. We are delighted to back the talented Volograms team and partner with Atlantic Bridge and Enterprise Ireland to help them to revolutionise mobile AR."
Volograms CEO, Dr. Rafael Pagés said: "We are really excited that Sure Valley Ventures has joined our journey, together with Atlantic Bridge and Enterprise Ireland. We are now ideally positioned to continue growing our team and scaling our technology. Having a real person in AR or VR unleashes the full potential of these technologies as it makes immersive experiences more human. Our volumetric video technology helps creators blur the lines between real, augmented, and virtual realities. This investment will allow us to continue towards our mission to bring this technology to everyone."
Atlantic Bridge Venture Partner, Chris Horn commented: "Volograms is extremely well placed in the Augmented Reality market with leadership technology. Sure Valley Ventures has a strong record in successfully backing emerging leaders in virtual reality software companies, and we are delighted that they are joining with us to grow Volograms into a global leadership position."