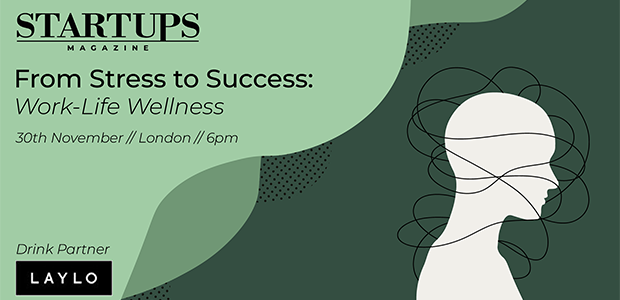 From stress to success: Work-Life Wellness
Startups Magazine is excited to announce our much-anticipated 'From Stress to Success: Work-Life Wellness' networking event! Taking place at Clockwise, Woodgreen on the 30th November at 6pm, we will be bringing you an event full of insights on mental health and wellbeing, as well as a relaxing wellbeing session.
For our last event of the year, Laylo are our drink partner! Laylo produce award-winning boxed wines, that stay fresh for six weeks once opened.
Wellbeing Session
The event will kick off with a wellbeing session, hosted by Karen Farrell. Karen is a modern-day mindfulness and breathworks expert, dedicated to helping individuals find inner peace, clarity and wellbeing in the midst of today's fast-paced world. With a deep understanding of the challenges and stresses that we face, Karen has become a trusted guide for those seeking to cultivate mindfulness so they can thrive in their daily lives. Whether you're seeking tools to enhance your daily life, manage stress, or cultivate mindful habits, Karen will help you rediscover your inner balance, one mindful breath at a time.
Keynote Speaker
Our Keynote speaker this event is the fantastic Rachelle Watson-Nyeko. Rachelle is a Leadership Wellbeing Coach, Speaker, and Facilitator. LinkedIn's Top Voice for Work-Life Balance, anti-burnout, and an advocate for workplace wellness, working with Early-Stage Entrepreneurs, Creative Industry professionals, Agencies, and Tech companies. Sahe began doing this after a successful career as a creative business growth professional for 14 years in Digital Advertising, Tech, and Marketing. Rachelle specialises in setting people free from their limiting beliefs to excel in the leadership of their lives, career, business, and personal growth. She is centred by a holistic approach to sustainable growth and success.
Startup Panel
The startup panel will feature some exciting healthtech startups, hand-picked by the Startups Magazine team.
The first panellist is Sean Ruane. Sean is the founder of Mind Data which sits at the intersection of technology and mental health. His own experiences with suicidal depression forged a resolve to transform mental health care and is now on a personal mission to improve the mental health of one million people worldwide.
Mind Data is designed to empower individuals, mental health professionals and organisations with data-driven insights. His vision is to turn mental health support from a traditionally reactive process to a proactive one.
The next panellist is Daniel Botcherby. Daniel is the Founder of LGBTQ+ startup Kalda, that provides meaningful queer therapy through video therapy sessions and journaling. Daniel previously built a medical device and video game that could measure treat and prevent neurodegenerative diseases.
Last but not least, Kira Zhigalina is the final panellist! Kira is an award-winning artist turned entrepreneur and a certified breathwork instructor. She is the founder of Sym, a beautiful real-time biofeedback device that visualises breathing in light, encouraging deep diaphragmatic breathing practice which naturally relieves stress and anxiety. Sym synthesises technology, art and wellbeing, creating an immersive experience for connecting to oneself and to others through breath.
If you haven't already, grab a ticket before they disappear!