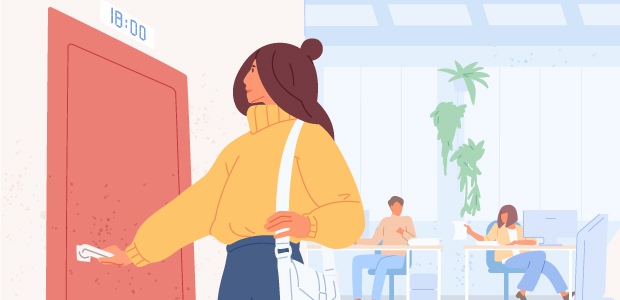 Staying on the right track
In this week's guide, we look at how to manage your employees to ensure long term happiness and health, with performance management, sickness and absence management and incentive share schemes.
Performance management
A healthy work environment is the result of a number of factors, not least that everyone contributes to the culture and work as their role requires. Where employees may fall short of your expected standards, it's helpful to have a framework for performance management in place.
Reduce the need for performance management
To reduce the opportunity for poor performance, establish expectations from the start. Set them out in the recruitment process, and when an employee joins, provide:
A detailed job description

Full company induction

Targets or Key Performance Indicators (KPIs)

Behavioural goals

The consequences of not meeting these expectations.
In addition, managers should be trained in how to provide regular informal feedback constructively and positively, and instructed to hold regular progress appraisals with employees. Frequent contact and open communication allows for matters of poor performance to be caught and resolved early.
Options for your business
You may want to consider probation periods for your employees. Probation allows you to measure ongoing behaviours and capability, and you can reserve the right to extend the probationary period if the employee doesn't meet standards.
Another way to encourage positive discussions around performance is an open-door policy. If you can easily find out about the happenings in the office, you can identify issues sooner. You may also see whether there are factors influencing the poor performance, such as a stressful working environment or lack of resources.
Responding to poor performance
Where employee performance is sub-standard, the first step is to discuss the issues in review meetings and on an informal basis. From there, consider further support, mentoring or training. However, if the poor work continues – not meeting targets or business benchmarks, for example – you may need a formal performance improvement plan, an informal warning or a formal disciplinary process.
When giving an employee a formal warning, follow your disciplinary procedure – it is a statutory requirement for your company to have written disciplinary and grievance procedures which follow the relevant ACAS Code of Practice. Also, when issuing any type of formal performance management sanction, is it important to keep records as evidence.
Managing sickness and absence
Your employees will need to take time off for reasons of health and wellbeing – it's a fact of life. To ensure you can fairly and effectively manage the process of sick leave, you'll need clear contracts and policies and thorough data-recording systems, as well as a fair approach to employee wellbeing.
What constitutes incapacity for work?
Being too unwell to come to work occurs across a broad spectrum. It's important to distinguish in your policies between absences for poor physical or mental health and absences for other reasons, such as bereavements and family emergencies.
When managing repeated absence, look at patterns and their underlying reasons. If the absences seem to have no clear reason and instead point issues with time-keeping and work ethic, this could be a disciplinary matter. However, if the absences have an underlying reason, work with the employee to make informed decisions about next steps.
Absence policies and sick pay
Each employee should be clear on the expectations of acceptable attendance. You should have clear policies which include whether or not you offer contractual, discretionary or statutory sick pay, and which explain the process of notifying the business of incapacity for work.
Your policies should also include:
The type of evidence absent employees will need to provide

How to keep in touch and how often during absences

The process of return to work interviews.
Absence policies can be changed as the company grows, and you will not need to consult employees on the changes. However, any contractual rights in policies, for example to sick pay, can't be changed without the employee agreement.
Fair dismissal for absence
If your employee's non-attendance is at an unacceptable level according to your absence policy, you may be in a position to (fairly) dismiss them. This process means you'll need to understand the underlying reasons for the absence, as they will have a significant impact. If there is workplace stress or bullying being alleged, the process will need to be sensitive to those allegations. If your employee has been absent from work for a long period due to sickness, you'll be unable to permanently replace or dismiss them without going through an ill-health management process.
In general, dismissals for absence involve more than one conversation. There will need to be:
A series of warnings

Clear understanding between parties on what improvement is required

Time for the improvements to take place
You will also need to have all of this on record in the event of an unfair dismissal claim. Your reasoning for dismissal will need to establish that you took action only where:
It was clear the employee wasn't fit to perform their role and wouldn't have been for the foreseeable future

The absence has a significant impact on the business

There was no viable alternative to dismissal
With all sickness and absence issues, it is also particularly important that you take care to stay within discrimination laws around disability and pregnancy.
EMI schemes – incentivising your team
As your business grows through the hard work of your team, you begin to foster a sense of building something together. One way of rewarding loyalty is to offer an Enterprise Management Incentive (EMI) scheme.
An EMI scheme gives your employees the legal right to acquire shares in your business at a future date, but at a price that's fixed now and with favourable tax treatment. If the value of your shares increases over time, employees can stand to make significant financial gains.
To grant an EMI option, a company must:
Have fewer than 250 employees

Be independent – not a subsidiary, part of a parent group or controlled by another company

Must own and control all subsidiaries if it has any

Have gross assets of less than £30 million

Be trading (or preparing to trade) on a commercial basis with a view to making profits in a qualifying trade

Have a permanent UK establishment
For employees, the conditions that need to be met state that an employee must:
Be an employee

Work at least 25 hours a week, or 75% of their working time

Not own or control more than 30% of the share capital of the company
EMI shares are an effective way of incentivising your staff in an environment which may otherwise be high-growth or high-risk and show commitment to rewarding employees with long-term incentives for growth and staff retention.