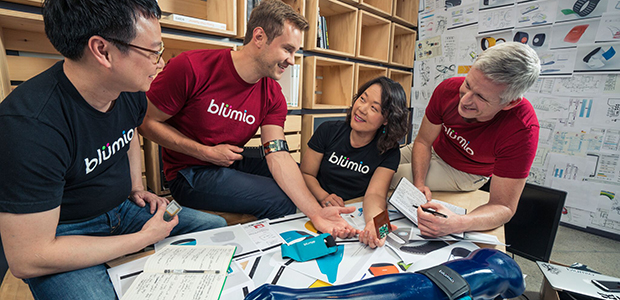 Startups Launchpad – Infineon Technologies
Semiconductor manufacturer Infineon Technologies has always been keen to work with startups and entrepreneurs and has done for many years. However, a year ago the company took the decision to make this collaboration more structured and more visible to the outside world, and so introduced its startup cooperation programme, Inno.Wafer. We spoke to the man heading up that programme in EMEA, Lamin Ben Hamdane, to find out more.
Often the first challenge for a startup when trying to talk with big corporates is to contact the right people, and so the Inno.Wafer programme has a dedicated webpage so startups can establish a first point of contact to Infineon globally, and startup corporation managers in Silicon Valley, Munich, Vienna, Singapore and Bangalore who connect relevant startups to the right people internally.
The innovations that make up the Inno.Wafer programme go far beyond pure semiconductor technology, and offer startup companies the opportunity to drive the solutions of tomorrow, and address global challenges such as climate and demographic change, urbanisation and digital transformation. Topics are manifold and include for instance energy storage, battery management, smart sensors and edge computing or IoT applications.
Infineon has a focus on partnering with startups that work close to hardware. For example, developing hardware-based systems, or offering innovative embedded software solutions or artificial intelligence. Startups from the semiconductor or industry 4.0 sector are equally exciting partners for the company.
Ben Hamdane commented: "Selected startups can work on-site, closely with our engineers, to develop their product. In Singapore, we have our dedicated Co-Innovation Centre."
He added that there are three factors that are important for successful startups: capital, coaching and business partners. Infineon focusses on the latter - supporting startups as a reliable business partner with a brand known worldwide in the tech sector.
For startups themselves, cooperating with Infineon grants access to cutting edge technology, and a global R&D and manufacturing network, technology advice and of course free samples and evaluation boards. It enables them to establish connections with important decision makers and other innovators, and by partnering with Infineon it allows startup companies to gain access to global marketing and sales channels.
"It's important to say that we want to cooperate with startups, we are not a venturing arm," added Ben Hamdane. "We usually don't invest in startups. It's about having startups as our future customers, or our go-to-market or R&D partners. We complement each other in our offering."
"Another option is working with startups as our suppliers in the operations space - basically startups that have solutions that help us for example, to automate certain tasks more efficiently. They help us save costs and optimise our processes. So, there are three ways in which Infineon divisions are cooperating with startups – as R&D or go-to-market partners, customers, and as our suppliers."
Four areas of cooperation
Ben Hamdane explained that if you are a startup that is developing hardware devices, then as a leader in the world of power electronics, sensor and security technology, Infineon can help. So, if a startup is active in one of the emerging applications as defined by Infineon, then as a first step the company can offer support by sending product samples and offering technology advice.
He added: "We'll tell them which new products will come along in the future and what is the best product suited for their solution. And that speeds up their own development process."
Once the startup has built their first prototypes or demonstrators, Infineon will then enter discussion around how to promote the startup from a marketing perspective. Ben Hamdane continued: "We can take them with us to trade fairs globally, like CES or electronica, to display their concept and promote the solution with Infineon inside. For us the benefit is that we can showcase these emerging applications and the relevance of our products."
Another focus area for Infineon is startups that complement the company's products with embedded software solutions. "Traditionally, we have been a hardware supplier," added Ben Hamdane. "Let's take an example. Infineon is a leading company in radar sensors. If a startup is knowledgeable about medical applications they can help us to find completely new use cases and address new markets, in other words, for us they can become a go-to-market partner."
With this Infineon can offer a solution to its customer rather than a product, while the start-up, by becoming a go-to-market partner in Infineon's ecosystem, can develop their own product faster.
A third area of cooperation is focused on startups that develop core semiconductor technology. Ben Hamdane added that these startups are rarer, but they help Infineon to build the next generation of MEMS devices and make them smaller and more efficient.
"In essence this is an R&D partnership," he added, "We'll work together to create a demonstrator, perhaps apply for a public funding project, and develop the technology, which would give us more insight for the future. One example would be the area of next generation neural networks, where we work with startups to better evaluate the potential of this technology."
The fourth pillar of startup collaboration is on internal operations where startups can become Infineon suppliers. There are many startups with solutions to program and reprogram robots for example, without the need to have a robotic expert on-site. "These startups could become our supplier which help us to save costs internally in production," Ben Hamdane added.
Recruiting
Most of the time Infineon actively go out and scout for startups that they want to collaborate with, going to conferences, maintaining databases, establishing investor contacts etc. For a startup, joining the Inno.Wafer programme is free of charge. And although Infineon does usually not invest in startups, the company's network of investors can be called upon if a startup is looking specifically for funding.
"There are several different initiatives that we are part of that foster entrepreneurship and help founders to take the next step," added Ben Hamdane. "For example, we sponsor the IECT summer school in Austria that takes place near Innsbruck. This is for founders from science, who get mentoring and advice on how to create their own deep tech startup. We sponsor this initiative and give a fellowship once a year, to one of the founders, who can then participate in the programme for free. And we basically bear the cost. Independently of that, we have a network of employees with deep technical know-how who act as startup mentors."
Case example
One startup that has collaborated closely with Infineon is Blümio, a Silicon Valley-based startup that has developed a cuffless blood pressure monitoring solution. The company's CEO and Co-founder, Catherine Liao, added: "Infineon found us when Adrian Mikolajczak, Head of the Silicon Valley Innovation Centre, recognised that we were looking to build a blood pressure sensor using radar, and asked if we could leverage Infineon's radar technology in order to do it?"
"At the time we were looking for various types of radar alternatives. This is because not all radar is created equal – there are different bandwidths and different frequencies etc. When we first started, we began by building our own radar subsystem," Liao said "However, as a startup you really don't have the resources to be a chip designer as well as an algorithm and product designer. So, when there was an opportunity to collaborate with Infineon, we welcomed it with open arms."
In terms of the product Liao explained that with every heartbeat a pulse can be felt on the surface of the body. That pulsation translates into around a 0.5mm of motion on the surface of the skin. So, radar presents an opportunity to image that motion in a very precise way.
She added: "We were specifically looking for radar that operated in a high frequency spectrum that was suitable both for the type of measurements we were looking for (which are very small motions), but which also operated in the ISM band, so when it came to productisation we had a lot of variety and would minimise the restrictions placed on a senor like this.
"Because of that some common technologies such as ultra-wide band was automatically ruled out because it has restrictions in terms of its use beyond a professional setting. And when we think about wearable applications that simply wouldn't work," Liao explained.
"When Infineon shared with us the 60GHz radar that it was working on we jumped at the chance to use it. As I understand it, we are one of two commercial partners that is working on this radar specifically, the other being Google who are incorporating 60GHz radar into its pixel phones."
Blümio are currently in the process of completing a hardware development kit which is essentially Infineon's radar and development board inside a wearable enclosure, with software running Blümio algorithms which will be released to different device makers to develop a wearable blood pressure monitor for hospitals, clinics, and consumer uses.
"There are a number of benefits to working with a company such as Infineon as a startup," Laio added. "We are fairly new, people don't know who we are, and we have little credibility. So, by partnering with Infineon we are able to essentially borrow their credibility as we pitch our solutions to potential partners."
"As a startup you want to get as much support from different partners as you can, and having Infineon as a technology partner gives our investors and future partners the confidence that what we are building has some solid foundation to it. We're also able to leverage Infineon's go-to-market capabilities. And we're able to amplify our message much wider than we could do by ourselves."
Benefits for Infineon
Ben Hamdane concluded: "For us there are several benefits to working with startups. We get a wider understanding of how our components can be used, especially in emerging applications. And what the requirements are for our components in these new applications.
"So, for us it's basically a learning exercise towards an optimised product roadmap for the future. In addition, with interesting demonstrators we can showcase the capabilities of our products to the outside world. Our power, sensor or security technologies are all hidden inside. Working with start-ups we can bring these exciting technologies to life – for instance giving senses to a human-like robot that walks around and can hug visitors at a fair. Infineon engineers were also excited to help the TUM Hyperloop team to win the Space X competition with our precise electronics. So, for us these partnerships have also a benefit from a marketing perspective. 
"Working with startups is always a win-win situation and with Blümio's wearable sensor, for example, we were able to prove the technology's potential in a healthcare application, which can in turn unlock new revenue streams for us in the long term, both with new and existing customers."