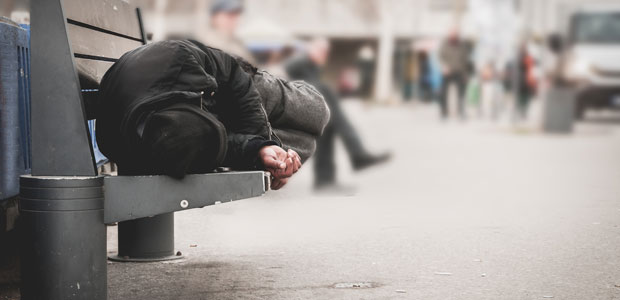 Startups called on to scale new solutions to end homelessness
Startups from around the world are being called on to apply to join the first investment portfolio of the Venture Studio from Crisis. The Studio will invest in, support and scale ventures that help accelerate the end of homelessness.
The Venture Studio, from national homelessness charity Crisis, will work with startups which could benefit from expert support to develop impactful solutions that will help to end homelessness within our lifetime.
From 18th November 2020, startups will be encouraged to apply to join Crisis' Venture Studio to develop and scale solutions.
The Venture Studio is actively seeking to invest in its first cohort of startups, looking for solutions likely within the Proptech, Fintech, Healthtech, Cleantech or Edtech sectors that have the potential to, or are already, preventing homelessness, creating new housing or are ending homelessness at a societal or individual level.
As part of the Venture Studio, startups will get funding, access to experts and insight and the opportunity to regularly co-create and test solutions alongside those with lived experience. Startups will also get access to coaches, mentors, investors and other relevant networks that can support and scale their businesses.
Crisis has developed the Venture Studio to explore new ways of tackling homelessness and is building on the charity's existing innovative and entrepreneurial culture. This includes:
Providing innovation grants for homeless organisations and housing led projects

Changing Lives grants, which support clients to develop and build their own businesses as a means to end their own homelessness through self-employment

The recently launched Next Steps programme, working in partnership with Impact Hub Kings Cross to offer mentoring and access to funding for people experiencing homelessness.
Liz Choonara, Head of Entrepreneurship at Crisis, said: "In 21st century Britain, everybody should have a safe place to call home. We know that to end homelessness we need affordable housing and forward-thinking policies, but we must also find innovative new solutions to prevent homelessness from happening in the first place and to tackle its consequences.
"We're incredibly excited to have launched the Venture Studio at a time where impact investment has grown significantly in recognition that the right ventures can succeed in tackling some of society's toughest challenges. We are looking forward to working with innovative start-ups as well as organisations from a wide range of sectors, from local government to academia to other homelessness organisations, to end homelessness for good."
Daniel Korski, Founder of PUBLIC and supporter of the Venture Studio, said: "Creating an environment that connects startup founders - some of the country's most driven, technologically skilled individuals - with those who have lived experiences of homelessness, is an inspired route to building a community that can tackle large societal problems in new ways.
"There is an increasing understanding of the importance of improving technology in the third-sector - opening up the market for new ideas, and encouraging founders to innovate this space, confident that there will be charities, like Crisis, who will support them to create genuine transformation at scale."
The first cohort will begin in February 2021, and you can apply to join the Venture Studio before 8th January here.