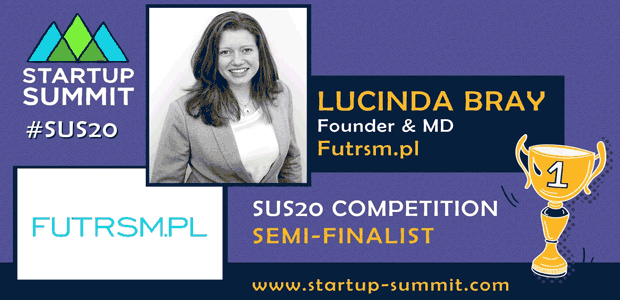 STARTUP SUMMIT SEMIFINALISTS: Futrsm.pl
Futrsm.pl is a tech-for-good platform designed to empower purpose-led entrepreneurs to do marketing better through a series of online tools and affordable expert support. It is an online Saas platform designed to empower purpose-led entrepreneurs to develop and deliver their own marketing strategy through a series of online tools and affordable expert support. The core package focuses on supporting socially-minded businesses that are bringing in a junior marketer as their first marketing hire. Providing a framework for both the company and the new start based on 90 days plans. The two inclusive monthly support sessions with a dedicated marketing expert to provide director-level practical strategic guidance throughout. A helping hand to get community changing businesses the brand presence they deserve.
Where did the idea come from?
I founded FUTRSMPL in 2017, with 12 years marketing & advertising experience behind me, to work with purpose-driven companies such as social enterprises and charities to help them get the awareness they deserved.
Over time we developed a series of online tools to empower these business owners to develop & deliver their own marketing strategies. Allowing us to reach and support many, many more businesses internationally.
While tools and processes can draw out the wisdom and knowledge, one of the biggest barriers for these business owners is confidence, the fear of rubbish in and rubbish out.
And that's where our expert consultants come in, using their marketing know-how (at least 10years experience) to check and query the information inputted, to provide guidance on customer profiles, advise on strategy, give pointers on keeping marketing delivery simple. With time bookable on an ad-hoc basis or inclusive monthly sessions with our subscription packages.
Providing flexible support for profit-for-good businesses and additional consulting opportunities for marketing professionals.
How many are on your team?
Right now, one, me. I had to make my number two redundant during lockdown. However, now that we have moved away from the consulting altogether we will potentially be hiring customer and tech support roles towards the end of the year.
What is the main goal?
In the next five years, futrsmpl will have representatives across 15 countries and have helped over 10,000 purpose-led business to develop strong brands & grow loyal teams.
How did you hear about the Startup Summit Competition and what made you apply?
I've attended the startup summit for the last couple of years and have always been impressed by the calibre of the businesses in the competition. Then hearing stories of how the connections & learnings they have made on the silicon valley trip have improved their business, its an opportunity we don't want to miss!
What makes your business different?
There are a lot of marketing tools available on the internet, most focus on automation or analysis. Currently, futrsmpl is the only online tool that focuses on empowering business owners to develop their own marketing strategy.
Our main package focuses on supporting purpose-led companies to scale by providing a framework with expert support for junior marketing hires. Giving business owners the confidence that a manageable strategic marketing plan can be delivered without monopolizing their valuable time.
This is a software and support package that really is the only one of its kind, catering to a problem felt by many scaling purpose-led businesses
What have some of the biggest challenges been so far?
The balance between business, family and life. Building something only I could see in my head. Deciding what the company risk appetite should be verses my personal risk appetite.
How did COVID affect you?
In some ways it brought lots of opportunities, we had just made a completely online solution that everyone else was now scrambling to do, but in reality, we had to take a big step back and put a lot of things on hold. Family had to come first and with no childcare, there was a risk of sloppy work that could really affect our reputation, so the business had to go into preservation mode. Which meant it wasn't financially viable to keep a very important member of the team and that still hurts.
What do you have planned for the future?
Scaling, learning, adapting, as a tech solution futrsm.pl is going to be continually evolving based user needs and technology advancements. Our scaling model is through associate consultants, experienced marketers who can provide expert support whilst boosting their existing revenue and can be based anywhere in the world (as long as there is internet!). Our targets to grow our associate base, following the key UK cities we are already working on, will be Berlin, Zurich and Vancouver.
Describe your startup journey in one sentence?
Exhausting, exhilarating, frustrating, eye-opening - It's like walking the very fine line between bravery and stupidity that feels like it could go either way at any moment!